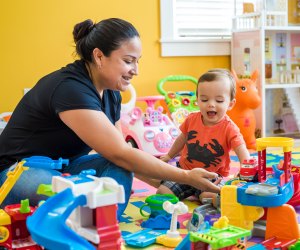 10 Things To Know Before Hiring Your Houston Nanny
Being a mom is a challenging job. And if you are like me, finding someone to take care of my child when I went back to work was even more challenging. While daycare is a popular option, many moms look at hiring a nanny to stay home with their kids. Finding a nanny in a big city like Houston is not a simple task, and there are many things to consider when looking for the right candidate who will work so closely with your family. For the second year in a row, we surveyed 240 local moms to find out what to ask and what to consider when hiring a nanny. Below are some tips and facts based on the 2016 survey results.
1. The majority of nannies watch one or two children
The results show that 42 percent of the nannies care for one child, 45 percent care for two kids, and the rest care for three or more children. However, if you are looking for a nanny to watch multiple children do not let these stats deter you. While it is not as common, plenty of families hire nannies to watch multiple children.
2. Don't stress about experience
We all want the best for our children, but don't sweat it if you can't find a nanny with 10 years of experience and a doctorate in child psychology. It's more common than you think for families to hire nannies with little to none experience. Only 30 percent of nannies had at least 10 years of experience from the families we surveyed. About 24 percent of the employed nannies had zero to three years of experience, 27 percent had three to six years of experience and 19 percent had six to 10 years.
3. Most families have fairly new nannies who do not live with them
Out of all the 240 survey responses, 97 percent of the nannies had their own living arrangements and lived elsewhere. The majority, 47 percent, of these nannies had been with the families for less than a year. Only 23 percent have been with the family between 1 and 2 years, 12 percent for two to three years, and the rest had their nannies for three or more years.
4. The majority of nannies work full time
It's definitely the norm for nannies to work at least 30 hours a week – our results showed 68 percent of nannies work full time. And that is just the minimum. About 24 percent work up to 40 hours per week and 35 percent work up to 50 hours per week. This is good news if you have a busy work schedule and have doubts about how many hours is acceptable to ask a nanny to work.
5. It's more expensive to hire part-time nannies
Nannies who work full time and live outside of the family home have an average take-home pay of $13.60 an hour for watching one child, $15 an hour for two children, $15.50 an hour for three children, and $18.50 an hour for four or more children. By contrast, nannies who work part time (less than 30 hours per week) are paid an average of $14.80 an hour for one child, $15.90 an hour for two children, and $17.30 an hour for three children.
If you want to make sure you are paying the going rate know that it is normal to pay about $2.50 more or less than the average amounts.
6. Live-in nannies make less per hour
The nannies that had living arrangements with the family have an average take-home pay of $11 an hour when caring for one child, $12 an hour when watching two children, and $13 an hour when watching more than three. However, live-in nannies are not common. Our survey counted just eight families in this category.
7. Almost all nannies get paid time off and other benefits
If you are wondering what kind of benefits you should offer in this market then note than 80 percent of nannies get paid time off on holidays, and 78 percent get paid time off when the family goes on vacation and their services are not needed. The majority also receive a yearly bonus and a yearly raise. When it comes to other benefits, 23 percent of nannies receive paid vaccines and 20 percent received paid-for CPR classes.
8. Many nannies drive the kids to extracurricular activities in their own vehicle
Surprisingly, we found 61 percent of the nannies drive the kids around town for various activities, and of that number 84 percent use their own vehicle. Just 16 percent drive the family car, and half of the nannies pay for their own gasoline. It's up to you how you want to handle getting your kids around town, but know it's not an unusual request.
9. Know what traits to look for
When we asked families what they valued most in a nanny and what would warrant higher than average pay, 55 percent said the chemistry between them and the nanny was most important. Flexibility in hours was next at 46 percent, and 38 percent of families wanted to ensure their nanny could drive and had a valid driver's license. Legal employment status (33 percent) and willing to be paid on the books (19 percent) was also important.
Some other things families considered, in order of most popular response, were if the nanny could teach the child a new language, clean the house, cook, if they had experience with multiples, had advanced education, and could help with children with special needs.
10. The majority of nannies do some form of house chores
There is a lot of debate about if a family should expect the nanny to be doing other chores aside from watching the children during their spare time or when the child is sleeping. It is very clear from our survey results that most nannies are expected to complete some other tasks besides watching the children, such as picking up toys and cleaning pay areas (96 percent), doing laundry (77 percent), fill and empty the dishwasher (74 percent), cook for the kids (65 percent), clean the kitchen (60 percent), and take the trash out (49 percent). A smaller number of families also pay nannies to make the beds and change the sheets (40 percent), clean the floors (36 percent), go grocery shopping (19 percent), clean the bathrooms (18 percent), pick up dry cleaning (11 percent), and cook for the entire family (10 percent).
Wondering where to find a nanny? The surveyors listed the following places where they found theirs: Care.com, Caregivers and Maids, Cultural Care Au Pair, Heights Kids Group, Morningside Nannies, newspaper or Craigslist ad, Nextdoor.com, and Sittercity.com. You can also look on Facebook, including the following groups: Bellaire Young Mothers, Memorial Area Baby Sitters / Nanny's / Caregivers, Memorial Area Kids Info, Moms & Ladies of Southwest Houston, Moms in the Heights, and Moms of the Museum District.
Keep in mind these results were anonymous, and 69 percent of the surveyors live inside Loop 610 and 91 percent live inside the Sam Houston Parkway.
Want to be part of the 2017 survey? Subscribe to our email newsletter to receive the next survey and have the results delivered straight to your inbox!