Christmas Tree Farms near Philadelphia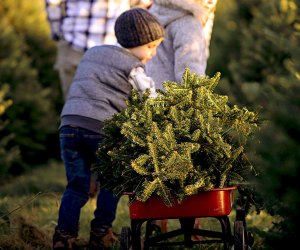 11/20/22
- By
Corrie Stango
"O Christmas Tree, O Christmas Tree!" Find your holiday tree with the loveliest branches at one of the many Christmas tree farms that populate the areas surrounding Philadelphia. We're rich with farmlands and pick-your-own fun, so pack your bungee cords and hop in the car for this holiday day trip. It may even create a new holiday tradition for your Philly family.
Some of these local Pennsylvania farms offer additional family fun, such as crafts, cider and hot cocoa sampling, and other enjoyable (or yummy) treats. Looking for even more fun this season? Check out our Holiday Guide and our Events Calendar for the latest holiday happenings!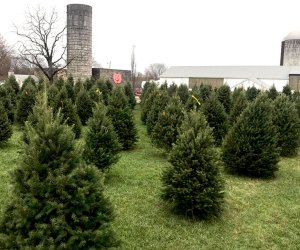 Cut your own or ask the staff to cut it for you at AGA Farms.
The Best Christmas Tree Farms in Bucks County
With 7 varieties to choose from (Douglas fir, Fraser fir, concolor fir, Scotch pine, Norway spruce, white pine, and Colorado spruce), you can cut your own, choose one from the fresh-cut field, or even pick a live tree to plant after the holiday. No matter what tree you choose, the farm will cut it (if you prefer not to cut your own), drill it for your tree stand, bale it, and secure it to your car.
Cost: varies by tree type and size
Colavita offers over 10 species, including various types of firs, spruces, and white pine from the "choose and cut" area as well as 7 species from the pre-cut lot. Someone from the staff will shake off loose needles, drill the bottom, net the tree, and help load into or onto vehicle. For an extra fee, this tree farm will even deliver and set up the tree in your home.
Cost: $105: cut-your-own; pre-cut: varies by size and species
Offering all the typical tree farm amenities after you've made your family's selection (shaking and baling), Hague's also provides a saw for chopping and a sturdy cart with large wheels for hauling back to the sales area. Varieties include Nordmann fir, Scotch pine, white pine, white spruce, blue spruce, and more.
Cost: varies by tree type and size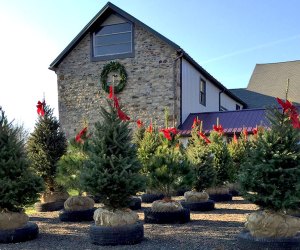 Visit the Christmas shop after you pick your tree at McArdle's Holiday Tree Farm.
This year, McArdle's will be offering pre-cut and balled trees only, with varieties like Norway spruce, blue spruce, white spruce, Fraser fir, and Scotch pine. Get a free mug with your Christmas tree purchase, and visit the Christmas shop, which will be open on the weekends.
Cost: varies by size
One of the oldest Christmas tree farms in the country and rich in local history with its conservation efforts, Tuckamony Farm makes a gem of stop. While the farm will not offer pre-cut tree this year, varieties for "choose and cut" include Fraser fir, concolor fir, canaan fir, grand fir, Turkish fir, Nordmann fir, white pine, Scots pine, Norway spruce, and blue spruce.
Cost: $75 under 10'; $100 over 10'; $150 over 15'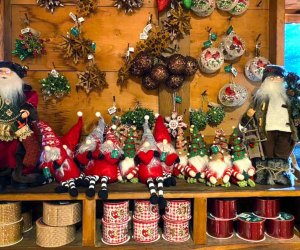 Arader Farm provides all the equipment you need to get your tree cut and secured to your car, plus there is a cute Christmas shop!
The Best Christmas Tree Farms in Montgomery County
Boswell's is family owned and operated for over 70 years and, as such, operates by cash or check only. Saws, bailing, and rope are provided, and varieties are listed below next to cost.
Cost: $10/foot: blue spruce, canaan fir, Colorado blue spruce, Douglas fir; $9/foot: white pine, Norway spruce, and white spruce
This farm, under new ownership, is going all out for the Christmas season. Cut-your-own trees will include Douglas fir, canaan fir, concolor fir, and blue spruce, but also look out for homemade window swags and festive wreaths as well as the Christmas shop with ornaments and decorations. Freshly baked goods and food trucks (beginning weekends after Black Friday) are sure to fill your bellies, and the model train is sure to brighten your eyes. Check in before your visit for special events, such as a reindeer visit and caroling day.
Cost: $16/foot
The Best Christmas Tree Farms in Chester County
Here, your family can find large trees that would make even the Griswolds proud. Sizes range from 3'−12', and varieties include Fraser fir, Douglas fir, canaan fir, Korean fir, and concolor fir. Be sure to also visit the Christmas shop for gifts, hot chocolate or coffee, and a visit with Santa.
Cost: varies by tree type and size
The rolling hills boast blue spruce, canaan fir, concolor fir, Douglas fir, Fraser fir, and Norway spruce for your picking. This year, the farm only has 15' and above cut-your-own sizes but will allow customers to top trees to their size of their liking. Smaller sizes, 5−10', are available in the fresh-cut section.
Cost: $17: fresh-cut; $10−$13: cut-your-own
Like many of the tree farms on our list, Old Stone Farm is family operated. As the name suggests, this farm has an old-timey feel, especially with its restored 200-year-old Pennsylvania bank barn. Enjoy views of the orchard and pond while picking out your Douglas fir, concolor fir, or Fraser fir.
Cost: $80 for cut-your-own and pre-cut
This year, Tricolor Tree Farm will offer mostly pre-cut trees but will have some limited cut-your-owns available. Come on out for weekend hay rides, complementary hot chocolate, and swags and blankets for purchase. This is a great farm to consider if you want an extra large tree as Tricolor is known for its 16'−20' and larger trees. Call for the best information as the website is a bit dated.
Cost: $10−$15/foot, based on type and size: cut-your-own; $10/foot: pre-cut
Wagon rides to the cut-your-own area as well as saws are provided at Westlake Tree Farm, located in a 19th century granite quarry and mining town. Visit the Christmas Barn to see Santa and the trains or to pick out new ornaments. Canaan and Fraser fir trees available here.
Cost: $15−$17.50/foot
Choose from a large selection of Douglas firs, well known for their perfect shape and fullness, at these two locations. Saws and carts are available, and Wiggins will bail, drill, and supply string to secure your selection to your vehicle. Please note, these locations are both cash only.
Cost: $80/tree: West Chester; $60/tree: Cochranville
Visit with Santa, enjoy complementary hot chocolate and cookies, and, of course, find your tree. Selections include Douglas fir, Fraser fir, canaan fir, concolor fir, blue spruce, and Norway spruce (the spruce varieties will not be ready until December 10). The pre-cut lot will offer Douglas fir and Fraser fir. Yeager's also has a Christmas shop for browsing or just escaping the cold December air.
Cost: $15/foot: cut-your-own ($75 minimum); pre-cut: $80−$400
The Best Christmas Tree Farm in Delaware County
Mostly Douglas fir and some canaan firs make Linvilla a great stop if you enjoy those varieties or if you want to arrive at the tree farm via wagon (no walking to the trees at this location). Pre-cut trees are also available (canaan fir, concolor fir, Fraser fir, Douglas fir, blue spruce, Victorian Douglas fir, Victorian Fraser fir, and Nordmann fir). Linvilla offers all the tree amenities (shaking, wrapping, drilling). Visit with Santa on Fridays and weekends, and don't forget a stop to Playland.
Cost: $99.99/tree: cut-your-own; pre-cut: the facility is still determining pricing
Mommy Poppins New Jersey also has a great list of tree farms in the Garden State.
Photos courtesy of the farms.