Midtown East: 41 Best Things To Do with Kids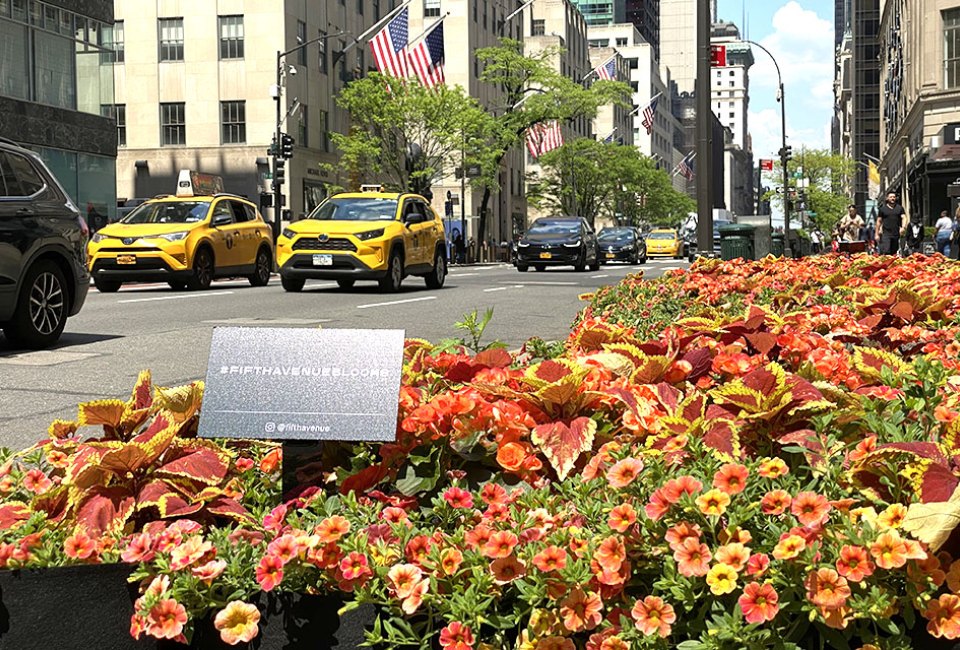 4/17/23
- By
Jody Mercier
Midtown East is sometimes dismissed by native New Yorkers as tourist central. And yes, thanks to world-famous attractions like the Empire State Building, high-end Fifth Avenue retailers, the lion-flanked New York Public Library, the United Nations, and Rockefeller Center with its ice skating rink, Christmas tree, and observation deck, the neighborhood is often packed with out-of-towners.
However, hidden inside some high-rise office buildings are gems for local families such as the Ford Foundation Building's indoor garden, and Midtown East is also home to cultural institutions like the Morgan Library & Museum, Scandinavia House, and the Japan Society, plus perennial kid-pleasers American Girl New York and the Lego Store.
Read on for our top things to do in Midtown East with kids and find more fun neighborhoods to explore in our NYC Kids Neighborhood Guides.
Subscribe to our newsletters to get stories like this delivered directly to your inbox.
For the purposes of our post, our geographical boundaries are 34th to 58th Streets, Fifth Avenue to the East River, and include the area's more residential enclaves like Turtle Bay, Sutton Place, Tudor City, and Murray Hill. Well-maintained apartment complexes sit side-by-side with townhouses, and there's a wealth of casual family-friendly restaurants, small shops, and parks and playgrounds.
Best Things To Do in Midtown East with Kids
1. Ford Foundation Atrium
Wander the plant-and-tree-lined paths in the Ford Foundation Building's serene public atrium, a great place to get out of the cold or rain.
2. Farmers Market
Check out ever-changing public art displays or shop in the Wednesday farmers market at Dag Hammarskjöld Plaza.
3. Midtown Comics
Shop for graphic novels, action figures, and other pop-culture items at Midtown Comics, one of our favorite offbeat stores for kids.
4. See the Holiday Windows
Midtown East abounds with seasonal sights, like the incredible Fifth Avenue department store holiday windows.
5. FAO Schwarz
Be wowed by the magicians and dance on the giant piano at FAO Schwarz, whose flagship store overlooks the Rockefeller Center rink.
RELATED: Best Things To Do with Your Train-Obsessed Kid in NYC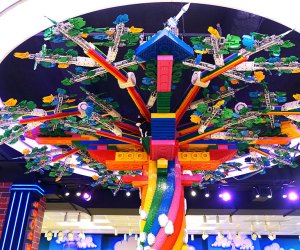 See eye-popping displays made of Lego bricks at the flagship store in Rockefeller Center.
6. Lego Store Fifth Avenue
Stock up on plastic bricks at the Lego Store in Rockefeller Center and gawk at detailed re-creations of NYC landmarks.
7. Nintendo New York
Shop and play at the Midtown megastore dedicated to all things Nintendo, and pose for photo ops with familiar characters.
8. Flipper's Roller Boogie Palace
After a successful debut in 2022, the retro roller rink returns to Rockefeller Center for another run as one of our favorite roller skating rinks in NYC.
9. Daiso
Grab art supplies, trinkets, home goods, cosmetics, and more at the only Manhattan outpost of Daiso, the popular Japan-based variety store on East 57th Street.
RELATED: 50 Things To Do in Midtown Manhattan with Kids

Kids can enjoy a host of activities at the Scandinavia House. Photo courtesy of the Scandinavia House
10. Scandinavia House
Enjoy storytelling and other children's programs at Scandinavia House, and then romp in the Heimbold Family Children's Playing and Learning Center, which is open to the public on Saturdays.
11. Build-a-Bear
Make a customized lovey at Build-A-Bear Workshop's store on East 34th Street.
12. American Girl New York
Explore this doll wonderland in Rockefeller Center to stock your American Girl's closet, nosh on a fancy meal in the cafe, or get all dolled up in the salon.
13. Japan Society
Celebrate Japanese culture and traditions at the Japan Society.
RELATED: Central Park with Kids: 33 Fun Things To Do

Wake up early to stake out your spot—and a chance to snap a photo with stars like Sheinelle Jones—on the Today Show Plaza.
14. The Today Show
Who needs an agent to get on TV? Just stand outside Today in Rockefeller Center; if you go in summer, you can even catch FREE summer concerts by big-name artists—assuming you're cool with crowds.
15. Paley Center
Explore media and pop-culture history at this Midtown Museum, which hosts frequent family-friendly screenings, programs, and houses PaleyGX, where visitors can play on the latest gaming systems like PS5, Xbox Series X, PCs, and even virtual reality games—all included with admission.
16. Wonderland Dreams
This hand-painted, Alice-in-Wonderland-inspired exhibit is full of fun photo-ops, cool props, and even a family-friendly programming series on Sunday mornings.
17. NYC Ferry
Head to the East 34th Street Ferry Terminal to sail away on a kid-friendly ferry ride to explore the waterfront neighborhoods of Brooklyn and Queens.
18. Public Art
Keep your eyes peeled for public art on Park Avenue between 52nd and 66th Streets.
RELATED: Winter Gardens: Get Out of the Cold at NYC's Indoor Plazas

The Rockefeller Center Christmas tree is a seasonal sight to behold—one of many in Midtown East.
Top Attractions in Midtown East for Families
19. Rockefeller Center
Take a twirl on the Rockefeller Center's famous ice rink for optimum views of the Christmas tree.
20. Steven A. Schwarzman NYPL Branch
Meet the original Winnie the Pooh, snap a pic with the Library Lions, and see an original copy of the Declaration of Independence at the NYPL's main branch.
21. Stavros Niarchos Foundation Library
Head across the street to visit the Children's Center, Teen Center, or open-air reading room at this beautiful, recently remodeled branch.
RELATED: Top Attractions in NYC: Best Things To See and Do with Kids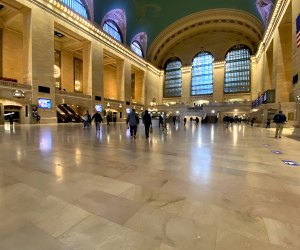 Grand Central Terminal is much more than a commuter hub!
22. Grand Central Terminal
Explore this commuter haven, which offers plenty of family-friendly things to do that don't involve rushing to catch a train.
23. Summit One Vanderbilt
Dare to step out on the glass-enclosed ledge or go for a sky-high elevator ride at Summit One Vanderbilt, which is part observation deck and part public art experience.
24. Empire State Building
Marvel in the art deco details and the classic view from the observation deck at the Empire State Building.
RELATED: 3 Days in NYC with Kids: Ultimate Itinerary by a Local Mom

Take the elevator to the Top of the Rock to see the stunning skyline.
25. Top of the Rock
Get a new perspective on NYC by heading to the Top of the Rock.
26. The Morgan Library & Museum
Explore the exhibits and gorgeous architecture in the Morgan Library & Museum, and check the calendar for frequent family programs.
27. United Nations
Take a tour of the United Nations, or visit the lower concourse to mail something from the post office to get your item postmarked in international territory.

St. Patrick's Cathedral welcomes visitors for mass daily, or stop in to admire the architecture between services.
28. St. Patrick's Cathedral
Peek inside St. Patrick's Cathedral, which dates from 1879.
29. AKC Museum of the Dog
Celebrate your favorite breed at the Museum of the Dog, which celebrates man's best friend and educates the public on the benefits of the human-canine bond through art and special exhibits.
Best Parks and Playgrounds in Midtown East
30. St. Vartan Park
Romp in the playground, or play basketball or baseball in Murray Hill's cozy St. Vartan Park.
31. Tudor City Playgrounds
This pair of neighborhood romping spots are situated right across 42nd Street from one another: Tudor Grove features a small tot lot and Mary O'Connor has big-kid swings and a large play structure.
32. MacArthur Park
This local park on the north side of the United Nations has a play structure, sand pits, and public bathrooms.
33. Robert Moses Playground
Play basketball or handball at Robert Moses Playground just south of the UN.
RELATED: NYC's Best Playgrounds: 21 Parks Worthy of a Subway Schlep

Throngs of parade-goers line Fifth Avenue for the big St. Patrick's Day Parade.
Fun Annual Events in Midtown East for Families
34. St. Patrick's Day Parade
Paint Fifth Avenue green annually on St. Patrick's Day, when NYC's big annual parade brings bagpipers, step dancers, community groups, marching bands, and more together in an annual celebration of Irish pride dating back to 1762.
35. Easter Bonnet Parade
Put on your most outrageous headgear for NYC's annual Easter Bonnet Parade on Fifth Avenue.
36. Summer Streets
Cruise down Park Avenue on August Saturdays when the Department of Transportation closes the avenue to traffic and allows pedestrians, cyclists, and skaters miles of car-free fun.
RELATED: 100 Things To Do in NYC With Kids Before They Grow Up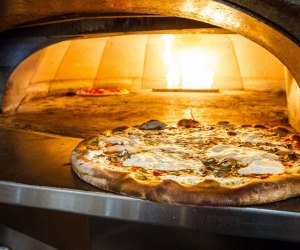 Dig into a pie brick-oven pie at Patsy's Pizzeria. Photo courtesy of the pizzeria
Family-Friendly Restaurants in Midtown East
37. Patsy's Pizzeria
Families flock to this sit-down pizzeria known for its brick-oven pies with charred and chewy crusts. Be sure to go with a group since Patsy's doesn't sell slices. The pasta dishes and Italian specialties are also popular, but it's the pizza that keeps packing 'em in.
38. Schnipper's Quality Kitchen
Enjoy classic comfort food at the Midtown East outpost of Schnipper's, like burgers, fries, chicken fingers, and more.
39. Visit a Food Hall
Get in on the food hall trend with a visit to Urban Space Vanderbilt or The Hugh.
40. Comfort Diner
Tuck into classic diner fare with a side order of '50s nostalgia. The menu includes retro high-carb-and-fat dishes like fried chicken, mom's meatloaf, giant burgers, and apple pie à la mode.
41. Afternoon Tea
We've long loved an indulgent high tea outing and many of our favorite spots call Midtown East home, including a new favorite, The Peninsula New York.
If you're booking several top attractions in New York City and looking to save money, consider purchasing a Go City Explorer Pass, which includes discounted admission to the Empire State Building and many more locations on this list.
Originally published in 2014; Stephanie Ogozalek contributed additional reporting. Unless noted, all photos by author