Museum of the Dog Opens Near Grand Central
More a gallery space than full museum, the Museum of the Dog is a project of the American Kennel Club. (Longtime New Yorkers might recall the museum's original home on Madison Avenue back in the 1980s, before its move west to St. Louis for a 32-year stint.) The AKC hopes its new location in NYC brings more visibility and visitors to its collection, and its mission "to enhance the appreciation for and knowledge of the significance of the dog and the human/canine relationship."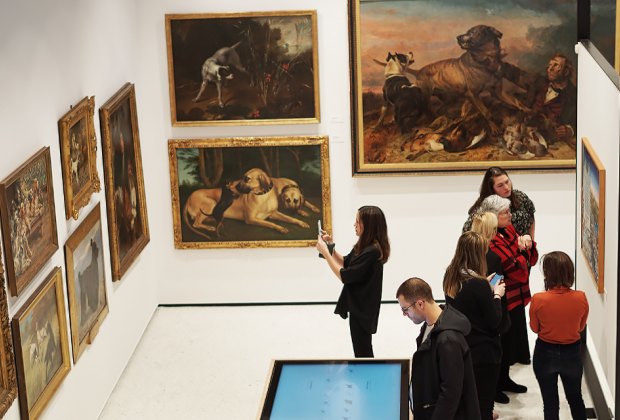 Breeze through the fine art to get to the interactive exhibits.
While kids may not be wowed by the fine art lining the walls or ensconced in display cases, organizers have taken kids into account with their planning, building in some cool 21st-century tech to accompany the decidedly old-fashioned artwork. A trio of digital experiences enhance kids' fun in the space while also building their dog knowledge.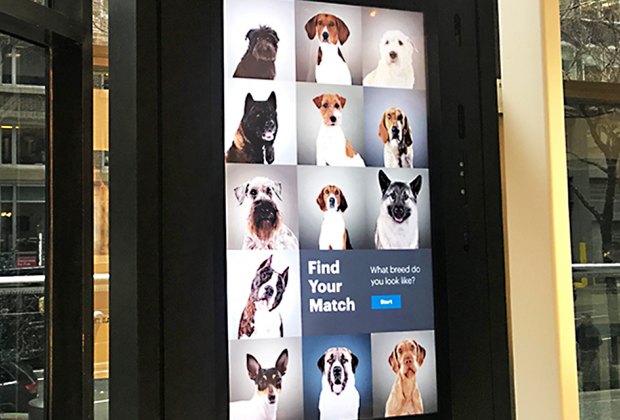 Find your dog doppelganger at the "Find Your Match" exhibit.
Lining the wall of the entrance gallery, you'll find kiosks that allow you to "Find Your Match." The kiosks snap a photo of you and then find your likeness in canine form, allowing you to share the image on social media or email it to yourself.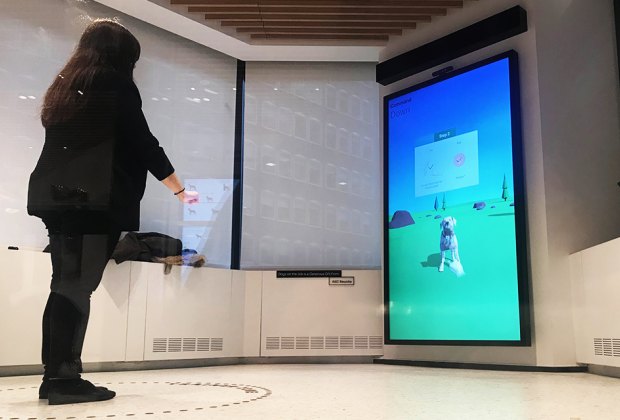 Learn to be a dog whisperer at the "Train a Dog Exhibit".
Near the stairwell, in an impressive open-air atrium surrounding a glass case with dog sculptures, ceramics, and collectibles, you can meet Molly in the VR "Train a Dog" exhibit. Interacting with the on-screen service dog, you learn (and teach) basic commands.
Large touch-screen tables near the well-stocked library on the second floor allow you to "Meet the Breeds." Click on a particular pup and get educated about its features, both physical and temperamental, plus see images of the breed and learn about pieces in the Museum's collection where that breed is represented.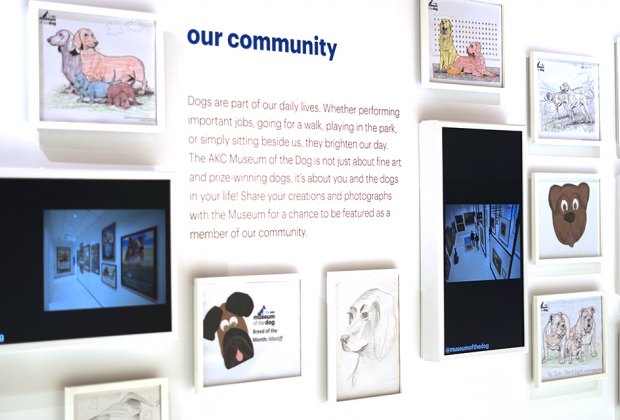 See how dogs are an integral part of our communities and daily life.
Other kid-friendly (and educational) displays throughout the museum explain how dogs are an integral part of daily life: the jobs they hold, the roles they play, and the love they share. An interactive app, AKC MoD, uses augmented reality to provide visitors with in-depth info on the artwork and offers a kid-friendly scavenger hunt where you can work with the virtual dog, Arty, to find objects and images throughout the galleries. There's a small gift shop near the doors, so you may have a hard time escaping without a new (stuffed) best friend or other MoD merchandise.
The Museum of the Dog is located at 101 Park Avenue, though the entrance is on 40th Street, and is open Tuesday-Sunday from 10am-5pm. Tickets are $15 for adults, $5 for children under the age of 12, and $10 for those ages 13-24. Family memberships start at $95.
Photos by the author