Best Things To Do with Your Train-Obsessed Kid in NYC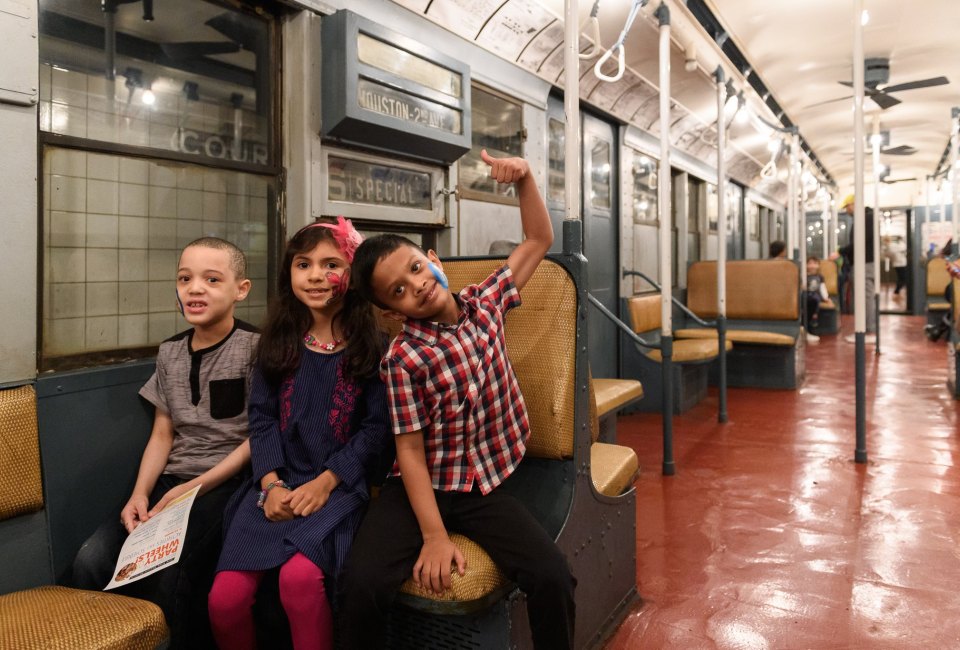 4/14/23
- By
Alina Adams
For train-riding New York City kids, it's hard not to develop a love of locomotives, and if you've got a train-obsessed kid on your hands, there are plenty of train museums, train shows, and train rides to enjoy near NYC to foster that love of riding the rails.
These train-centric outings range from the obvious—hello, New York Transit Museum—to the adventurous like regional rail trials. No matter where you go, it's all aboard for an outing sure to impress your little rail enthusiast.
Subscribe to our newsletters to get stories like this delivered directly to your inbox.



Marvel at the old-fashioned ads on the vintage fleet at the New York Transit Museum.
Train Museums, Train Shows, and More Things To Do in NYC
We're big fans of this museum, housed in an old subway station. Dedicated to preserving and honoring our city's transportation history, the museum's highlights include Steel, Stone, and Backbone, which recounts the building of NYC's century-old subway system, and Reign of the Redbirds about the introduction of the R-26, the first of nine types of subway cars that ultimately came to be known as "Redbirds." Visitors can enjoy a variety of programming, including some very cool members-only tours of abandoned subway stations. There's a lot of hands-on fun here, including the chance to "drive" a bus and board vintage subway cars in the Moving the Millions exhibit.
If you can't make it to Brooklyn Heights, pop into the Grand Central Gallery and Store for a taste of the fun with mini-exhibits and plenty of train toys to peruse.
Over the holidays (and for special events, like the Yankees season opener), families can take a seat on vintage subway cars complete with old-school ads. The annual holiday trip features The Trains of Many Colors, including a selection of cars manufactured in the 1960s representing several different eras in New York City subway history.
RELATED: 5 Metro-North Day Trips for Families in Westchester and Beyond

Pop your head up in the middle of the New-York Historical Society's annual Holiday Express display.
The popular seasonal Holiday Express exhibit takes place at the New-York Historical Society. Portraying the workings of the railroad, its services, and how it helps keep people and goods going, this annual winter wonderland is full of toy trains, figurines, and miniatures from the world-famous Jerni Collection. The exhibit includes toy train stations dating from the turn of the 19th century to the World War II era and illustrates the evolving designs of American and European toy makers.
There's plenty of train-inspired fun to enjoy in this transit hub, and best of all, it's FREE. Check out our list of the best things to do with kids at Grand Central Terminal, including exploring the main concourse ceiling, the Tiffany clock, and the whispering gallery.
Save some time to pop over to the brand new Grand Central Madison, which introduced LIRR service to the East Side for the first time. It's filled with beautiful site-specific artwork and a 182-foot-long escalator, which is the longest and steepest in the MTA's system.
RELATED: 8 Cool Kid Spots near the Second Avenue Subway Line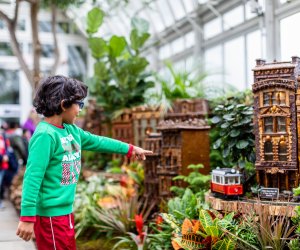 See NYC in miniature during the fan-favorite Holiday Train Show at the New York Botanical Garden.
The New York Botanical Garden's annual Holiday Train Show features model trains whizzing past more than 150 landmarks, each re-created with bark, leaves, and other natural materials. Locomotives chug along past familiar sights—including Rockefeller Center, Brooklyn Bridge, and the Statue of Liberty. Make sure to reserve in advance as it often sells out.
Many a city kid has learned their ABCs and 123s by exploring the MTA's famed web of subway lines, and there are enough of them to make every day a new adventure. My kids would always get a kick out of taking the train through the outer boroughs where elevated tracks mean there's always fresh scenery whooshing by. A ride over the Manhattan Bridge offers the chance to glimpse Lady Liberty, and choosing one line to ride end-to-end is always a thrill. No matter where you live, you can create a new adventure by venturing from your usual routine.
This spot might take a little imagination, but older kids can appreciate that the park is built on an abandoned rail line. Head to the northern end to really drive the point home. Here you'll find the Pershing Square Beams, an exposed section of support that's been coated with safety sealing so kids can climb on them. Nearby, explore The Rail Yards, where the tracks are most prominent, and kids can explore artifacts like the rail "frog" and the rail switches.
RELATED: Polar Express Train Rides and Christmas Trains near NYC

The Railroad Museum of Long Island has two locations to visit—and both are easily accessible by a kid-pleasing LIRR ride.
What To Do near NYC with Kids Who Love Trains
This seasonal museum has a pair of Long Island locations, including its Greeport location, which is on the National Register of Historic Places and was once the eastern terminal of the Long Island Rail Road mainline. The Riverhead site is located in a former lumber yard opposite the Riverhead LIRR station. This is where all the restoration is performed, and there are a few small displays and a gift shop. Both locations are easily accessible without a car.
RELATED: 8 Kid-Friendly LIRR Stops for a Fun Day Trip

All aboard for a seasonal train ride through Southaven County Park courtesy of the Long Island Live Steamers.
Long Island Live Steamers offers children rides on miniature steam trains along four tracks that run through acres of wooded trails at Southaven County Park. Public run days are held on the second and last Sundays of every month from May through October. Tickets are required to ride, and while it's FREE, donations are appreciated.
10. Seasonal Train Rides – Multiple Locations
Around various holidays, many tri-state train museums host special train rides, like Halloween train rides and Santa trains rides in New Jersey, a real North Pole Express in Essex, Connecticut, and Easter Bunny train rides in New Jersey. These special outings take place aboard real, steam-powered engines, many times with vintage coach cars, snacks, special photo-ops, and plenty of kid-friendly fun.
RELATED: 7 Fun Party Places for Car- and Train-Obsessed NYC Kids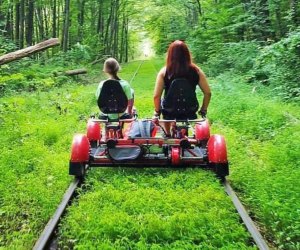 Rail Explorers offers a variety of rail trail experiences to bike in New York state.
11. Rail Trails – Multiple Locations
The perfect way to combine a love of trains and outdoor adventure, rail biking is a fun way to enjoy nature while pedaling a special bicycle along a stretch of abandoned rail train tracks. There are a handful of places to go rail biking in New York, New Jersey, Pennsylvania, and Connecticut, including some scenic routes like the Revolution Rail Company's Cape May trail.
Originally published in 2012. Unless noted, all photos courtesy of the venues
Click Here to Sign Up!
i