Submerge: NYC Marine Science Festival
Hudson River Park Pier 84

Cirque-tacular presents 'The Art of Circus'
BMCC Tribeca Performing Arts Center

Sugar Skull! A Dia de Muertos Musical Adventure
The Sheen Center for Thought & Culture
Indulge in Afternoon Tea with Peter Rabbit at The Peninsula New York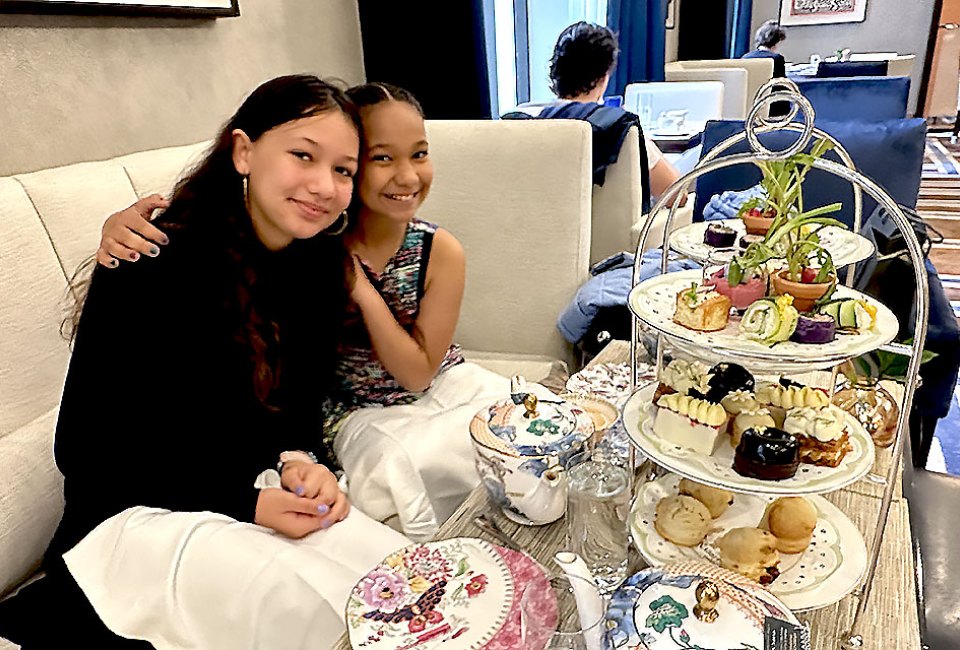 4/11/23
- By
Jody Mercier
High tea is a perfect experience gift for kids—or parents—of a certain age, and there's a brand-new Peter Rabbit-themed afternoon tea taking over elegant Gotham Lounge at The Peninsula New York—one of our favorite family-friendly hotels in NYC this month.
Naturally, my daughters hopped at the chance to get dressed up and join me for this lovely outing. Read on for the full details on this indulgent high tea and find more of our favorite restaurants serving high tea in NYC.
Guests are ushered into the lovely Gotham Lounge for this high tea experience. Located just off the hotel lobby, the restaurant is bright and welcoming with floor-to-ceiling windows overlooking 55th Street and an impressive array of Keith Haring's artwork decorating its walls.
My girls nestled into a loveseat, and, as we awaited our towers of treats, were each given a gift bag including a plush Peter Rabbit, a coloring book full of Peter Rabbit scenes, and crayons.
RELATED: The 18 Most Insane, Must-Try NYC Desserts

Elegant place settings and plush seating make The Peninsula New York's afternoon tea an outing worth getting dressed up for.
They scarcely had time to enjoy the goodies before the real treats arrived. Our tea towers overflowed with tasty bites that played on the Peter Rabbit theme. Our favorites included Peter Rabbit's Favorite Radish and Jumbo Lump Crab Sandwich and an adorable serving of hummus and crudites plated in a mini terracotta pot. You could almost picture the naughty Peter Rabbit nabbing one of the veggies and scampering off across the room.
RELATED: 20 Must-Visit Cafes, Sweet Shops, and Restaurants in NYC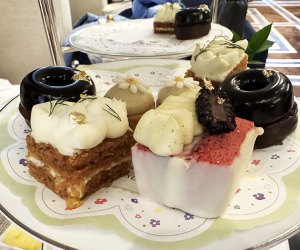 Indulge in Peter Rabbit-themed sweet treats including carrot cake during this special high tea.
Of course, no tea tower is complete without a few sweet treats. My older daughter couldn't get enough of the petite scones with lemon curd, marmalade, and clotted cream while my younger daughter gobbled up Opalys Chamomile Infused White Chocolate Cream—hers and mine! You can find the full menu here, though the ones you're handed when you sit down feature charming Beatrix Potter illustrations and mini-stories to tie the theme together.
RELATED: Family-Friendly NYC Outings Inspired by Storybooks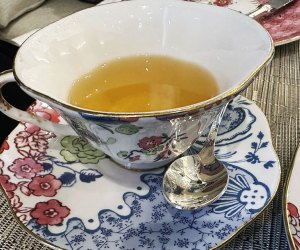 Sip on a collection of herbal teas to accompany your tower of treats both sweet and savory.
All the while, we sipped on our herbal tea selections—with pinkies up, naturally—and soaked in a relaxing afternoon together. The Peter Rabbit Afternoon Tea is undoubtedly a splurge at $185 per person, but if you're searching for a special occasion or celebratory meal, it's a lovely outing.
If you can't make it to The Peninsula New York before Peter Rabbit hops out of town, keep an eye on its website for more special offerings, including an annual Festive Tea during the holiday season.
Photos by the author
Places featured in this article:

Sign up for our free
newsletters.
Mommy Poppins is a family activity website that helps people find things to do with kids.
©
2023
MommyPoppins. All Rights Reserved.
mp-prod4-v4.32.99
Click Here to Sign Up!
i