Wonderland Dreams Invites Guests to Fall Down the Rabbit Hole and Embrace a Unique Art Experience
11/7/22
- By
Jody Mercier
Immersive art experiences have been popping up all over town in the past year, but the new Wonderland Dreams exhibit that's taken over a cavernous Midtown space is like nothing we've ever seen before. This Alice in Wonderland-inspired canvas is brought to life by the magical brushstrokes of artist Alexa Meade. Its sprawling 30-room walk-through is full of colorful props, stunning photo-ops, and inspiring backdrops that left us smiling long after we left the exhibit.
Read on for more details of our visit to Wonderland Dreams and bookmark our Guide to Museums, Galleries, and Exhibits in NYC for more kid-friendly art adventures to enjoy.
Subscribe to our newsletters to get stories like this delivered directly to your inbox.
Staged in the old Best Buy location on Fifth Avenue and 44th Street, it's hard to imagine Wonderland Dreams was ever anything else. Every surface of the two-level, 26,000-square-foot space has been touched by Meade's brushstrokes. Meade's trademark style is meant to transform 3D spaces—and the human body itself, see her work in the Ariana Grande video "God is Woman"—into a 2D painting. Before landing at the cavernous Fifth Avenue space, Meade's work had been displayed everywhere from the United Nations to Tokyo's Shibuya Crossing, and even aboard a SpaceX mission orbiting the earth.
Even armed with a vague familiarity of her work, I wasn't prepared for what awaited. Our trip down the rabbit hole started with a journey down the rainbow stairs to the lower level, and then we were set off on a seemingly neverending adventure of light, color, and creativity.
RELATED: Visiting the Whitney Museum in NYC with Kids

Every prop at Wonderland Dreams is meant to be played with, touched, and, especially, posed with.
Each of the rooms seemingly packs more color and adventure than the last. Everything from the floors to the ceiling and every last prop has been transformed with beautiful brushstrokes, and the results are stunning.
My daughter couldn't get enough of the dress-up props. We donned masks and hats; capes and jackets; scarves and crowns and posed for pictures galore. We had so much fun dressing one another up and switching off behind the camera, though the friendly Wonderland Dreams employees stationed throughout the exhibit were happy to snap pictures of the two of us together, too.
RELATED: Step Inside the Artwork at Artechouse NYC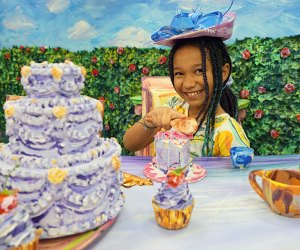 Stop for a faux spot of tea and decadent desserts during your tour of Wonderland Dreams.
Hands down, our favorite room was the tea party tableau, where everything from the table and chairs to the tiniest macaron was a work of art, and unlike most art experiences, we were encouraged to touch and play with everything.
RELATED: Visiting the Sloomoo Institute: Soho's Museum of Slime is Ooey-Gooey Fun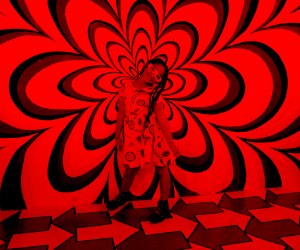 Step into the black-lit Back Alley for a completely transformative experience.
While there are plenty of Alice in Wonderland-themed rooms, we also loved the homage to NYC in the "Back Alley," with its 3D glasses and black-light glow rooms.
When you've had your fill of the posing, playing, and photos, head upstairs to find the Painted Wine Bar and Cafe, plus a packed gift shop.
Know Before You Go to Wonderland Dreams
Wonderland Dreams is open six days a week; it's closed on Tuesdays.
Ticket prices start at $26 for children ages 3-12 on weekdays and $36 on weekends; adult tickets are $36 on weekdays and $36-46 on weekends. Children under 3 enter for FREE and tickets can be booked online in advance. Weekend evenings are reserved for adults only.
There are restrooms on-site.
Photos by the author
Places featured in this article:
Click Here to Sign Up!
i