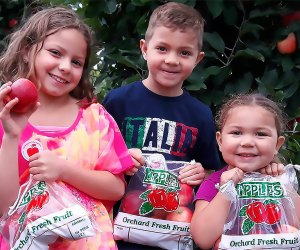 25+ Fun Things To Do with NJ Kids on Columbus Day
If you're scratching your head to come up with some fun ways to spend Columbus Day with kids who are home from school, look no further. We've pulled together a list of more than two dozen fun family outings that NJ kids are bound to love, from picking pumpkins to visiting sea turtles. You can find many more options in our Fall Fun Guide—and if the weather's looking iffy, check out our Indoor Playspace Guide for a backup plan!
1. Enjoy the fall foliage on display along NJ's beautiful trails, like those at Cheesequake State Park or Great Swamp. Collect some leaves along the way to make a rubbing at home.
2. Take a hayide and pick out the perfect pumpkin at one of NJ's many farms.
3. Go apple picking and let the kids help make an apple pie at home.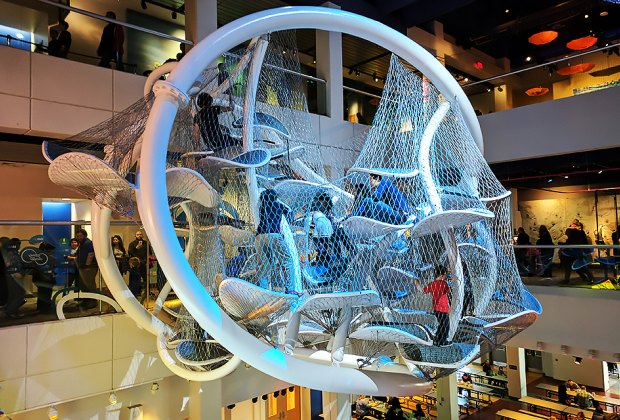 Test your balance and spatial awareness on the Infinity Climber at the Liberty Science Center. Photo by Mommy Poppins
4. If you're entertaining kids with a wide age gap (or if the weather is questionable), Liberty Science Center is an excellent day trip. Whether you have little ones interested in the I Explore toddler zone, elementary school children who want to climb the Infinity Chamber, or older ones interested in a 3-D movie, this interactive museum offers hours of educational fun. Kids of all ages will be dazzled by a show in LSC's new state-of-the-art planetarium, and Doc McStuffins: The Exhibit opens Oct. 6! LSC has a great cafe, but there are lots of family-friendly restaurants nearby, too.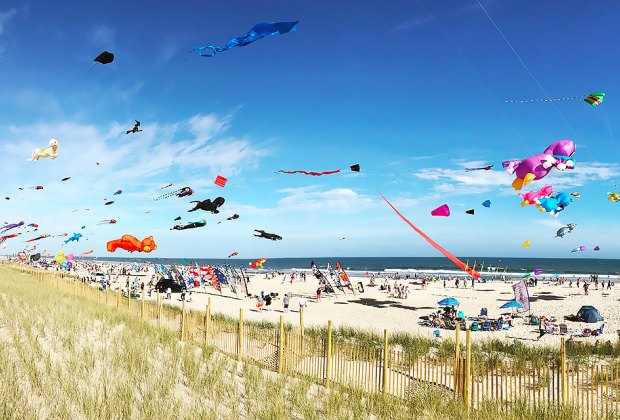 The beach at LBI is beautiful in October so come fly a kite!
5. Fly a kite at the 4th Annual LBI Fly International Kite Festival.
6. Head over to Delicious Orchards Food Market for its annual Columbus Day Pumpkin Fest. Enjoy pumpkin painting, games, music, food samples, and more.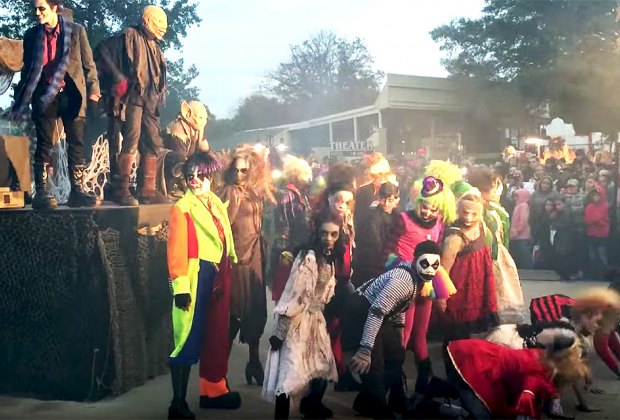 The dancing zombies at Six Flags Great Adventure Fright Fest is pretty amazing.
7. Check out the Six Flags Great Adventure Fright Fest during the day for family-friendly haunted trails, mazes, shows, and attractions. After 6pm, Halloween attractions are recommended for those over 12.
8. Take a family-friendly bike ride on one of NJ's great trails.
9. Fall is a great time for a zoo trip. The Bergen County Zoo and Turtle Back Zoo are perfect choices for preschoolers and elementary school children.
10. Columbus Day Weekend is the final weekend in 2018 for Wild West City. Dress up like a cowboy or cowgirl and enjoy western-themed shows and exhibits.
RELATED: 20+ Fun-Filled Fall Day Trips for New Jersey Families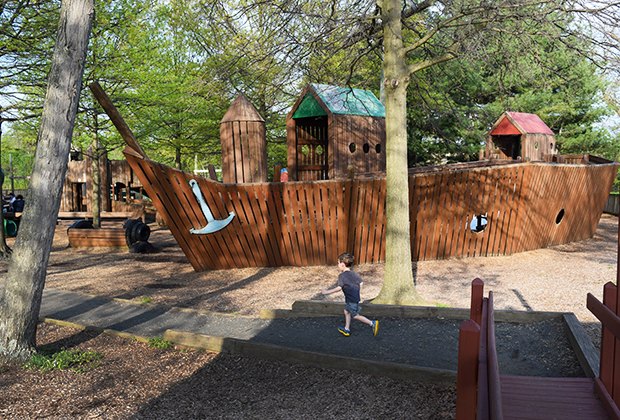 KidStreet in Bridgewater is a day trip–worthy playground. Photo by the author
11. Explore a new playground. KidStreet in Bridgewater is destination-worthy for kids of all ages.
12. For kids who love coloring and crafts, the Crayola Experience in Easton, PA, is sure to be a hit.
13. The summer sun might be a distant memory, but that doesn't mean you can't visit the beach. Take a walk on the sand, fly a kite, and eat a picnic lunch. (Just stay out of the water, as lifeguards won't be on duty.) FREE admission after Labor Day.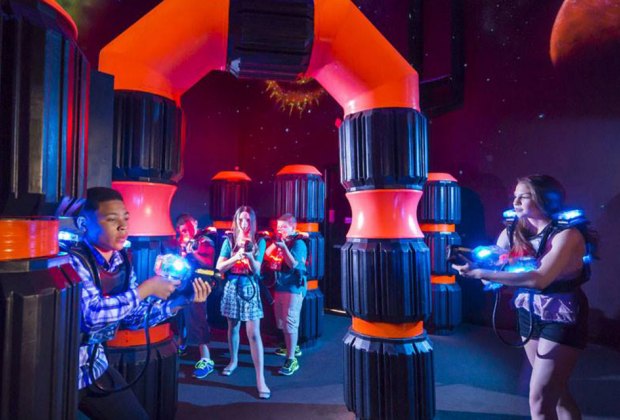 Gather friends for a day of fun at iPlayAmerica.
14. If the weather isn't cooperating, check out iPlay America, a large indoor amusement park with rides, games, bowling, shows, and more.
15. Visit Adventure Aquarium for Sea Turtle Awareness Weekend.
16. Plan a trip into NYC to enjoy the annual NYC Columbus Day Parade down Fifth Avenue.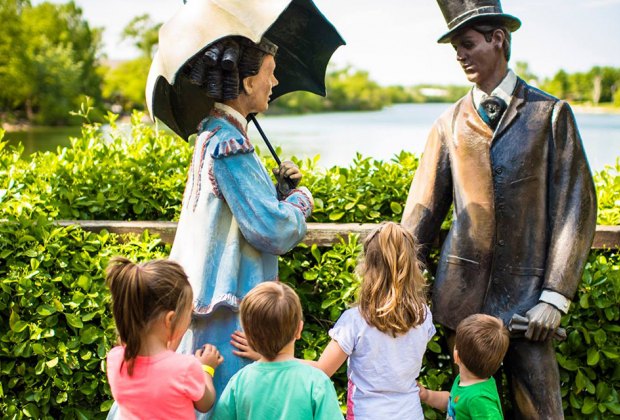 Make magical discoveries at Grounds for Sculpture. Photo by dmhphotograpghy for Grounds for Sculpture
17. Be amazed at the larger-than-life artwork at Grounds for Sculpture.
18. Wander through one of NJ's incredible corn mazes.
19. Take a Columbus Day Hayride at Abma's Farm.
20. Explore a new neighborhood like Hoboken, Madison, or Somerville.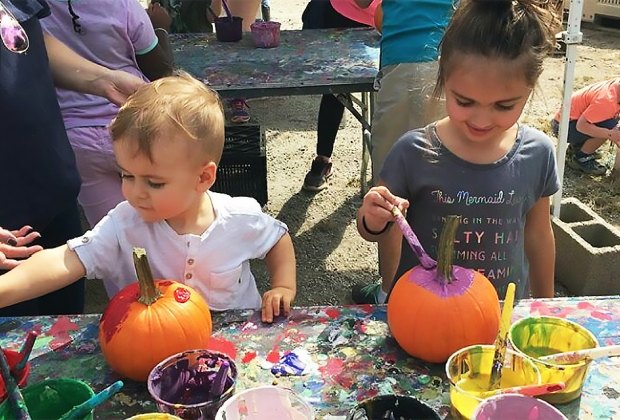 Pumpkin painting is always a hit at Terhune Orchard's Apple Days Harvest Festival.
21. Enjoy the Apple Days Harvest Festival at Terhune Orchards, where families can take a wagon ride, explore the corn stalk maze, listen to country music, go pumpkin picking, and more. Children's activities include scavenger hunts, rubber duck races, pumpkin painting, and barnyard animals.
22. Make a day of it at Liberty State Park, where you can walk the riverfront promenade, look for birds along the Hudson River Estuary, take a ferry to the Statue of Liberty, and more.
23. Stroll through the enchanted Greenwood Gardens and discover sculptures, flowers, water features, and even a few barnyard animals.
RELATED: Cool Pumpkin Displays, Festivals, and Decorating Events in NJ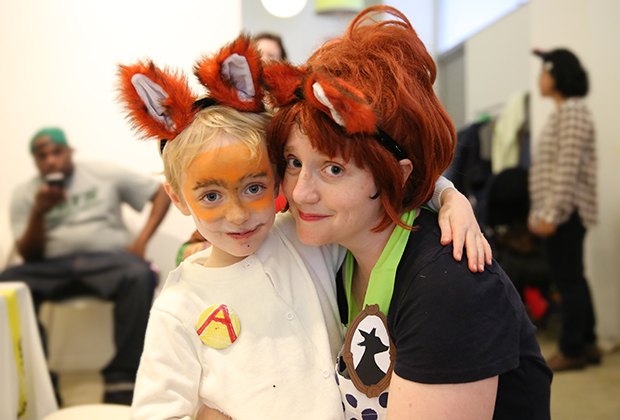 Use the day to start working on those Halloween costumes! Photo by David Silva
24. Shop for (or create) a costume for Halloween 2018.
25. In honor of Columbus Day, prepare a homemade Italian meal. If you have the energy (and patience), kids can help make homemade tomato sauce and pasta. Or let them add sauce, cheese, and toppings to a make-your-own-pizza dinner.
26. Celebrate the season at A. Casola Farms' Fall Fest, or at one of NJ's top family-fun farms.
Unless noted, photos courtesy of the events/venues