Heat Wave Hot List: 26 Cool Things To Do on Long Island with Kids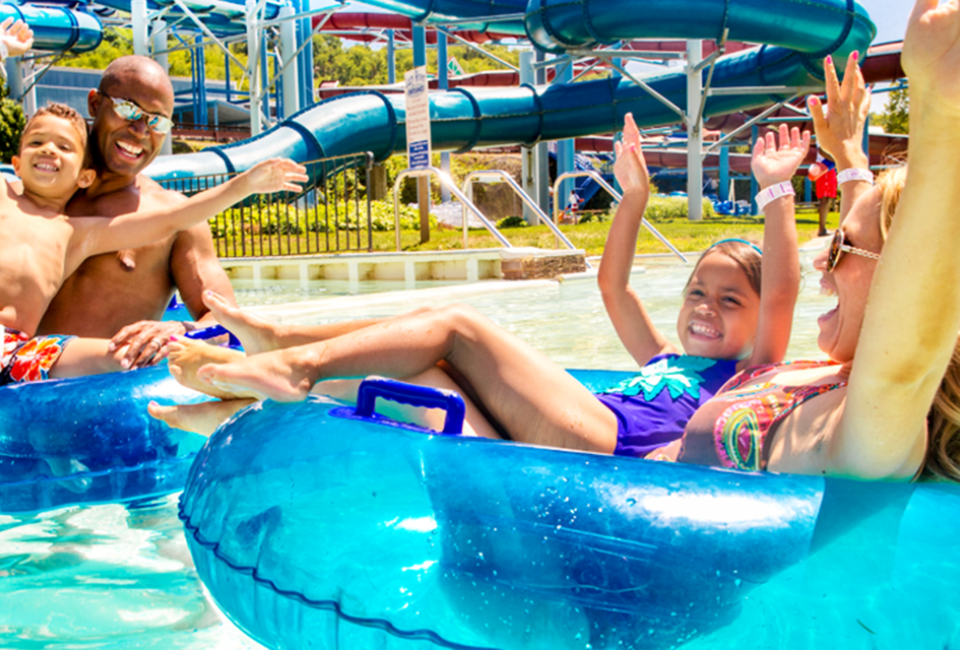 7/9/23
- By
Jaime Sumersille
Looking for ways to beat the heat on Long Island? Here are 26 awesome things to do during a heat wave.
Deep summer usually brings high temps and plenty of humidity, leaving Long Island families scrambling to find ways to cool off. Whether you want to bask in the sunshine or chill in central AC, there are plenty of options in both Nassau and Suffolk counties to help you beat the heat—and all are guaranteed fun for every age. After all, you want to enjoy every bit of summer before school begins.
Find more great outdoorsy things to do in our Ultimate Long Island Kids Summer Vacation Guide, and be sure to bookmark our frequently-updated Long Island Family Activity Calendar.
Get our picks for every weekend in your inbox—
sign up for our newsletters
.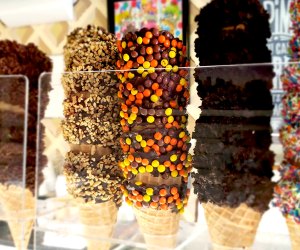 Stop into Lics Ice Cream for a colorful treat. Photo courtesy of the shop
Indoor Spaces to Visit on Long Island During a Heat Wave
1. Movie Theaters
Sit back and relax in an air-conditioned theater while you all enjoy a family-friendly film; perhaps Sonic the Hedgehog, Sing 2, or Minions? You can also catch a summer flick as the sun goes down with these FREE outdoor movies for kids.
2. Bowling Alleys
Cool off and hit the lanes at one of these bowling alleys on Long Island. The Kids Bowl Free program has locations throughout Long Island where your children can bowl all summer at no cost to you.
3. Plaster Craft Shops
Letting the kids paint their own plaster craft is a great indoor activity when it's raining or too hot and humid to be outside.
4. Local Libraries
Pick up some books and enjoy the many activities and perks your local library offers. Both Nassau and Suffolk have libraries with a variety of kid-friendly programming. Plus, several now have a robust Library of Things where patrons can check out various games, devices, and more to use in the comfort of their own homes.
5. Ice Cream Shops
Pay a visit to one of LI's old-fashioned ice cream parlors for a sweet treat.
6. Long Island Children's Museum
LICM is fully air-conditioned and filled with activities for little ones. They have weekly drop-in programs, crafts, and more. Plus, the Our Backyard exhibit boasts aquatic fun and sensory-friendly activities in an outdoor setting.
RELATED: All the Top Summer Day Trips Near Long Island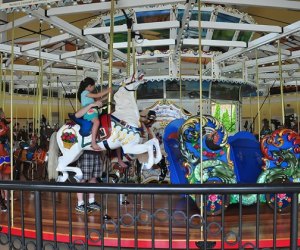 Make a stop at Nunley's Carousel after visiting the nearby museums. Photo courtesy of Mommy Poppins
7. Nunley's Carousel
Nestled in between LICM and the Cradle of Aviation on Museum Row, riders can choose between ornately painted horses and lions or relax on a carriage bench at this indoor carousel.
8. The Cradle of Aviation
Garden City's Cradle of Aviation has attractions that will delight everyone from toddlers to teens. Anyone into gaming will want to check out the Long Island Retro Gaming Expo this August.
9. Nassau County Firefighters Museum
Your little ones will delight in all things firefighting at this indoor museum located off of the Cradle of Aviation. In addition to breaking down vital emergency preparedness education for young guests, visitors can get a glimpse at how fires were fought in the past with historical apparatuses and memorabilia. Children can climb aboard a life-size fire truck and either take the wheel or hang on the back.
RELATED: 25 Bucket List Things to Do This Summer With LI Kids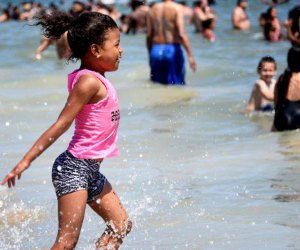 Jones Beach is a great summer destination spot. Photo courtesy of Jones Beach
Beat the Heat on Long Island with Water Activities
10. Jones Beach
Long Island is home to plenty of beautiful beaches—Jones Beach happens to be the most visited on the East Coast. If your kids get bored just playing in the sand, pay to visit one of the beaches with an on-site playground.
11. Spray Parks
You can turn on the sprinklers at home or take a drive to one of Long Island's sprinkler parks and splash pads. Some have playgrounds nearby, and a few are even FREE.
12. Swimming Spots
We are spoiled for swimming options on LI: We can swim in the ocean, at the nearby community pool, and of course, there are plenty of lessons available for kids who are just getting their feet wet.
13. Water Parks
Families can take a trip to Splish Splash to spend the day on its variety of super-fun water rides. But there are also some smaller—but just as fun—water slides peppered throughout Long Island. And who doesn't love a little adrenaline rush?
14. Fishing Charters
Hop aboard a family-friendly fishing charter or drop a line at a fishing destination.
15. Water Races
Race the Narrows in Mastic Beach or build a boat and participate in the Cardboard Boat Races down the Peconic River in Riverhead.
More Cool Things to Do on Long Island When It's Hot

Get out the water guns for hours of water fun in the backyard. Photo by Rose Gordon Sala
16. Backyard Adventures
No need to travel. This roundup of DIY water games will keep everyone happy all summer long.
17. Music and Theater
Kidz Bop Live visits the Jones Beach Theater stage this July while the Argyle Theater, Elmont Theater, and John W. Engemen Theatre also have some really cool family-friendly shows lined up for the summer.
18. Water Activities
Cool down with a kayak, canoe, or paddleboard rental, or check out one of the top surfing schools.
RELATED: Long Island Water Parks, Slides, and Pools to Cool Off in this Summer

Take on the challenges at WildPlay at Jones Beach. Photo by the author
19. WildPlay At Jones Beach
Feel the wind at your back as you traverse an oceanside obstacle course and zipline. Finish off the day with a dip in the water and a picnic at nearby Jones Beach.
20. Puck Shots
Skate onto the ice and practice puck shooting at the Freeport Recreation Center on weekends this summer.
21. Drop-In Arts & Crafts
Create fun works of art in a variety of materials inspired by artwork in the Heckscher Museum's collection and exhibitions.
22. Immersive Art
Immerse yourself in Starry Night, Sunflowers, and other Van Gogh masterpieces in a three-dimensional exhibition at the Samanea Mall.
RELATED: Top Beach Playgrounds on Long Island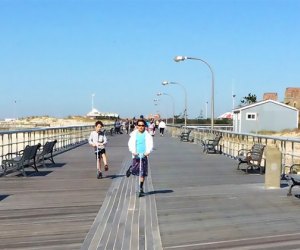 Explore the many many boardwalks on Long Island. Photo by the author
23. Boardwalks
Feel the breeze as you stroll some family-friendly boardwalks on Long Island.
24. Ice Skating
There's no better way to cool down than to hit the ice. Long Island's indoor ice skating rinks will quickly transport you to winter.
25. The Greenway
Explore Long Island's South Shore as you bike or walk along the fully paved Coastal Greenway. The 14-mile trail runs along Ocean Parkway and has stops at playgrounds, beaches, and even spray parks to keep everyone cool.
26. Camping and Glamping
Sleep under the stars at one of the many campgrounds on Long Island. Or notch up your game to go glamping instead. Some spots are even on or near the water, offering cool nighttime breezes.
Sign up for the Mommy Poppins Newsletter today!