The Most Family-Friendly Libraries in Nassau County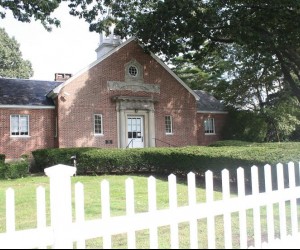 Parents are always searching for family (and budget) friendly activities and places for the kiddies to blow off steam. Play places make for a good time--and so is the great outdoors (when it's warm enough)--but you can also find out-of-the-box fun at your local library. We looked into libraries across Nassau County that have over-the-top children's rooms and extraordinary activities to keep your family engaged and entertained. And don't worry about being silenced by the librarians here!
For other kid-friendly activities, check out our Inside Activity Guide and Long Island Events Calendar.
Merrick Library
2279 Merrick Ave., Merrick
516-377-6112
Located on the second floor of this modern library, the children's room features an aquarium and iPad stations. Program offerings include a monthly LEGO club, cooking classes, fitness classes (ie. yoga) and night programs. A separate toy room is also available.

The Crayon Kiosk features four iPads at the Merrick Library. Credit: Merrick Library
Bellmore Memorial Library
2288 Bedford Ave., Bellmore
516-785-2990
The children's room takes up the entire second floor of this library. There are areas for lounging, semi-private reading, a large toy/puzzle wall and a wooden puppet theater with puppets. There's also a separate, recently renovated room for groups, events and/or book browsing. Programs often include reading clubs, live characters (Disney, Sesame Street) and live animal presentations.

Puppet theater at the Bellmore Memorial Library. Credit: Jaime Sumersille
Farmingdale Library
116 Merritts Rd., Farmingdale
516-249-9090
This sprawling library has a large children's room with plenty of area for the little ones to explore. Their family programs feature movie showings, crafts, magic shows and more. In addition, Farmingdale Library caters to those with special needs, offering programs that facilitate self-awareness and sensory integration.
Bethpage Library
47 Powell Ave., Bethpage
516-931-3907
Puzzles, toys and building blocks can be found in this library, as well as a separate tween/teen section. A large auditorium allows for live music and theatrical performances. In warmer weather, the outdoor area allows for limited activities and picnic lunches.
Westbury Library
445 Jefferson St., Westbury
516-333-0176
The Robert Bacon Memorial Children's Library is located in its own building in Westbury. This historic children's library offers various recurring and special events for kids, including a puppet show and toddler music program. There is also reading nooks, puzzles, toys and age-specific computer labs. Renovated in 2005, it still features the original fireplace, as well as three hand-painted wall murals. Additionally, it offers an expansive Spanish section for children. Homeschooling parents can also find a group here.
Syosset Library
225 S. Oyster Bay Road, Syosset
516-921-7161
Boasting comfy window seats for reading and pondering, the Syosset Library also offers a separate toddler/baby area with tons of toys. Since this is a separate space, kids don't have to be super quiet.
Bryant Library
2 Paper Mill Rd., Rosyln
516-621-2542
Located in the heart of Rosyln Village, the children's room occupies the entire downstairs of the library. Live performances, music events, arts & crafts and reading groups are just a few of the events on this calendar's slate. It offers a wide variety of toddler programs as well. If the weather cooperates, pack a sack lunch and sit outside near the pond.
Main Photo: The Robert Bacon Memorial Children's Library in Westbury. Credit: Westbury Library