Online Robotics Camp
Young Gates - Kids Online Personalized Classes

Artificial Intelligence with Scratch Online Camp
Young Gates - Kids Online Personalized Classes

Spark Math: Free Trial Class
Virtual
Sign up for our free newsletters.
CORNucopia at Philipsburg Manor: A-Maize-ing Family Fun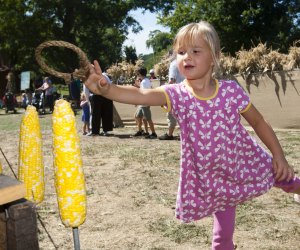 8/21/17
- By
Susan Miele
Labor Day weekend ushers in the return of one of our favorite fall festivals, CORNucopia. The annual festival at Philipsburg Manor in the picturesque Sleepy Hollow is filled with all manner of old-fashioned fun set in the 18th century. Not sure about the fun factor at an event devoted to corn? You'll be a-maize-d!
This year's festival will be held Saturday, September 2, through Monday, September 4, 2017. My family and I attended last year and can't wait to return. Expect corny—and quality—fun, from music to corn-shucking contests.
Read on to learn from my family's visit and the inside scoop! Be sure to check our our Event Calendar for more ideas, and follow us on Facebook.

The corn-y mood is established at the gate!

Held on the grounds of Philipsburg Manor, the mood of CORNucopia is set as soon as you approach the corn-stalk "gates," where smiling hosts greet you, perched atop wooden barrels and dressed in themed attire. The backdrop of the 18th-century manor house, the period attire of the activity leaders and the sounds of live country and bluegrass music all contribute to the atmosphere. The option of trying on kids' period clothing adds to the historic charm.
Past the gates, you can typically find a table with corn-related concessions and other items were for sale: corn pudding, corn muffins, corn salsa with chips, popcorn balls, cornmeal and more. Storybooks and cookbooks with a corn theme are among the other items available for purchase. All visitors are given a free bag of popcorn to get the party started.
Imaginative corn-themed games and activities are available to keep kids entertained. Test your speed at a corn-shucking contest, or try your hand at "CORNival games" (like "Ring a Cob" and "Konk a Crow"), You can also make a scarecrow and a corn-husk doll, or guess the number of corn kernels in the jar. Wee ones can navigate their way through the "Maize Maze" (the low height and the single path avoid any fears of getting lost), and everyone can get a chuckle from the "Corny Jokes" bin.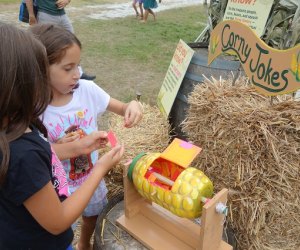 Good groaners await in the corn-y joke bin.
Keep an eye on the time so you don't miss English country dancing in the barn. Another highlight for all ages is a demonstration of corn being ground into cornmeal on a quern stone at the 18th-century mill. Trying the task helps you appreciate the ease of modern technology! If you haven't run out of steam, also tour the manor house (included in the cost of admission).
No corn-themed event would be complete without culinary-related offerings. Watch open-hearth cooking, as well as contemporary cooking demonstrations by local chefs who prepare recipes you can try at home. When you're ready to cool down, purchase the sweet corn-flavored ice cream from Blue Pig (alternative flavors are available for traditionalists). Other refreshments for purchase include corn chili, corn fritters, corn dogs, and regular ol' hamburgers and hot dogs.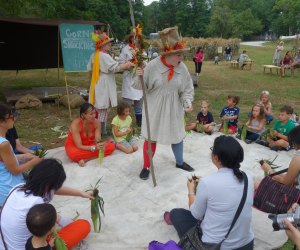 Guides in period attire lead a barn dance.
What to Know Before You Go
While this event is open to all ages, the sweet spot is pre-K through elementary school.
Just outside the event location, the visitor center offers bathrooms (including a changing table) and a picnic area. Outside food and beverage are not permitted.
Stroller navigation along the grounds is manageable; however, they're not permitted inside the manor house and can be parked outside should you opt to take the tour.
All attractions can be enjoyed in one visit and are offered continuously (other than the barn dance, tours, and cooking demonstrations).
Shady spots are available for resting or letting little ones amble about.
Online tickets are $16 for adults, $12 for seniors, $8 for children 3-17; free for members and children under 3. For more information or to purchase tickets, visit the website or call 914-366-6900.
This originally posted in 2016 and has been updated for 2017.
Top photo: © Tom Nycz, courtesy of Historic Hudson Valley. All other photos taken by the author.