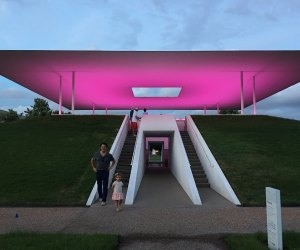 Turrell with Tots: "Twilight Epiphany" Skyspace
Famed American artist James Turrell may not have guessed that his "Twilight Epiphany" Skyspace would be a veritable classroom for youngsters, but this outdoor art installation is a great space for conversations with kids about colors, shapes, and even numbers.
Located at the Suzanne Deal Booth Centennial Pavilion at Rice University, Turrell's "Twilight Epiphany" Skyspace looks, at first glance, like something from outer space. The two-level pyramidal structure with an opening in its roof sits on an immaculately manicured hill near the Shepherd School of Music. It's an architectural sight to behold on its own, but the real magic happens at sunrise and sunset. Well, about 40 minutes before sunrise, and about 8-10 minutes before sunset, to be precise. During these times, a mesmerizing light show takes place as LED light is projected onto the roof of the Skyspace.
Up to 120 guests can gather on stone benches located on each level of the Skyspace to view the changing colors of the sequence and the effect the lights have on the dusk or dawn sky. The 40-minute sequence, accompanied by nothing but silence, can also be appreciated from the grassy lawn that surrounds the structure. This might be the best place for little ones who haven't quite mastered their whisper or "inside voice," because although the Skyspace is free and open to all ages, the atmosphere is definitely one of serenity and quiet reflection.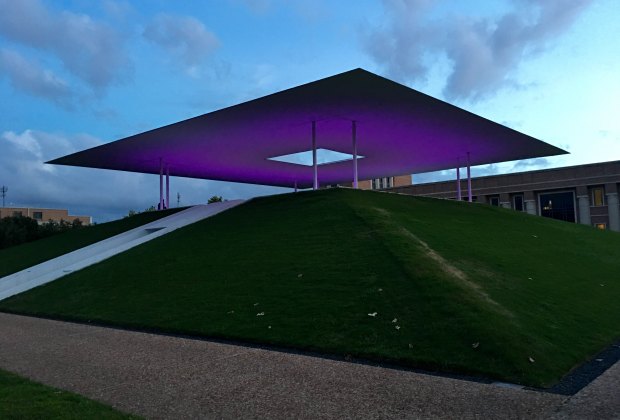 Known for his explorations of light and space through his work, James Turrell has been creating Skyspaces across the world since the 1970s. "Twilight Epiphany," his 73rd Skyspace, was completed in 2012 and is one of the largest of his pieces. It is the first of his works to be engineered for sound, and as such, Rice music students utilize the space as a laboratory after sunset.
Plan to arrive about 15 minutes before the show begins, and note that reservations are required for the sunset sequence. These can be made online or by phone. Visiting times are 5 a.m.-10 p.m. Wednesday through Monday, and it is closed on Tuesdays. The upper-level seating is accessible only by stairs, so leave the stroller on the lower level. The sequence will take place rain or shine, so come prepared and with insect repellent to be on the safe side. Paid visitor parking is available on campus with the Alice Pratt Brown lot being the nearest parking area to the installation. Use entrance No. 8 on University Boulevard or entrance No. 18 on Rice Boulevard for the easiest access.
In addition to the Rice University Skyspace, two more opportunities to experience James Turrell's work exist in Houston. His notable light tunnel at the main campus of the Museum of Fine Arts connects the Caroline Wiess Law Building with the Audrey Jones Beck Building, and another Skyspace, "One Accord," can be found at the Live Oaks Friends Meeting House in the Heights.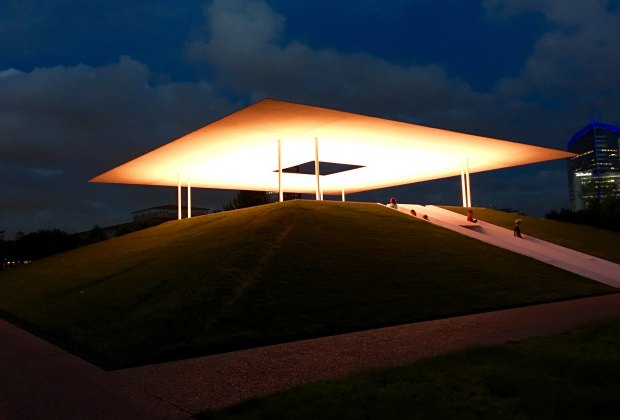 All photos by Frances Brousssard Denenburg