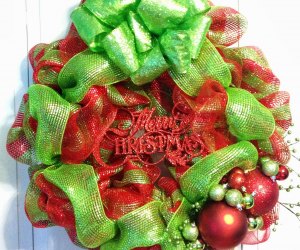 Holiday Gift-Making Workshops and Classes
Every year as I'm doing some last-minute gift shopping I tell myself that next Christmas I'm definitely going to make amazing gifts for my family and friends. Well, I haven't made anything yet, but fortunately for me and those of you who have similar intentions, there is still time to flex our creative muscles. There are plenty of fun classes and workshops where you can make one-of-a-kind gifts and learn techniques to create original works of art, delicious treats, and a variety of other crafty items.
For those of you who are not interested in DIY gift-giving but want to give unique presents to your loved ones, you might consider supporting local artists and artisans who sell their goods and wares at a holiday market or getting the children in your life special gifts from one of Houston's independent toy stores. And while you're shopping, don't forget to pick up a gift for a Christmas toy drive. And don't forget to check out our holiday guide filled with things to do and see in Houston this season.
Arts and Crafts
TXRX Labs
205 Roberts Street
This is a maker space that offers many classes, such as leather-working, welding, wood shop basics, and gardening, as well as special holiday gift-making workshops listed below. These classes are for adults, but the facility does offer ongoing young maker classes. Sign up online.
Cutting Board Gift Workshop - December 10, 11 a.m.-3 p.m. - In this workshop, students will do light finishing on a wood cutting board and laser etch a personalized design onto the board. $65
Textured Silver Ring Gift Workshop - December 11, 1-3 p.m. - Learn basic metal smithing skills, make a simple textured sterling silver ring, and give the gift of a handmade piece of jewelry. $35
Plasma Cut House Sign Gift Workshop - December 11, 4-8 p.m. - Create a personalized plasma cut house sign, the perfect gift for the person who has everything, and get a sneak peek at the tools and processes used to make the sign. $55
Houston Center for Photography Family Day
1441 West Alabama Street
December 10, 11 a.m. - 3 p.m. - Attend HCP's Family Day and enjoy activities for the whole family. Kids and adults can make self-portrait fabric collages and cyanotypes, which could make cool gifts especially if you get them framed. There is also a scavenger hunt of the current exhibition for all ages and a special holiday story time for children ages 3-6.
Pearl Fincher Museum of Fine Arts
6815 Cypresswood Drive, Spring
The Family Art Studio program is designed for both adults and children over the age of 8. Each week features two 1.5 hour class with projects inspired by the current exhibitions and various cultural traditions. The classes are open to families and individuals but children under the age of 14 must be accompanied by an adult. Classes are $10 per person or $8 for members, and all materials are provided. Class size is limited so purchase tickets ahead of time online or call 281-376-6322.
Wearable Art - December 7, 4:30-6 p.m. and 6:30-8 p.m. - Participants use 2-D design techniques to create a necklace or a pendent with a painted pendant.
Paper Marbling - December 14, 4:30-6 p.m. and 6:30-8 p.m. - Participants experiment with a variety of methods to print marble designs on paper, which can be used to create art prints and greeting cards.
Quilt Star Ornaments - December 21, 4:30-6 p.m. and 6:30-8 p.m. - Learn how to make festive star ornaments out of fabric and cardstock, which make great gifts or decorations for the tree.
Explore Yoga LLC
1015 E. 7th Street, Studio Apartment
DoTerra Make and Take Holiday Party (kids edition) - December 1, 2-4 p.m. - Help your kids make lovely, wellness-oriented gifts featuring doTERRA Essential Oils and organic ingredients while you sip cocoa and snack on cookies. The basic gift-making package includes three items: Candy Cane Sugar Scrub, Serenity Salt Soak, and Home for the Holidays Hand Sanitizer. $40 pre-register, $50 at the door, sign up online or call 917-656-7613, all supplies are included.
Kolibri - A Mothers' Guild - Trini Mendenhall Sosa Community Center
1414 Wirt Road
Enjoy creative workshops with babysitting included. Register online ahead of time, limited spaces available, $25 - $35.
Mesh Wreath Class - December 9, 9:30 a.m. - 12:30 p.m. - Make a gorgeous 10-inch holiday wreath to take with you and learn how to make a florist bow.
Christmas String Art Class - December 16, 9:30 a.m. - 12:30 p.m. - Create beautiful Christmas inspired mini string art using stained wood, nails, and strings in holiday colors.
Art Mix
3701 W. Alabama, Suite 250
Saturday Art Workshops, December 10 and 17, 1-3 p.m. - Children ages 3-9 can make handmade holiday crafts, decor, and cards. The cost is $50 register online by the Friday prior to the session or call 713-552-9028.
Food
Studio June
4660 Beechnut Street #102
Holiday Cookie Baking Workshop - December 17, 9-10 a.m., 10:30-11:30 a.m. and December 19, 9-10 a.m. - Under the instruction of a trained pastry chef, parents and children ages 18 months to 6 years old work together to bake and decorate an array of holiday cookies. Space is limited, register online. $35
Cake Craft Shoppe
3554 Highway 6, Sugar Land
Reservations required in advance, sign up online or call 281-491-3920, classes are for adults and children ages 12 and up.
Christmas Themed Cupcakes, Petit Fours, & Cake Pops Class - December 11, 1-4 p.m. - This is a hands-on class that teaches students icing recipes and techniques for decorating and embellishing their treats. Students leave the class with finished desserts.
Christmas Cookie Class - December 18, 2-5 p.m. - This exciting, interactive class is designed to take your cookies to the next level. Participants learn cookie and icing recipes as well as techniques for decorating one of a kind Christmas cookies.
The Happy Macaron
1210 E. 29th Street
Macaron Magic Workshop - December 10, 1-3 p.m. - Learn the secret to creating the perfect Parisian macarons, beautifully delicate cookies that would make a lovely, thoughtful gift. During the class, you will learn both the science and art of making macarons in two flavors and will take home your creations along with the ability and confidence to make them at home. $49.95
Photo courtesy of Kolibri - A Mothers' Guild