What's Open in Boston for Kids Right Now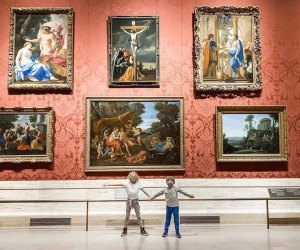 Yes, the pandemic is dragging on, but Boston businesses are finding creative ways to keep kids and families busy and entertained—safely! As Massachusetts permits businesses to slowly increase capacity allowances, Boston museums and play spaces have progressively (and carefully) reopened their doors to the public, with mask mandates and social distancing measures in place. Yes, winter family day trips and February school break outings might take a little more planning this year, with advanced ticketing and timed entries commonplace, but parents who venture out with kids are supporting local or regional businesses while also giving everyone a break from the house—and each other!
Follow up a visit to one of these enriching or entertaining spots with a fun meal at an igloo- or yurt-themed outdoor restaurant, and keep tabs on our Boston events calendar for more activities to keep the family's mojo going through the long Boston winter and early spring.
Museums, Zoos, and Aquariums Now Open around Boston
The new "Arctic Adventure" exhibit opens along with the Museum of Science this month. Photo courtesy of the Museum of Science
The big news over the past couple weeks is that many museums, which by and large closed over the holidays due to COVID-19 spikes, are reopening. It's time to return to everyone's beloved Museum of Science and its new "Arctic Adventure" exhibit. Art-lovers will breathe a sigh of relief that the Museum of Fine Arts is once again accessible, with timed ticketing. Some exhibits remain closed off but enough galleries are open, including the MFA's "Basquiat and the Hip-Hop Generation" exhibit, to make a visit well worth it. Look for the ICA and Tea Party Museum to open in March.
For little ones, the Boston Children's Museum remains closed but the Discovery Museum of Acton has been open for weeks, with both interactive indoor exhibits and its big, outdoor Discovery Woods play space accessible via timed ticketing. The South Shore Children's Museum and Children's Museum of Easton, two of our favorite places to visit on the South Shore in winter, are also open for exploration and play.
TheThe New England Aquarium, with its new spectacular new coral reef exhibit, is open at 20 percent capacity. Plan a visit soon as tickets are selling fast.
Meanwhile, most zoos have remained open, including Franklin Park Zoo and Stone Zoo as well as some great zoos farther outside the city, like Buttonwood Park Zoo in New Bedford, Capron Park Zoo in Attleboro, and Southwick Zoo in Mendon. Most indoor exhibits (like rainforest rooms) remain closed at zoos.
BeanStalk at Jordan's Furniture is ready to gear kids up to climb. Photo courtesy of BeanStalk Adventure Ropes Course
Indoor Play Spaces and Obstacle Courses Now Open around Boston
Some popular indoor play spaces, including Boston Playground, BB Kidz Club, Jam Time, and Vinkari Safari, have remained open through a good part of the pandemic, but others are allowing visitors as Boston announced plans on February 8th to allow recreational businesses to operate at 40 percent capacity, up from 25 percent through the early part of the winter.
Little monkeys who are scaling the walls (and their parents) will appreciate that many ninja-style indoor obstacle and ropes courses, like Action Athletics in Wellesley and BeanStalk Adventure Ropes Course in Avon, are welcoming climbers and jumpers.
Entertainment Centers and Bowling Alleys Now Open around Boston
New England's biggest entertainment center, Apex in Marlborough, has continued limited operations through the winter. Its bowling alley, ropes course, and go karts are open with reservations (laser tag coming back soon). Among our favorite bowling alleys around Boston, kids can get rolling at Boston Bowl, Needham Bowlaway, Brunswick Zone, and Westgate Lanes.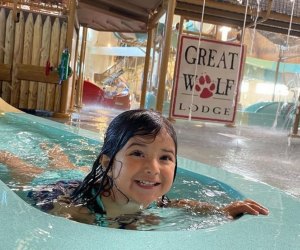 Great Wolf Lodge asks guests to mask up in common areas, but take a breather on the water slides and in the pools. Photo courtesy of Great Wolf Lodge
Ice Rinks Now Open around Boston
Brookline's Jack Kirrane Rink and Kelly Memorial Rink in Jamaica Plain are among the outdoor ice skating rinks have remained open with capacity restrictions to skaters who don't mind the chilly fresh air. Just this week, many of our favorite (and free!) indoor skating rinks have opened public skate back up for limited hours, too.
Swimming Pools and Water Parks
Not many indoor pools with daily passes are open to the public press time, but some, like the Brookline's Evelyn Kirrane Aquatic Center, are hosting open swim with timed ticketing and designated swim areas throughout the pool.
For those who are dying for a warm getaway, a New England indoor water park might be your best bet—several are open, with capacity restrictions and social distancing policies in place. That includes Great Wolf Lodge right here in Massachusetts, where Boston-area families don't have to worry about intrastate travel restrictions. Caribbean breezes might be hard to come by, but a little warmth and family time could be just what the doctor ordered in winter 2021.