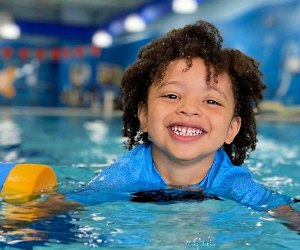 30 Things To Do over February Break With Boston Kids: In-Person and Drop-Off Activities
An exotic winter getaway may not be in the cards this February break, but families can still plan an epic staycation right here in the Boston area. Our favorite February vacation activities include family-friendly outings and drop-off programs. Take private barnyard tour, visit a real ice castle worthy of Elsa, cruise around the Boston "Snowport" for some curling and igloo dining, hit an open (and safety-conscious) indoor play place, drop off the kids for a swimming, cooking, or junior farmer program, and more. Parents might be putting a fun new face mask on their kid rather than sunblock, but hey, we New Englanders know how to make the most of winter, right?
Our Boston Winter Fun Guide is packed with even more ideas for outdoor and indoor activities to keep kids busy with and (since we all need a break) without mom and dad. Happy vacation: It will be one for the memory books, even if—and perhaps because—it's spent close to home.
2021 update: While we are trying to promote safer activities that occur outdoors or with social distancing guidelines in place, please keep your family and others safe by always wearing a mask and maintaining appropriate distance. If you arrive at an event that appears too crowded try using the see all locations in this article or "nearby" search feature on our event calendar to find something else to do.