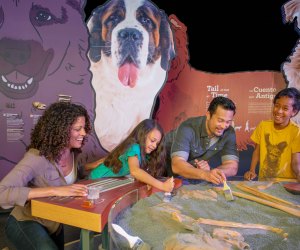 30 Ideas for a Fun February Vacation Week with Boston Kids
If your plans for winter break include a staycation right here in Boston, you're in luck, because there are tons of cool things to do while the kids are off of school during February break. Along with some very special exhibits, performances, and fun activities, we've discovered some drop-off programs for kids of parents who need childcare (or just a break). True, none of these events involve lounging on the beach with a tropical drink; on the plus side, they're all easy to get to—and easy on the wallet.
For more ideas for making the most of a chilly vacation in Boston, see our February GoList and check out our Winter Fun Guide.
Don't forget to follow us on Facebook and subscribe to our newsletter to get tips sent straight to your inbox.
Boston February Vacation Week Activities for Kids: Museum Exhibits and Camps
1. From puppet workshops to circus performers, there is something new (and free!) every day of vacation week at Faneuil Hall.—Boston
2. Get a first glimpse at the Museum of Science's brand-new exhibit, Dog's! A Science Tail, catch the latest 4D film, Octonauts: Amazon Adventure 4-D, and celebrate National Engineers Week with special activities throughout the museum. —Boston
3. Visit the Mary Baker Eddy Library for Black History Month and enjoy activities centered on aviation, invention, dance, and art-making.—Boston
4. Got a boat lover? Head over to the USS Constitution for the Maritime Lego Festival happening all week long. Get inspired by the different ship designs on display at the Masters of Miniature exhibit and build your own ship with Lego and Duplo Bricks.—Charlestown
5. Travel back in time with colonial-themed activities and art projects perfect for elementary school kids at the historic Durant-Kenrick House.—Newton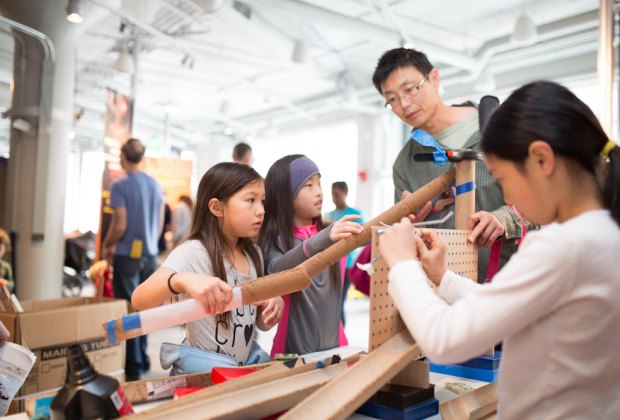 Hands-on learning is the draw at MIT's Feb Fest. Photo by Samara Vise

6. MIT is celebrating National Engineers Week with their annual Feb Fest. Build and learn along with students and scientists!—Cambridge
7. Enjoy art-making and appreciating on Thursday and Friday at the ICA, fun for children and adults as well.—Boston
8. Celebrate National Engineer Week at the Children's Museum with all sorts of activities to challenge your little ones to build, design, create, and problem-solve.—Boston
9. There are drop-in, artful animal projects every day at the Museum of Fine Arts, along with story hours on the 19th.—Boston
10. Teach your kids about climate change at this interactive exhibit at the Harvard Museum of Natural History.—Cambridge
11. If you'd simply like to explore some cultural institutions you've never visited (or haven't in awhile), several local museums offer free admission for children (accompanying caregivers in most cases still pay regular admission).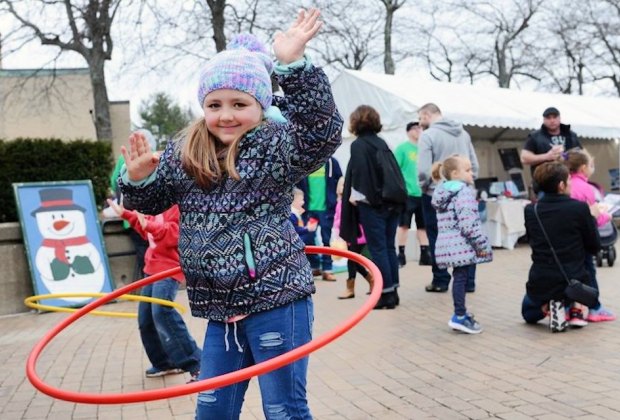 The Family Fun Zone awaits at Winterfest. Photo courtesy of Lowell Winterfest
Boston February Vacation Week Activities for Kids: Skating, Winter Hikes, and Outdoor Fun
12. The annual Winter Festival will take place on Boston Common on Wednesday, February 20th. Enjoy arts and crafts, games, inflatables, a photo booth, and free skating (and rentals!) on the Frog Pond.—Boston
13. If downtown isn't your style, taking the kids on a hike or a winter walk are certainly great ways to shake off cabin fever.
14. Pop into the Lowell Winterfest for everything from rides to ice skating to food vendors and shopping. Winterfest's grand finale combines a laser light show, music, and fireworks.—Lowell
Winter Sports
15. Lace up for free skating at these local indoor rinks or low-cost skating at these charming outdoor rinks across Greater Boston.—Boston
16. Hit the slopes at one of these nearby ski hills, all worthy of a day trip.—various locations
17. Don't want to ski? Hit the slopes to go snow tubing instead!—various locations
18. An even simpler way to make the most of cold weather: Snowshoeing at one of these local parks, which is great fun (and great exercise).—various locations
19, Appreciate all the activities winter can offer before warming up by a campfire with s'mores at the Ward Reservation Winter Fun Day. - Andover
Boston February Vacation Week Activities for Kids: Library Activities
20. It's Puppet-palooza at the Ventress Memorial Library with one morning of Cactus Head Puppets and another morning of sock puppet monster making.—Marshfield
21. Learn what it takes to become an acrobat and some Chinese phrases while watching an acrobatic master perform jaw-dropping stunts. - Roslindale, Dorchester, and Jamaica Plain
22. Create comic book masterpieces with a professional cartoonist at this Tween Comics Workshop.—Mattapan

Blue Man Group hosts creative activities all week long. Photo courtesy of Blue Man Group
Boston February Vacation Week Activities for Kids: Shows and Performances
23. Everyone's favorite basketball performers are back on Wednesday the 19th with their ball-handling wizardry.—Lowell
24. The Blue Men are celebrating 25 years this year and are kicking off their anniversary festivities with special activities during vacation week. —Boston
25. What's up, doc? The Bugs Bunny Festival is at the Brattle Theatre with shows all week long.—Boston
26. Watch a puppet show featuring everything from dragons to pirates at Cardboard Explosion! and Everybody Loves Pirates at the Puppet Showplace Theater.—Brookline
Boston February Vacation Week Activities for Kids: Drop-Off Camps and Clinics
27. Tire 'em out! My Gym is offering drop-off camps at their Framingham and Boston locations.—Framingham, Boston
28. Budding chefs can whip up some tasty treat inspired by their favorite stories at Taste Buds Kitchen.—Beverly, North Andover
29. There's a mystery to solve at the Franklin Park Zoo! Kids can play detective at this super sleuthing vacation week program from the 17th through the 23rd.—Boston
30. Your kids can choose from choose sports, swimming, arts and crafts, dance, cooking, board games and more at the JCC Greater Boston School Vacation Camps.—Boston
Originally published on 2/8/2016. Updated by Lucie T. on 2/13/2017 and 2/11/2018 and 1/31/2020