Ninja Warrior Style: Indoor Obstacle Courses in Boston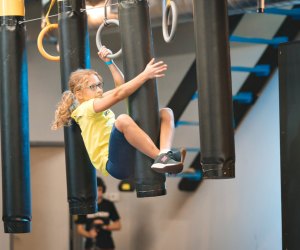 We love Boston's indoor play spaces for helping kids get their energy out, but what if your child is literally climbing the walls? That's where gyms that channel the TV show American Ninja Warrior come in. Just like the show, the indoor obstacles at these family-friendly gyms and indoor play spaces in Massachusetts require speed, agility, balance, and strength to complete. They are perfect for little monkeys who love to climb and appreciate a physical challenge.
If your kids are inspired by the show, or just need a productive way to channel their energy, we've got a great list of Boston-area gyms with obstacle courses perfect for aspiring ninja warriors. Our Boston Indoor Fun Guide has more ideas for keeping kids active when it's cold or wet outside.
Ninja Warrior Obstacle Courses in West of Boston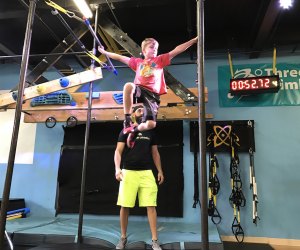 Little ninja warriors learn agility, strength and balance. Plus it's fun! Courtesy of Action Athletics.
Action Athletics—Wellesley
Action Athletics in Wellesley houses more than 25 obstacles designed by actual American Ninja Warriors, so you know you're getting the real deal. The gym offers classes for kids ages six to 13 years old in two-month-long sessions, as well as a special preschool ninja school for little warriors ages three to five. In the classes, little ninja warriors learn STEAP—strength, technique, and experience while focusing on accountability and positivity. Action Athletics also offers private training and open gym, so you can tailor your ninja's training to your schedule.
Exxcel Gymnastics and Climbing—Newton
Choose from Mini Ninja (ages 3-4) or Ninja Trainer (ages 5-7) at Exxcel Gymnastics and Climbing for classes packed with obstacles, challenges, and more. This gymnastics facility features the perfect equipment to challenge little ninjas while they also learn about teamwork and following directions. Classes are offered in seasonal blocks. Exxcel also offers ninja warrior birthday parties.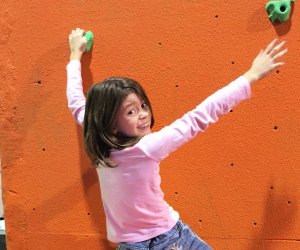 Rock climbing meets obstacle course challenges at Rock On. Photo courtesy of Rock On Adventure
Rock On Adventure—Norwood
The ninja experience at Rock On Adventure in Norwood is unique because it combines rock climbing with obstacle adventures. This family-friendly gym allows kids as young as three years old to come play on the climbing and obstacle equipment. If your children are interested in more formal instruction, Rock On has a Ninja Warrior Training program for those ages seven to 12. The classes combine rock climbing with obstacles to work on agility, balance, and upper body strength. They also have a ninja warrior obstacle course for serious ninjas in training—little kids will need parent's help to complete the mission.
Launch—multiple locations
Launch trampoline parks and entertainment centers have four locations in the Boston area—all with awesome ninja obstacle courses. Courses are tiered so little ninjas and adults alike can enter the course and feel challenged. And outside of the ninja course itself, there are also plenty of other ways to test your little warrior's strength and agility, from climbing walls to bounce tracks. Be sure to check Launch's newest and biggest center that recently opened in Framingham for the most state of the art equipment and challenges!
Ninja Warrior Obstacle Courses in Boston and Greater Boston
Sky Zone—Boston
What could make New England's largest trampoline park even better? An obstacle course! The Warrior Course at Sky Zone is one of the most popular attractions, and it's easy to see why, with its three lanes of challenges ready to test your agility, stamina, strength, and speed. Kids ages five and up are welcome on the course, which is included in a jump ticket.
Xtreme Ninja Martial Arts Center—Medford
At Extreme Ninja Martial Arts Center, little ones as young as three learn some seriously cool ninja moves while also learning martial arts. Classes teach self-defense while helping students develop their attention span, basic motor skills, and social skills. Trials are available and then ninjas need to sign up for a membership.
Ninja Warrior Obstacle Courses in South of Boston
Team Awesome Fitness—Weymouth
With three appearances on American Ninja Warrior, you might say that the owners of Team Awesome Fitness are obstacle experts. They've used their experience to create a family-friendly gym with a fun and challenging adventure course. Kids ages five and up can experience it through classes that take on obstacles like monkey bars, rope climbs, and swinging obstacles. Sign up for an eight-week ninja class or dip your toes into the ninja world with a drop-in class. Team Awesome Fitness also offers open gym sessions and hosts birthday parties.
Ninja Warrior Obstacle Courses North of Boston
Gymja Warrior—Danvers
Gymja Warrior has two convenient locations—one located at the Danvers Indoor Sports complex and another in Woburn. They offers classes that focus on building strength through fun, challenging movement that combines techniques from gymnastics, Parkour, free running, and rock climbing. Gymja offers three levels of age-appropriate classes for kids ages three to 17 years old. In the classes, young ninjas are kept physically and mentally active while doing creative drills on Gymja's many obstacles.
Jump On In—Woburn
While Jump On In might be best known for its giant inflatables, this location also has a legit ninja course. From a sea of rings to hanging logs to crazy inclines, ninjas of all ages will love the challenges. Single day open gym passes are available daily.