Online Robotics Camp
Young Gates - Kids Online Personalized Classes

Artificial Intelligence with Scratch Online Camp
Young Gates - Kids Online Personalized Classes
Sign up for our free newsletters.
Igloos, Yurts, and Cozy Cabins: Fun Boston Outdoor Restaurants for Winter Family Dining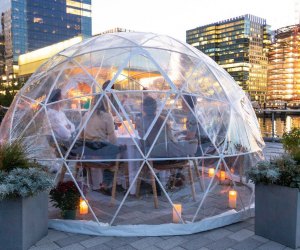 1/4/21
- By
Kelley Heyworth
It's not only safer to eat outside these days; it's more fun, too! Boston-area restaurants are getting creative by setting up igloos, domes, yurts, greenhouses, cozy private cabins, and other enclosed or socially distanced heated spaces to allow families to eat outside this winter. Be sure to call ahead or make reservations for these magical spaces before heading out for dinner, lunch, or brunch, since most restaurants are operating with capacity restrictions.
Make an afternoon of it by pairing a visit to one of these kid-friendly restaurants with a winter day trip to a local park or farm. Our Boston Winter Fun Guide includes more ideas for keeping kids safe, warm, and entertained in the coming months.
2021 editor's note: While we are trying to promote safer activities that occur outdoors or with social distancing guidelines in place, please keep your family and others safe by always wearing a mask and maintaining appropriate distance. If you arrive at a venue that appears too crowded, try using the see all locations in this article or "nearby" search feature on our event calendar to find something else to do.

Photo courtesy of The Bowery Bar
Fun Outdoor Restaurants for Families in Boston
Bowery Bar—Dorchester
The Bowery Bar offers three private, heated yurts that you can reserve online. Up to six people can dine inside. Its fun kids menu includes burgers, chicken fingers, fish and chips, and a Hoodsie Cup ("for guests who finish their meals").
Lookout Rooftop and Bar—Seaport
Make a reservation for one of the Lookout Igloos, enclosed, warmed domes with awesome waterfront views. Their available for brunch, lunch, and dinner. Clam chowder and some fun drinks make for a satisfying visit.
Woods Hill Pier 4—Seaport
With nine waterfront igloos that can accommodate two to six diners, Woods Hill Pier 4 has more availability than many winter outdoor restaurants. Food is on the upscale side, so consider a special occasion event here, or head out for brunch. We have our eye on the cinnamon-swirl french toast.
The Playwright Bar & Restaurant—South Boston
This beloved Southie spot has set up an outdoor "Jack Lodge," cozy cabins that you can book privately for a lodge-like dinner, lunch, or brunch experience. Expect awesome burgers, nachos, wraps, salads, and a variety of fun fries (try the curly) and a yummy brunch menu, with chicken and waffles, carnival fried doughnut bites, and more.
Six West Broadway—South Boston
The rooftop of the Cambria Hotel has been transformed to feature a sweet row of pretty little greenhouses for private dining. Note that guests must be over 21 after 5pm, so visit for lunch (weekdays) or brunch (weekends).

These igloos glow in Northern Lights colors. Photo courtesy of Tuscan Kitchen, Salem
Fun Outdoor Restaurants for Families in the Boston Suburbs
Tuscan Kitchen—Salem​
A meal—and a skate? Along with igloos for dining, Tuscan Kitchen's Salem location has a synthetic ice rink with skate rentals. Tuscan Kitchen is known for its pizza, paninis, and weekly specials (including "Bambino Tuesday" and "Family Style Pasta Night" on Wednesdays). To reserve an igloo, call 603-952-4875.
Lookout Farm—Natick
Our favorite summertime kid-friendly outdoor restaurant, where guests could eat delicious, chef-inspired foods on covered picnic tables next to the apple orchards, is ready for winter: It has set up a heated greenhouse with circulating fresh air and spaced-out tables. Kids selections and sides include chicken fingers, onion rings, kids' chicken schnitzel, and mac 'n cheese.
Lewis' Bar and Grille—Norwood
Igloos are available to reserve at Lewis's, where favorite pub foods with burgers, dogs, and more are always on the menu, as well as hot chocolate bombs and other treats. Kids menu features steak tips and mac 'n cheese, too.
Patriot Place Igloos—Foxborough
Five Patriot Place restaurants, including Skipjack's seafood place and Tavolino Pizza Gourmet, have set up igloos outside. Contact each restaurant separately for igloo availability and policies.