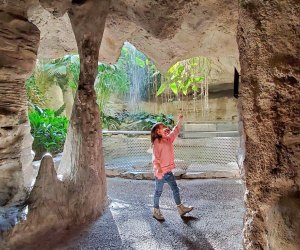 Winter Bucket List: 30 Things To Do in Houston with Kids this Winter
Yes, we are in the midst of a pandemic winter, but the great news is there are still plenty of fun, socially distanced activities to do around Houston as well as at home this season. And we continue to update our guides and reviews with latest updates or changes to operations due to COVID-19.
From the best winter break events to our favorite rainy day activities, we have you covered this season. And don't forget to check out our Stay-at-Home Guide with hundreds of ideas for kids of all ages.
While we are trying to promote safer activities that occur outdoors or with social distancing guidelines in place, please keep your family and others safe by always wearing a mask and maintaining appropriate distance. If you arrive at an event that appears too crowded try using the see all locations in this article or "nearby" search feature on our event calendar to find something else to do.
Hours and availability for the following activities could change due to the pandemic, so always check the website or call ahead before making plans:

Sculpture by Carmen Herrera. Photo courtesy of Buffalo Bayou Partnership
Explore this interactive exhibit, which has seen increased health and safety practices in Fall 2020.
Walk among the massive sculptures on display along Buffalo Bayou as part of this art installation by 105-year-old Cuban artist Carmen Herrera. The exhibit opened in October and runs through April 23, 2021.
3. Concerts at Jones Hall
The Houston Symphony now performs lives (and via livestream) with limited seating at Jones Hall. For starters, check out kid-friendly Wild Symphony on Jan. 23, 2021 that takes the audience on a musical adventure through the animal kingdom.

The Nancy and Rich Kinder atrium at the Museum of Fine Arts, Houston. Photo courtesy of the museum
See the brand new building at the Museum of Fine Arts. Make some memories so the kids can say they remember what this monumental building looked like when it first premiered. The building, which opened in November 2020, houses the museum's international collections of modern and contemporary art.
See if you and your kids can make it out of one of Houston's escape rooms on a cold winter day. Most currently offer private events, for small groups only.
Gear up and explore one of the Houston area's many family-friendly trails.
7. Rent a movie...theater.
That's right, many theaters around Houston now offer the opportunity to rent an entire theater for just you and your family for a private showing. Check local cinemas to see if they offer this pandemic package!
Burn off some energy at home on cold days with these exercise games.
Ice skate with favorite movie characters like Spiderman and Wonder Woman at the outdoor rink on Saturdays.
Visit one of Houston's many light shows, like Magical Winter Lights, Zoo Lights, or Sugar Land Holiday Lights. Many are open throughout December and into early January and are just as magical even after the holidays are through!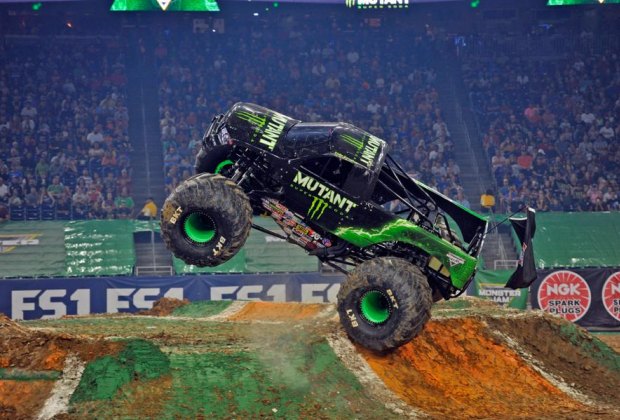 Racing thrills delight all ages at Monster Jam. Photo courtesy Monster Jam
Experience high octane fun at NRG Stadium. These larger-than-life trucks are in town three weekends in a row, Jan. 30-Feb. 14, 2021.

RELATED: How To Make Hot Chocolate Bombs in 5 Easy Steps
Spend a day volunteering in your community.
13. Celebrate the Lunar New Year
Due to the pandemic, most Houston Lunar New Year events are canceled or unconfirmed, but families can still celebrate the holiday (Feb. 12, 2021) with activities, family rituals, and treats.
14. Railroad museums
Explore the railroad museums in Rosenberg and Galveston this winter.
Attend the famous parade online! The time-honored Houston tradition continues this year with a virtual and free celebration of Martin Luther King, Jr..
Mini-golf is one of the activities we can still do, and the glow-in-the-dark version takes it up a notch.
Escape the cold and burn off some energy jumping on trampolines. Most have reopened, with reservations required to keep crowds small.
18. Bowling
Go bowling at one of these 5 places in Houston to bowl with kids.
Go retro and visit a Houston roller rink for indoor fun this winter.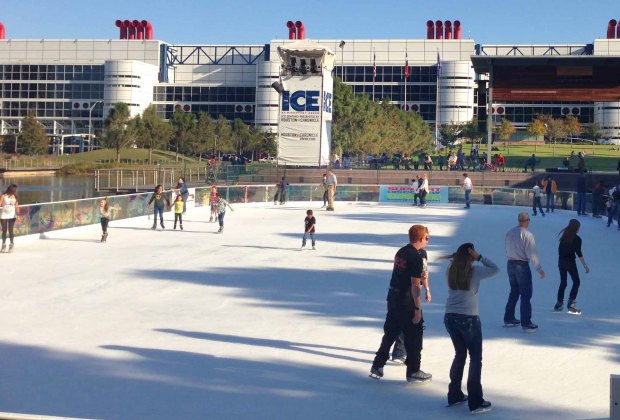 Discovery Green Ice Skating Rink. Photo courtesy of Houston Prime Realty
For a more wintery skating option, take the whole family to one of Houston's ice rinks.
Take them to a place where it's OK to climb the walls.
Make a batch and sip it on a cold winter night.
Take advantage of free admission at Houston museums on select days.
24. Play at a park
We love these free spots to play around Houston.
This activity involves painting rocks and hiding them at local parks for other folks in the know to find.

RELATED: Free Things To Do Indoors with Kids in Houston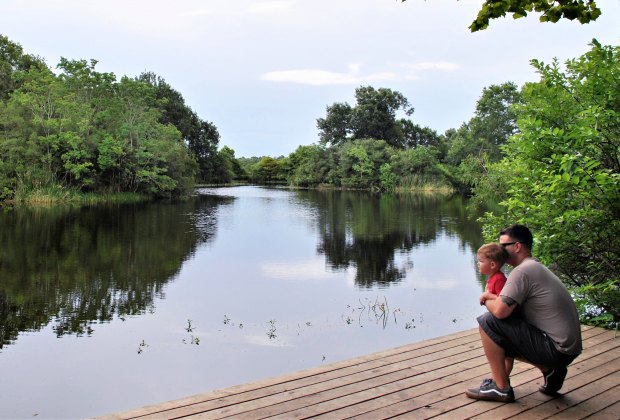 Armand Bayou Nature Center. Photo by Ashley Jones
Visit the Nature Center for FREE during Sundays in Nature on select Sundays each month this winter.
Using items you probably already have at home, we rounded up a long list of easy-peasy science experiments.
Many indoor playgrounds around Houston now require reservations and have reduced capacities, but you can still beat the cold at several play spaces.
Who needs a germy play gym? Build your own indoor obstacle course at home.
Bundle up and bring the bikes to enjoy one of Houston's kid-friendly bike trails.
This post was originally published in 2017 and is updated annually.