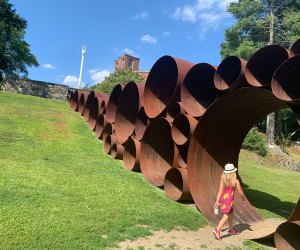 Reopening Massachusetts Phase 1 and 2: What's Open and What's Closed for Boston Families
If coronavirus lockdown has everyone climbing the walls, help is on the way. Governor Charlie Baker is rolling out the state's reopening plans, offering gradual relief to families and businesses. After two months of stay-at-home orders, only seeing each other in car parades and 8pm howls, and throwing virtual birthday parties, we can start enjoying beaches, parks, drive-in movies, and haircuts by Memorial Day, and playgrounds, spray decks, and summer camps in a few weeks. Getting outside has never sounded so thrilling! If we do it responsibly, we should be able to enjoy some fresh air without putting people's lives at risk.
The plan to reopen Massachusetts has four phases, with Phase 1 beginning now and Phase 2 unfolding around the week of June 8. Read on to find out what that means for schools and stores, as well as the outdoor spaces we can now visit—as long as we adhere to social-distancing protocol and cover up with face masks.
Reopening dates are subject to change, so be sure to follow the state's Reopening Massachusetts guide for the most up-to-date scoop. Boston has additional restrictions that could affect how quickly businesses open within city limits, so keep on top of Mayor Marty Walsh's guide to Reopening in the City of Boston, too.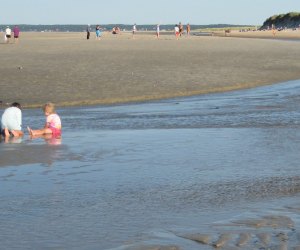 Crane Beach in Ipswich is open to the public, though parking is limited. Photo by Todd Van Hoosear/CC by 2.0
OUR LATEST VIDEOS
What's open in Massachusetts in Phase 1?
Phase 1 lasts through early June. The public places families can visit now are still limited, but many more open up on Memorial Day.
Beaches near Boston are Open
Crane Beach in Ipswich opened May 19 with a catch: Until June 2, parking passes will only be available online, in advance, to current Crane Beach parking permit holders and Trustees membership holders (anyone can sign up online at anytime). Online reservations can be made now for those two groups. Parking passes will be available to the general public beginning June 3.
Several more of our favorite beaches in driving distance of Boston are also open now for walking and frolicking, but most coastal parking lots are closed until at least next week. For families with children and toys in tow, May 25 (or around then) is when beaches really open, because that's when the yellow tape is expected to be lifted on parking areas. Now is the time to stock up on big beach towels and blankets that allow you to claim your family space at beaches like Wingaersheek Beach on the North Shore, Carson Beach in Boston, and Nantasket Beach on the South Shore.
Beaches will be monitored to make sure people are gathering in groups of no more than 10 household members, and groups are separated by at least 12 feet between blankets and towel areas. Masks are required when social distancing of 6 feet is impossible, but not while swimming. Leave the Wiffle ball set at home: No ball games will be allowed on Massachusetts beaches, at least during Phase 1.
RELATED: 10 Great Places to Hike With Kids Around Boston

Hike at World's End in Hingham, one of many trails reopening with crowd-control measures. Photo courtesy of SouthShoreTrails.com
Hiking Trails near Boston are Open
Many of the best places for hiking with kids around Boston are accessible. Select Trustees properties have reopened for hiking and exploring. Fruitlands Museum in Harvard, Naumkeag in Stockbridge, and World's End in Hingham are all opening in a controlled fashion, with visitors purchasing timed parking passes online in advance to limit overcrowding. Many Mass Audubon trails and parking spots are open to the public now, too, including the Boston Nature Center in Mattapan and Waseeka in Hopkinton.
Barring temporary closures for overcrowding earlier in the month, Massachusetts State Parks have been open and will remain so. If you want to take an easy, exciting hike with kids at Blue Hills Reservation in Milton, or visit other popular trails like Walden Pond in Concord, we recommend going early in the morning or late in the afternoon to avoid crowds.
If you have little kids, try one of these 1-mile-or-less hikes to take with preschoolers. Parking lots at several of these hiking trails, including the Stone Tower Loop in Lynn, Belle Isle Marsh in Winthrop, Pine Hill in Medford, and the Nature Trail and Cranberry Bog in Foxborough are open, a must for easy access with little ones.
Outdoor Arts and Culture Spots near Boston are Open
Looking for a little culture? Museums won't open until Phase 3, but the outdoor grounds of the deCordova Sculpture Park and Museum in Lincoln is open (and always free for children under 12), with timed parking tickets required for entry. Or, take a road trip around the city and 'burbs to see some free public art around Boston that will blow kids' minds.
RELATED: Farms and Pick Your Own Guide for Boston Families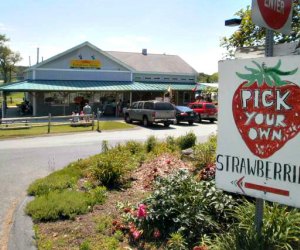 Strawberry season is nearly here, and many pick your own farms hope to reopen by harvest time. Photo courtesy of Sunshine Farm
Farmstands and Farmers Markets near Boston are Open
Many farms and farmers markets have reopened for buying produce, plants, and more. Most of our favorite spots for picking strawberries with kids near Boston hope to open the fields for u-pick strawberries in mid-June with restrictions. Families should check each farm's website or call after Memorial Day to get all the details.
Zoos and Gardens Near Boston Can Reopen May 25
Zoos and outdoor gardens are included in Phase 1. However, the Franklin Park Zoo in Boston and Stone Zoo in Stoneham are still closed with no exact reopening date set, as Zoo New England quickly works to implement social distancing guidelines and cleaning procedures. "In the next couple of days, we will be sharing more information (about opening timing and procedures)," says Cynthia Mead, Zoo New England vice president of external affairs and programming.
The flowers are in bloom at Arnold Arboretum! The Jamaica Pond gem is open for open-air walks on the grounds, but as of publishing, the city-managed parking spots around the perimeter are still closed.
Drive-in Movie Theaters Near Can Reopen May 25
This old-fashioned family activity is coming back in a big way this summer. Check out our list of drive-in theaters near Boston with kids and family flicks.
Hair Salons Near Boston Can Reopen May 25
Those who followed our tips for at-home haircuts during the pandemic might be looking sharp right now, but for the rest of us, the reopening of hair salons, kids' salons, and barbershops on May 25 is a huge relief. If your pet is looking as shaggy as our Goldendoodle, Buster, you'll be happy to learn dog grooming spots are opening then, too.
RELATED: Ways to Support Boston-Area Businesses During the Coronavirus Pandemic

Phase 2 openings include playgrounds, like this one in Thomas Menino Park. Photo courtesy of Landscape Structures Inc.
What's opening in Massachusetts in Phase 2?
Governor Baker has not yet announced an exact date for the next phase of reopening Massachusetts, but Phase 2 is expected to begin on or around June 8.
Playgrounds near Boston Can Reopen June 8 or After
Playgrounds will be in play in Phase 2 (to the great relief of parents across the Commonwealth). Check with your town or county to make sure, but by mid-June, you and the kiddos will most likely be able to go play, swing, and climb at these 11 brain-boosting playgrounds around Boston, these 10 destination-worthy playgrounds near Boston, or, if you want to avoid crowds, these 7 "secret" playgrounds around Boston.
Spraygrounds and Splash Pads near Boston Can Reopen June 8 or After
Just in time for the serious heat of summer, Boston-area spraygrounds, splash pads, and wading pools will be allowed to reopen in Phase 2.
Public Swimming Pools near Boston Can Reopen June 8 or After
Outdoor swimming pools, likely with capacity restrictions, will be open for cooling off, too.
What Massachusetts summer camps are opening?
Boston-area summer camps are allowed to open in Phase 2, so that means June 8 at the earliest. Many sleepaway camps have already announced summer closures; those that will try to open aren't permitted to welcome campers until Phase 3, which is expected to be around the start of July. Check out our Guide to Boston-Area Summer Camps to find the perfect in-person or online summer camp for your child.
When are museums and movie theaters opening in Massachusetts?
Indoor cultural activities are on hold until Phase 3. Expect the Museum of Science, Boston Children's Museum, and New England Aquarium to be back in business in early July, likely with capacity restrictions and social distancing requirements. The same goes for indoor movie theaters.
What businesses are open for delivery and curbside pickup?
Restaurants remain closed to dine-in guests but hope to start eat-in service in Phase 2 after getting specific guidance from the state. In the meantime, takeout service is widely available across the Commonwealth. (Remember, ordering directly from a restaurant allows the local business you want to support to keep the profits, without giving a percentage to a delivery app!)
As of this week, more businesses have been approved to open their doors for curbside pickup only, including clothing stores and toy stores. Browsing inside stores for new summer gear and birthday presents won't be allowed until at least Phase 2.
When are Massachusetts and Boston Schools Opening?
All schools are closed through the end of the 2019-2020 academic year, with remote lessons taking place. As for the million-dollar question—when and how will schools in Massachusetts and Boston will open in the fall—plans are still in progress, according to the Reopening Massachusetts guide, but will be announced soon. Until then, we have the beach.
Find more ways to keep kids happy and busy in challenging times on our new site for at-home classes, concerts, and other programs: Poppins@Home!