Free Public Art Around Boston that Will Blow Your Kids' Minds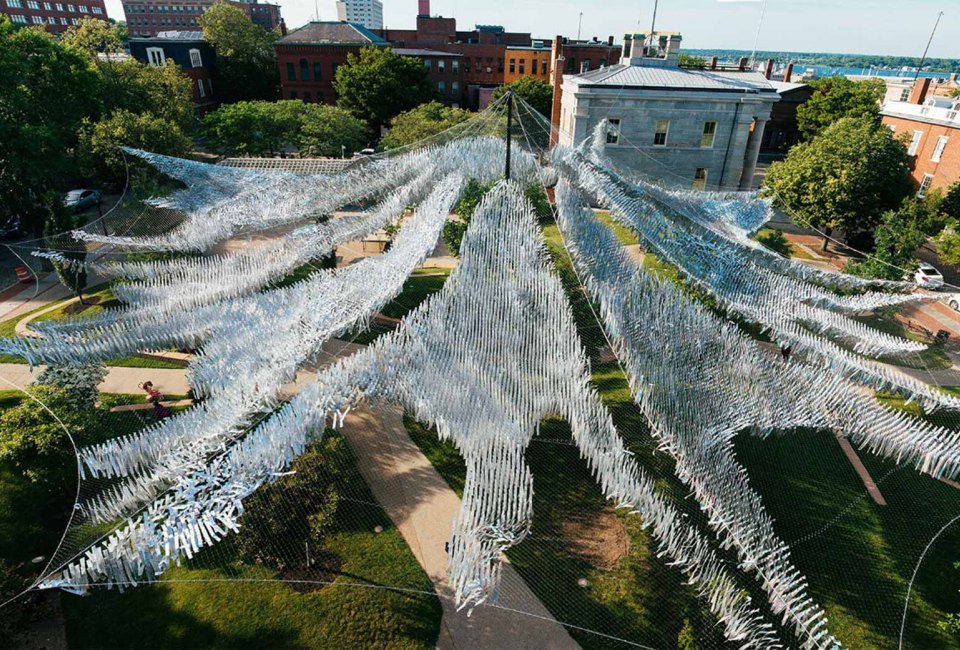 8/16/19
- By
Elyse Andrews
Boston has long been home to some of the best museums in the world, showcasing art from around the world. Recently, the city has acquired an extensive collection of free public art where families can get up close and personal with installations of all kinds. Some of these exhibits are permanent, while others are currently on view. Outdoors, outsized, and often interactive, these works of art are especially appealing to kids.
Here are some of our favorite artsy destinations for a family day trip, along with spots to eat or play nearby. For more artsy outdoor fun, open year-round, check out the deCordova Sculpture Museum in Lincoln. And be prepared: If your kids are anything like ours, the kitchen table will be covered in recycle bin scraps and glue for the next month or two.

The vast sculpture overhead in Custom House Square catches the seaside winds—and maybe inspire movement! Photo courtesy of DATMA
1. Silver Current—New Bedford, MA
When to see it: Anytime, through September 30, 2019
About: How about a piece of art that just might produce a zen moment, even for busy families? Kids will feel enveloped by the coastal winds moving through seaside New Bedford by standing around and under this stunning, 6,500-square-foot kinetic sculpture by artist Patrick Shearn, on display above Custom House Square through September 30. For this installation, presented by Design Art Technology Massachusetts (DATMA) Shearn was inspired by the graceful motions of schools of fish. The light catches the sculpture differently by day and night, so repeat visits might be in order!
Nearby: Head to Moby Dick Brewing, a family friendly pub, for lunch or dinner.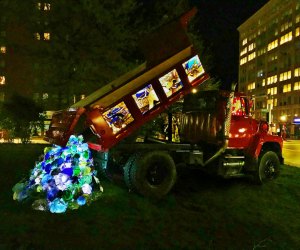 2. Rose Kennedy Greenway Public Art—Rose Kennedy Greenway
When to see it: Varies by exhibit (check website for site-specific details).
About: The Rose Kennedy Greenway is home to a variety of temporary exhibits, which currently includes an interactive virual reality exhibit and tractors and other work trucks beautified by stained glass.
Nearby: Hit the nearby Christopher Columbus Park for more playtime and then grab lunch at the Boston Public Market.
3. Flying Horse Outdoor Sculpture Exhibit—Pingree School, South Hamilton
When to see it: Seven days a week during daylight hours from September 1 through November 30, 2019
About: Come see more than 50 works of art in a variety of mediums (wood, bronze, resin, fiberglass and more) spread throughout the Pingree School's 100-acre campus this fall.
Nearby: After you've had your fill of art and walking around, sit down and sip a pint at Cape Ann Brewing Company in Gloucester.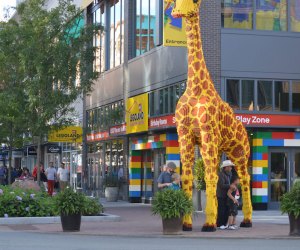 See Lego sculpture without paying an entrance fee. Photo courtesy of Kari Jasus/CC BY 2.0
4. Gio the Giraffe—Outside the Legoland Discovery Center, Somerville
When to see it: Anytime, this is a permanent exhibit.
About: The 19-foot-tall giraffe constructed from 22,000 Duplo bricks outside Legoland Boston made its debut to the delight of local children in 2014. It was renamed Gio in 2017 to honor a Medford boy who loved giraffes and lost his life to congenital heart failure. It's a great place to gawk at cool Lego sculpture (for free) and score a photo op!
Nearby: A visit to Assembly Row to see Gio wouldn't be complete without heading inside Legoland, which is a wonderland of fun for kids who love to build.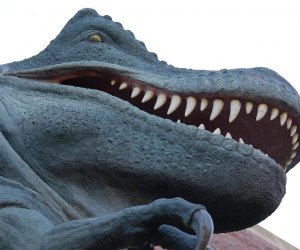 Roar! The T-Rex now stands guard outside MOS. Photo courtesy of Chris Devers/CC BY 2.0
5. Tyrannosaurus Rex—Museum of Science, Boston
When to see it: Anytime, this is a permanent exhibit.
About: When the Tyrannosaurus rex that now resides outside the Museum of Science was first created, its head was driven around the city in a truck to raise money for the creation of the museum building. Now the 20-foot-tall, 40-foot-long dinosaur greets visitors as they enter one of Boston's best museums for children (and adults!).
Nearby: Pop into the Museum of Science for a full day of educational fun that the entire family will enjoy.
No trip to the Garden is complete without a visit with the ducklings. Photo by Kimberly Vardeman/CC BY 2.0
6. Make Way for Ducklings—Boston Public Garden, Beacon and Charles Streets
When to see it: Anytime, this is a permanent exhibit.
About: There's hardly a more iconic book about Boston than Robert McCloskey's Make Way for Ducklings, and the accompanying sculpture is one of the most kid-friendly pieces of art in the city. Little ones are encouraged to play with and ride on the ducks (and adults often have fun dressing them up for various sporting events and holidays).
Nearby: After you snap the classic kid on duckling photo, refuel at one of these restaurants near the Public Garden/Boston Common.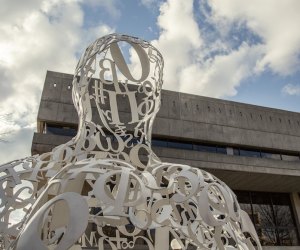 A tribute to science (that kids can run inside of) looms near MIT. Photo by Tony Webster/CC BY 2.0
7. Alchemist—84 Mass Ave, Cambridge
When to see it: Anytime, this is a permanent exhibit.
About: Most of Jaume Plensa's works are constructed from large stainless steel letters painted white but the Alchemist is made up of numbers and mathematical symbols to honor the researchers and scientists at MIT, where the sculpture resides. Its inviting shape encourages kids to run right inside of it.
Nearby: When you've had your fill of the sculpture, head to the MIT Museum and then refuel at nearby Flour Bakery.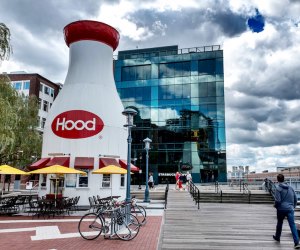 The giant milk bottle is a beacon for our city's great kid-oriented museum. Photo courtesy of Sarahtarno/CC BY 2.0
8. Hood Milk Bottle—Outside Boston Children's Museum, Boson
When to see it: Anytime, this is a permanent exhibit.
About: Originally built as an ice cream stand in Taunton, the Hood Milk Bottle is now one of Boston's most iconic landmarks. And it still sells snacks, so it's not only fun to look at, it can satisfy your hunger as well.
Nearby: The Hood Milk Bottle is located right outside the Boston Children's Museum, so it's worth coordinating your trip with a visit inside.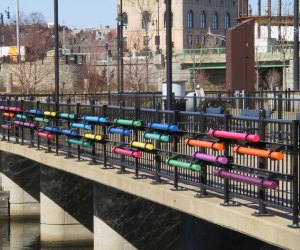 Play a tune as you cross the Charles River Dam. Photo courtesy of artist Paul Matisse
9. Charlestown Bells—Paul Revere Park, Boston
Location: Near Paul Revere Park, Boston
When to see it: Anytime, this is a permanent exhibit.
About: Kids of all ages will love the interactive Charlestown Bells art installation created by the grandson of artist Henri Matisse. Play a tune on the restored bells as you cross the Charles River Dam near Paul Revere Park.
Nearby: Visit the nearby USS Constitution Museum for a full day of historic fun.
Originally published September 2018