Tips for Visiting the Boston Public Market with Kids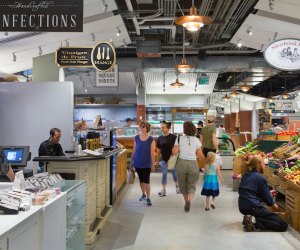 After more than a decade of planning and preparation, the Boston Public Market finally opened in 2015. And it's been a huge hit ever since. It's essentially a year-round farmers market where you can also get a great meal from one of the prepared food vendors. The market is a terrific place to take kids for a special treat (think locally made doughnuts or ice cream), an event, a cooking class, or just to explore. Make a day of it by heading to nearby Christopher Columbus Park, which has one of the best playgrounds in Boston.
When to Go
The Boston Public Market opened its doors a year ago, but until recently, you couldn't visit every day. Now the market is open to the public seven days a week for eating, shopping and learning. Weekends at the market can get busy, but they aren't unmanageable if that's the only time you can go. If visiting on a weekday is a possibility, head to the market then to avoid crowds.
How to Get There
We all know that parking in Boston can be tough to come by and expensive. Luckily, the Haymarket MBTA station sits just underneath the Boston Public Market and North Station isn't far away, so taking the train is a great option when visiting the market. If you want to drive, park in the Parcel 7 garage, which is right above the market. Boston Public Market vendors validate with a purchase so you can park in the garage at a discounted rate.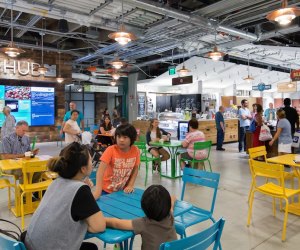 Snag a table at the market to enjoy lunch or a snack. Image courtesy of Chuck Choi.
What to Eat
Make sure you arrive hungry when you visit the Boston Public Market. It is absolutely bursting with delicious options for breakfast, lunch, dinner and snacks. And with so many choices, it's pretty much guaranteed that you'll be able to find something to please even the pickiest palate. Top picks with kids include:
Levend Bagelry where you can get bagel sandwiches or pizza bagels
Mother Juice for healthy and delicious smoothies and juices
Cellars at Jasper Hill for mac 'n' cheese and grilled cheese
Swiss Bakers for breakfast and lunch sandwiches
Bon Me (no more chasing down their food truck) for noodle and rice bowls that are endlessly customizable
Once you've fueled up with a meal at the market, be sure to check out the many delicious places to get a special treat. The whole place smells heavenly because of the aromas wafting from Red Apple Farm's apple cider doughnuts. Beyond that, there's Crescent Ridge Dairy, Jennifer Lee's Gourmet Bakery (great for kids with allergies), Sweet Lydia's, Taza Chocolate, and Union Square Donuts.
Where to Eat
There are several tables scattered around the Boston Public Market and during less busy times it's pretty easy to find a spot to sit. If it's a nice day, you might want to take your food to go and have a picnic on the nearby Rose Kennedy Greenway.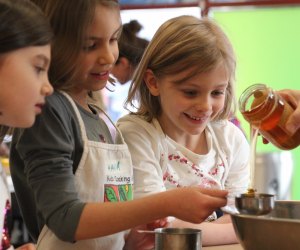 The KITCHEN at the market hosts cooking classes and other events for kids. Image courtesy of Trustees.
What to Do
Besides eating at one of the Boston Public Market food vendors, there are a ton of other ways to enjoy the market with kids. Here are some suggestions:
Explore the farms: Several local farms have booths at the market where they offer samples and sell various products like fish, meat, cheese, produce and baked goods. It's the perfect place for exploring where food comes from with kids. Make sure not to miss the beehive at Boston Honey Company.
Shop for and cook a meal together: If your kids are old enough, plan a meal that you can make out of ingredients purchased at the market. Then go home and prepare it together!
Play in the kids' area: The market has a small play area so little ones can get some energy out after eating and shopping.
Go to an Event
The Boston Public Market and adjacent KITCHEN, which is run by the Trustees of Reservations, are always hosting events that are great for families and kids. Past and future events include pizza nights, touch tanks, story time, and cooking classes for kids. The market also hosts field trips for school classes.
---
Top image of the Boston Public Market courtesy of Chuck Choi.