25 Things To Do With Kids in Cambridge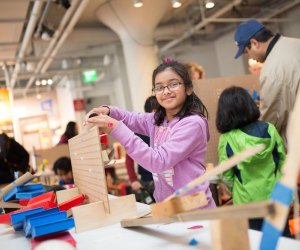 Cambridge may be known mostly for its world-class colleges, but it has a lot to offer the younger set too. With lots of outdoor spaces for walking, riding bikes, or having a picnic, you'll never feel cooped up in the city. Plus there are great museums, kid-friendly restaurants and festivals galore. We've already written about 25 things we love to do with kids in Harvard Square, so this list mostly contains ideas for fun in the rest of Cambridge. With so much to do, it's time to start exploring.
If your kids love all things STEM (science, technology, engineering and math), then you must visit the MIT Museum, a quieter alternative to the Museum of Science.
Walk, run, bike, dance, jump-rope and more from 11 a.m.-7 p.m. every Sunday from the end of April until the beginning of November on Memorial Drive between Western Avenue and Mount Auburn Street, where it's closed to cars and open to pedestrians.
Even when Memorial Drive isn't closed, you can still walk or bike alongside the Charles River on the scenic Charles River Bike Path, which runs for miles on the Cambridge side.
Cambridge is spoiled with not one, but two fabulous ice cream shops. We can't get enough of Christina's in Inman Square and Toscanini's in Central Square.
Make errands more fun when you stop by Henry Bear's Park in the Porter Square shopping center. This whimsical shop hosts story time every Tuesday at 11 a.m.
If you're not satisfied with gazing out at the river, then get out on it when you rent a canoe, kayak or paddle board from Charles River Canoe & Kayak in Kendall Square.
Take the kids for a walk around beautiful Fresh Pond and you'll feel miles away from the city without ever leaving Cambridge. The area is dog-friendly and even has a tot lot.
One of the tastiest—and kid-friendliest—places to grab a bite to eat in Cambridge is Bagelsaurus in Porter Square.
Your kids may not be thinking about where they'll go to college for a while, but they're never too young to explore two of Cambridge's beautiful campuses: Harvard University and MIT.
Have a picnic, play Frisbee or catch, or just lounge on a blanket at Magazine Beach Park and John F. Kennedy Park, which sit right on the river on Memorial Drive.
In the warmer months, cool off when you take the kids for a dip in the Francis J. McCrehan Memorial Swimming and Wading Pool or Veterans Memorial Swimming Pool.
It may seem strange to take little ones to a cemetery, but Mount Auburn is different. There are lovely walking paths, meadows for resting and even a tower that you can climb for spectacular views.
Grab breakfast, lunch, or a special treat at one of Flour Bakery's three Cambridge locations (Central Square, Harvard Square and Cambridgeport).
Hop aboard one of the boats at the Charles Riverboat Company at Lechmere Canal Park for a leisurely cruise on the water.
One of the best places to walk, run and bike in the Boston area starts in Cambridge: the Minuteman Commuter Bikeway. Hop on the trail right behind the Alewife MBTA station and head out as far as your legs will carry you.
The 50-acre Danehy Park has so much to offer kids: walking trails, ball fields, a sledding slope, and even a dog park so you can bring your four-legged friend. The park even hosts an annual family day with lots of fun activities.
Tatte Bakery keeps expanding—it now has four Cambridge locations—and that makes us very happy. This family-friendly eatery is perfect for breakfast, lunch and decadent snacks.
When the temperature drops, we like to keep the kids busy with a visit to the Kendall Square Community Outdoor Ice Skating Rink.
North Point Park is a relatively new addition to the green space scene in the city and we love everything is has to offer: a splash desk, play areas for various ages, and terrific views of Boston.
The funky Beat Brasserie in Harvard Square often hosts kid-friendly events, like brunch with Santa or the Easter Bunny.
There are seemingly endless things to go with kids at the Cambridge Public Library, like story time, sing-a-longs, movies, and more.
The American Repertory Theatre is known for its innovative shows and that includes performances that cater to kids, like the recent James and the Giant Peach. The theater also runs the A.R.T. Kids Company! on Saturday mornings.
Cambridge is home to dozens of festivals that cater to kids, like the Cambridge Science Festival, the Harvard Square Chocolate Festival and the River Festival.
Bring the kids to Made By Me for an afternoon of pottery painting that'll leave you with a masterpiece you can display at home. Or book the spot for a unique birthday party.
The Imagine Playspace in Cambridge won a Mommy Poppins Boston Bestie Award, so you know it's a favorite of local parents just like you.
---
Top image courtesy of Samara Vise / MIT Museum.