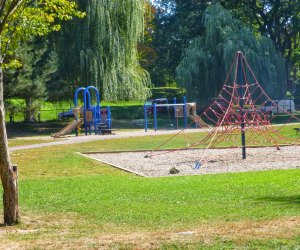 7 Secret Playgrounds in the Boston Area
Big, splashy, and downright fantastic playgrounds and parks abound in Boston, and they're the cornerstone of spring and summer fun around town. But sometimes you need a rec space where mayhem is at a minimum, and keeping track of your kid doesn't feel like a "Where's Waldo" challenge. If you're looking for a playground that won't be packed with children (and their parents), you're in luck! Here's a list of seven local playgrounds where you and your kids might be able to frolic in (relative) peace and quiet.
Phillips Street Play Area—Phillips between Garden and Anderson Streets, Boston
Myrtle Street Playground—Myrtle between Irving and S. Russell Streets, Boston
These two tiny playgrounds are perfect if you want to wander the labyrinthine streets of Beacon Hill, absorb some of Boston's history, and stop to get your sillies out on the way. Phillips Street Park is meant for kids aged 5-12, with a terraced area with a metal play structure and benches and tables for parents on the upper level (perfect for a little picnic). Parents of younger kids might want to try the Myrtle Street playground a few blocks away, with a tot-sized playground and plastic cars for kids to drive around. These playgrounds are both best accessed by foot, as parking in Beacon Hill is mainly for residents, which is why they tend to less crowded than other, bigger play spots nearby.
OUR LATEST VIDEOS
Griggs Park—Griggs Road, Brookline
It's not far from Fenway, and yet Griggs Park feels like a world away from the hustle and bustle. Tucked in a residential neighborhood and surrounded by willow trees, it has a small but nice array of playground equipment, including a rope climbing structure and a tire swing, and a large plot of green grass for ball playing or lounging.
Byrne Playground—Everett Street, Dorchester
This exquisitely maintained playspace in Clam Point has a little of everything—except for crowds. Behind a street hockey area and tennis courts is a fenced-in playspace with treehouse-like structures, fun slides, and separate areas for big and little kids. There are even lovely shade trees and a sprinkler for the summertime.
Alden Park—Oxford and Sacramento Streets, Cambridge
Nestled a block from Mass. Ave. between Harvard and Porter Squares, Alden Park is a true hidden gem. Built on a corner lot, the playground offers a giant netted climbing structure with a tunnel slide, as well as a separate area for smaller children. The park has a water feature for the summer months, and space to run around. Metered street parking is available on Mass. Ave., or Cambridge residents can park on the street with a permit. One caveat: the park serves as the playground for Baldwin School on weekdays, so it's best visited after school hours or on weekends.
Menotomy Rocks Park—Jason Street and Brantwood Road, Arlington
Menotomy Rocks is easy to miss and hard to find. Located in a quiet residential neighborhood in Arlington, the park's entry is just a small gate by the side of the road with minimal signage. Once you find it, though, it's worth it. The park offers 35 acres of fields, walking trails, and a pond. The path to the left leads you to a playground structure hidden in the woods, and kids can play there or frolic elsewhere in the park. There are picnic tables too, so you can bring a lunch and snack beneath the trees as your kids run around. Visitors can park on the street.
Arsenal Park—behind The Arsenal Project, Arsenal St., Watertown
Blink and you'll miss the small sign for the park on Arsenal Street, next to The Arsenal Project Mall. To reach the park, drive straight through the mall lot and take a right into the smaller parking lot to the right. Arsenal Park has a large playground area with swings, climbing structures and a sprinkler in the summer months. There are large soccer and baseball fields, as well as tennis courts, basketball courts, and a skate park. You will also find picnic tables and grills, which can be reserved for a fee. Another bonus? The park has port-a-potties, which cannot be overrated when you're out with small children.
Photo courtesy of Leah Cypess from her Visiting Brookline Playgrounds blog