Spring Break 2023: 15 Fun Things To Do Near DC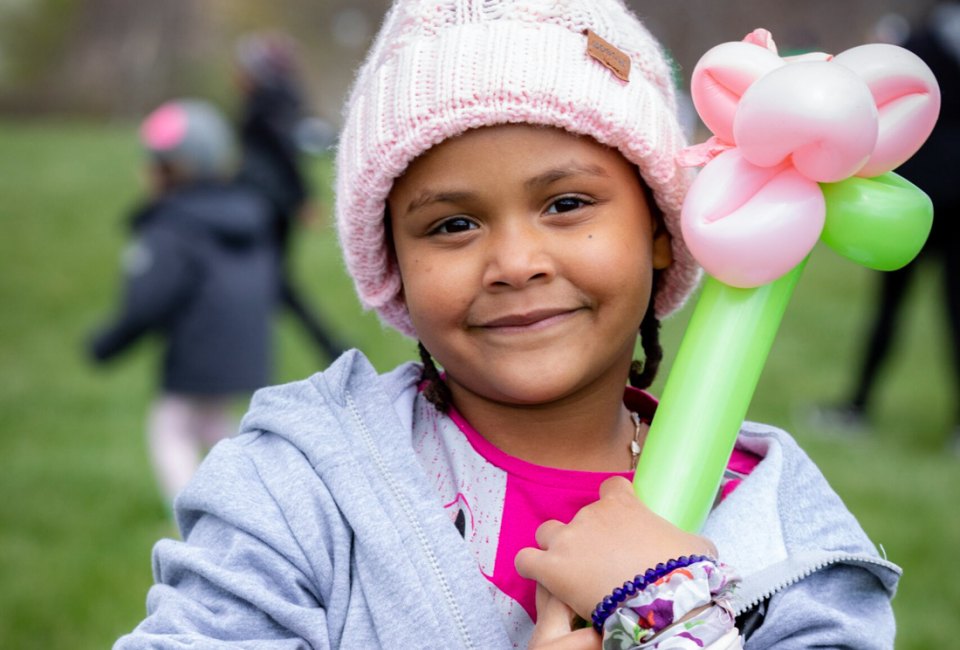 3/31/23
- By
Jennifer Marino Walters
Spring break 2023 is coming to the Washington, DC metro area! If your family is not traveling, that means you'll have a week or more to take part in all of the fun activities and events the DMV has to offer this April.
When is spring break 2023? For DC public schools, it's the week of Monday, April 17 - Friday, April 21. For most Northern Virginia public school districts—as well as Montgomery County, Charles County, and Prince George's County public schools—spring break 2023 is Monday, April 3 - Friday, April 7 (with many districts also giving students the following Monday, April 10 off). And for Frederick County Public Schools in Maryland, spring break 2023 is Monday, April 10 - Friday April 14, with the previous Friday, April 7 also being a student holiday.
No matter when spring break 2023 falls for your family, here are 15 fun things to do with kids in DC, Maryland, and Northern Virginia. See our Spring Fun Guide for DC Kids and Families for even more ideas. If you'd rather get out of town with a last-minute family vacation, check out our list of cheap spring break travel ideas for families.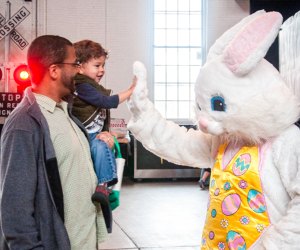 There are so many places to meet the Easter Bunny throughout the DC area. Photo courtesy of the B&O Railroad Museum
2. Meet the Easter Bunny
That first week of April is also the perfect time to meet and take pictures with the Easter Bunny at one of several great events near DC, including Easter breakfasts and brunches, festivals, and even train rides with the bunny.
Whether your child goes to a DC public school or one of the public school districts in Maryland or NOVA, spring break 2023 falls during the National Cherry Blossom Festival, which takes place March 20 - April 16, 2023. You can attend one of the official festival events, such as Petalpalooza or the National Cherry Blossom Festival Parade, or just see the famous blooms from one of several kid-friendly spots.
RELATED: Free Museums Near DC to Visit with Kids

Candytopia is a candy-lover's paradise. Photo courtesy of Jennifer Marino Walters
4. Catch a Special Exhibit or Experience
Several DC-area exhibits are ending soon, but there is still time to visit them during spring break 2023. Explore XOXO: An Exhibit About Love & Forgiveness daily except Tuesdays at the National Children's Museum through May 14. Van Gogh: The Immersive Experience ends May 28 and is open every day other than Tuesday. And the Dinos Alive: Immersive Exhibit is open Wednesdays through Sundays before roaring out of town on May 28.
Looking for something new? Get a sugar rush at Candytopia, an immersive, candy-themed experience in Virginia's Tysons Corner Center. It's open every day during Northern Virginia and DC public schools' spring breaks. Also at Tysons Corner Center starting April 13 is The Dr. Seuss Experience, where visitors will be immersed in their favorite Seuss stories. It's open daily during DC public schools' spring break.
5. See a Show
There are several kid-friendly theater productions happening during spring break 2023. If your spring break is the week of April 3-7, you can head to The Puppet Co. Playhouse in Glen Echo, Maryland to see Sleeping Beauty before it closes on April 9, or to Imagination Stage in Bethesda to see Wake Up, Brother Bear before its April 16 closing date. If your kiddos attend a DC public school, Jack and the Beanstalk opens during their spring break at the The Puppet Co. Playhouse on April 20 and runs through May 21. Or, catch The Ice Cream Truck is Broken! & Other Emotional Arias, co-hosted by Mo Willems, at the Kennedy Center on April 22 or 23.
Spring festivals and fairs are in full swing in the DC area, and some of them take place during spring break 2023 for many kids. The Bunnyland Festival at Butler's Orchard runs through April 16 for those with the April 3-7 spring break. You can also celebrate Virginia's bluebells at Bluebells at the Bend in Great Falls, the world's rivers at RiverRun Fun at the Kennedy Center, the cherry blossoms at Petalpalooza along the Capitol Riverfront, or spring itself at the McLean Community Center Spring Fest on April 8.
DC public school students can also add a few festivals to their spring break 2023 plans. The Sakura Matsuri Japanese Street Festival takes place Saturday and Sunday, April 15 and 16, as does the Leesburg Flower and Garden Festival in Virginia. The following weekend, head to Earth Day Fairfax at Sully Historic Site on Saturday, April 22.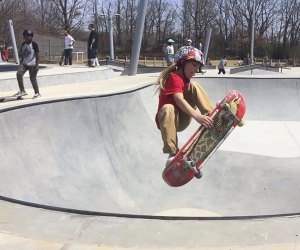 Dust off those skateboards and head to a skate park! Photo courtesy of the Arlington Skate Park, Facebook
7. Play at a Playground or Skate Park
Now that the weather is warming up, it's time to get outside and have some fresh-air fun. Kids of all ages can run, climb, slide, and swing at one of the area's best destination playgrounds, while little ones can explore some great tot lots and toddler playgrounds. Young skaters can bring their skateboards, rollerblades, or bikes to one of several great skate parks near DC.
8. Attend Storytime
Spring break 2023 is a great time to take advantage of weekly storytimes at libraries and museums that your kids cannot usually attend. The Steven F. Udvar-Hazy Center has a drop-in storytime with crafts on Tuesdays and Thursday mornings, as does the Hirshhorn on Wednesday mornings for kids up to age 8. If you visit the Glen Echo Park Aquarium on Thursday, admission includes an 11am storytime about the ocean. And, the National Children's Museum hosts a STEAM Storytime for ages 1-4 on Thursdays at 10:30am. You can even attend a bilingual program every other Tuesday morning at the National Postal Museum featuring music, stories, crafts, and gallery exploration.
9. See Animals
There are many places for little animal lovers to see wildlife and nature throughout the DC area, starting with the famous Smithsonian National Zoo. You can also visit one of several other animal farms and petting zoos near DC or one of the area's free nature centers.
10. Take a Day Trip
Need a change of scenery? Spring break 2023 is the perfect time to take a day trip to Baltimore, Charlottesville, or one of several other great spring day trip destinations from DC. Or, catch some thrills at one of the best amusement parks near DC.
11. Burn Off Energy at an Indoor Play Space
There can be some cold and rainy days in the DC area in April. Luckily, there are lots of places for kids to blow off steam indoors, including fabulous indoor playgrounds, free indoor places to play, fun ninja warrior gyms and obstacle courses, and bouncy trampoline parks. But there's also another option at the Kennedy Center April 4-16: River Island, an immersive play space for kids featuring activities, books, and videos about the natural environment.

Hurry over to see the Great Migration Light Show. Photo courtesy of Nova Wild
12. See a Light Show
The April 3-7 spring-break week is your last chance to see The Great Migration Light Show at Nova Wild, formerly Roer's Zoofari (and before that, Reston Zoo). The show, which includes 10 uniquely designed animal habitats set along miles of trails, ends April 9.
13. Explore a New Neighborhood
Spring break 2023 is a great time to visit a new neighborhood or take a closer look at one you've already been to. Check out our neighborhood guides to Old Town Alexandria and Fairfax in Virginia and to Kensington and National Harbor in Maryland for some inspiration.
14. Take the Family Out to the Ballgame
After a long winter, Major League baseball is back! During the April 3-7 spring-break week, you can see the Washington Nationals play the Atlanta Braves or the Tampa Bay Rays. During the April 17-21 week, they play the Baltimore Orioles for a Beltway Series at Nationals Park, as well as the Cleveland Guardians the weekend before. Or, head to Baltimore to catch the Orioles' home opener vs. the New York Yankees on April 6 (plus April 8 and 9), or to watch them take on the Detroit Tigers April 21-23.
15. Soak Up History
The DC area is steeped with history, and spring break 2023 is a great time to soak it all in with a visit to the famed National Mall and Memorial Parks, Arlington National Cemetery, or one of the area's many free museums (including Smithsonian's National Museum of African American History and Culture).