Dinos Alive: Immersive Experience Brings Dinosaurs Roaring Into Washington, DC
3/27/23
- By
Katie Sivinski
Dino lovers, take note: Dinosaurs have taken over the Rhode Island Center in Washington, DC with the Dinos Alive: Immersive Experience! In this museum-like exhibition, visitors are surrounded by over 80 life-sized, robotic dinosaurs as they walk through a prehistoric jungle habitat, getting an exciting peek at the world as it was millions of years ago. Even kids (and grown-ups) who are not dinosaur fanatics will enjoy seeing the dinos and their surroundings in this interactive experience. The exhibit is in town through September 3, 2023.
My family recently got the opportunity to visit Dinos Alive. All three of my kids—ages 10, 8, and 4—really enjoyed it. Read on for my full review of the Dinos Alive: Immersive Experience, and be sure to purchase tickets before the exhibit roars out of town!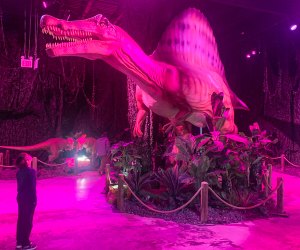 Spinosaurus is just one of the dinosaur species you'll see.
When you enter the Dinos Alive exhibit, you'll immediately feel like you're in another era. A special-effect waterfall flows down one wall, with a rocky arch-shaped passageway leading to the first room. I was immediately struck by the effort put into making the exhibit feel like real dinosaur habitats. You hear jungle noises and dinosaur roars through the hidden speakers. Various light effects make it seem like you're walking through a darkened jungle. Lifelike dinosaurs of all sizes move around you, interspersed with realistic-looking vegetation and backgrounds.
Over 80 life-sized dinosaurs are represented at Dinos Alive. The robotics, skin coloring, and textures make the dinosaurs really seem alive. Informative plaques accompany each animal with details like its name, size, what time period it lived in, where in the world it was found, and a description of its lifestyle. The exhibit is organized into several rooms of dinosaur showcases, gradually leading visitors past fan favorites like triceratops, spinosaurus, velociraptor, and finally an actual-sized T-Rex. I saw so many excited kids decked out in dinosaur pajamas and costumes, running from dino to dino with sheer elation.
RELATED: Free Museums Near DC to Visit with Kids

Interact with prehistoric sea creatures in the ocean room.
One of my kids' favorite rooms was the ocean room. Underwater prehistoric creatures like mosasaurus, ammonites, and plesiosaurus move and swim on the walls and floor of the room. You really feel like you're in an ancient ocean with the animated sea life moving around you. A unique interactive quality is that kids can throw a ball at the wall and watch the sea creatures react and swim away.
After taking guests through about four exhibit rooms, the experience ends in a fun, interactive activity room. One activity, Race a Dinosaur, has a pathway with dinosaur footprints and an animated feature on the wall with different dinosaurs racing through the jungle. Kids can press start and see if they can beat the dinosaur. I watched two kids do this over and over again, having an awesome time.
RELATED: Visiting Washington, DC's National Mall and Memorial Parks with Kids

Dig for dinosaur fossils and see what you can unearth!
Another activity my 4-year-old loved was digging for dinosaur bones in the sand with brushes. "I think I found something!" he said proudly, as he unearthed a pterodactyl fossil replica. There's also an interactive coloring station where kids can decorate a dinosaur drawing, scan it, and watch it come to life on the big screen.
Two of the activities cost extra, but are really fun. The first, a virtual-reality experience lasting about 10 minutes, comes highly recommended by my 10-year-old. "I dropped off a cliff," he told me. "It was awesome!" The virtual reality costs $5 and is recommended for ages 8 and up. You can pay for it on site or purchase advance tickets with virtual reality included.
RELATED: Visiting Smithsonian's National Museum of African American History and Culture in DC with Kids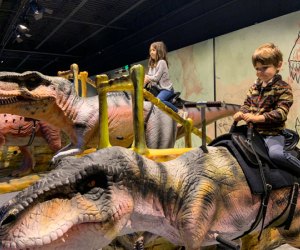 Hold on tight for a dinosaur ride!
For the second paid activity, kids can choose from a range of realistic-looking dinosaurs to ride, from a silly-looking, friendly one to a menacing T-Rex. The dinosaurs are stationary, but move back and forth and open and close their mouths. My 4- and 8-year-olds enjoyed their rides, which cost $4 extra. Kids 3 and under ride free.
Know Before You Go to Dinos Alive: Immersive Experience
1. Getting To Dinos Alive
The Rhode Island Center is metro-accessible via the red line to the Rhode Island Ave-Brentwood station. It's about a five-minute walk from there. Dinos Alive also has free parking available. Just enter your license-plate number at the front desk and you'll get free parking for two hours.
2. Visiting with Young Kids
The young children I saw at the exhibit looked very comfortable and unafraid. While the dinosaurs are realistic, none of them really pop out at you. When we went on a Sunday morning, the experience was not crowded and not overwhelming for little ones. There are cool lighting effects, but there are no strobe lights or disorienting effects.
3. Gift Shop
As with all special exhibitions, there's an unavoidable gift shop at the end. This one is especially enticing for dinosaur lovers, with lots of dino-themed goodies including stuffed animals, hand puppets, and build-your-own dinosaur figurines. Be prepared to hear lots of, "I want one!" and if necessary, temper expectations ahead of time.
RELATED: Visiting Arlington National Cemetery with Kids: What to Know Before You Go

Stroll through prehistoric jungle habitats at your own pace.
4. Length of Experience
The Dinos Alive website says to expect a visit of approximately 45 to 75 minutes, and my family found that to be accurate. We spent a little over an hour at Dinos Alive, strolling through at a leisurely pace without anyone rushing us. We took the time to read some of the information plaques, but not all. We participated in most of the activities at the end and browsed the gift shop.
Tickets are available for purchase online. Kids 3 and under are free. There are some deals available, including family bundles and reduced prices on weekdays. If you're really looking to up your dino game, you can pre-purchase an adorable blow-up dinosaur costume for your child to wear throughout the museum.
All photos by the author
Places featured in this article: