Free Things To Do for Winter Break in NYC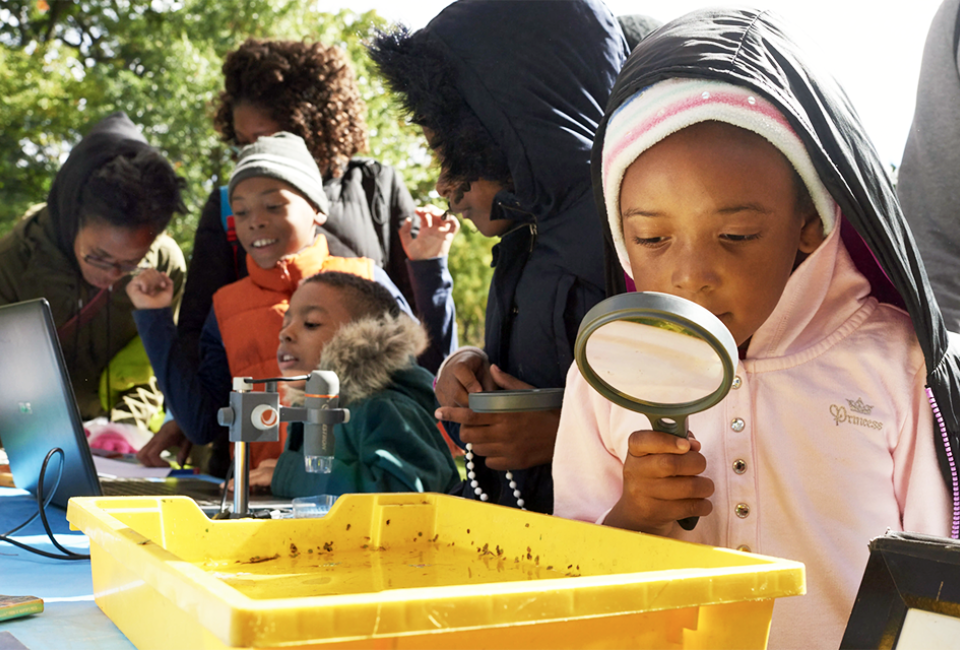 2/13/23
- By
Jody Mercier
February's Winter Break always seems to sneak up on me. We're barely into a post-holiday groove, and yet again, we've got a full week off from school to fill. While we've already rounded up 25 fun-filled Winter Break activities for the week, many of them come with a high price tag. To give your budget a bit of relief, we've got 25 free things to do during February's Winter Break Visit our Free in NYC Guide for more money-saving options for school break or any day you need to entertain your kids on the cheap.
Subscribe to our newsletters to get stories like this delivered directly to your inbox.
Some of these picks happen every day, while others are one-time events. Be sure to click through the links for complete details.
Best Free Things To Do During February's Winter Break
1. Prospect Park
Head to "Brooklyn's Back Yard" for events all week during the park's winter break programming, including a winter wilderness walk and animal encounters.
2. Bryant Park
Visit the free ice skating rink in Bryant Park. There are lots of other fun events planned during its Kids Week program, too.
RELATED: 100 Free Things To Do in NYC with Kids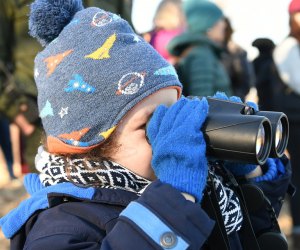 Bring your kids to parks throughout the city for Kids Week programs led by Urban Park Rangers. Photos courtesy of NYC Parks
3. Kids Week with the Urban Park Rangers
Join the Urban Park Rangers for Kids Week activities, which introduce your kids to the wildlife right here in the city.
4. Losar Family Day
Learn about traditional Losar celebrations and this year's zodiac animal, the kind and sensitive water hare, at the Rubin Museum of Art's Losar Family Day on Sunday, February 26.
RELATED: 25+ Best Things To Do in NYC in February 2023 with Kids

Check out the kid-friendly programming at the Brooklyn Botanic Garden. Photo courtesy of BBG
5. Brooklyn Botanic Garden
Visit the kid-friendly Brooklyn Botanic Garden where you can use your senses to explore the ecosystems in the lush (read: warm) conservatories. Its February Break Discovery Days run throughout the week and feature scavenger hunts, nature crafts, and the new Trees of Little Caribbean exhibit.
6. New York Botanical Garden
Visit the New York Botanical Garden, which offers free grounds admission to New Yorkers on Wednesdays. While it won't get you into the orchid show, it will grant access to the family-friendly Everett Children's Adventure Garden.
RELATED: 22 Free Indoor Places To Play in NYC

Explore the innovations of native people at the National Museum of the American Indian. Photo by Jason DeCrow/AP Images
7. National Museum of the American Indian
Visit this always-FREE culture spot in Lower Manhattan.
8. Industry City
Check out the many installations of public art at Industry City in Sunset Park.
RELATED: NYC Restaurants Where Kids Eat Free

Fort Greene Park has amazing sledding hills. Photo by Kate Lewis Andrews
9. Sledding
Pray for a big storm so you can burn off some energy at one of these fabulous sledding hills.
10. Culture Pass
Plan in advance and reserve a Culture Pass with your library card.
RELATED: What Ages Get in Free to NYC Museums, Zoos, Amusement Parks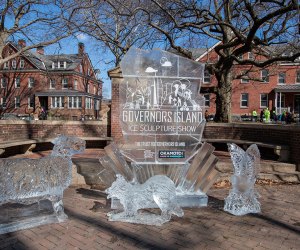 Carve out some time to visit Governors Island on Saturday, February 18 for the Second Annual Governors Island Winter Ice Sculpture Show. Photo by Julienne Schaer
11. Winter Ice Sculpture Show
Head to Governors Island to see some super cool ice creations at the island's winter ice sculpture show on Saturday, February 18.
12. Skyscraper Museum Family Programs
Learn the basics of skyscraper construction at a storytelling event, and make midwinter mosaics, at the Skyscraper Museum on Tuesday, February 21.
13. Roosevelt Island Tram
This might just be the city's most unique form of public transit: Jump on the Roosevelt Island Tram and soar above the city streets and the East River. While it costs a MetroCard swipe, the views are priceless, and there's plenty to explore across the river.
RELATED: NYC on a Budget: Cheap Things To Do and Money Saving Tips for Families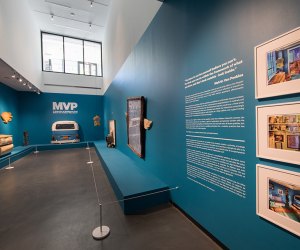 Spend a day at the Sugar Hill Children's Museum of Art and Storytelling, then explore the neighborhood! Photo by Timothy Lee Photographers
14. Sugar Hill Children's Museum of Art and Storytelling
Another fun spot with complimentary admission (at least for the kids!) is the Sugar Hill Children's Museum of Art and Storytelling.
15. Parks Kids Week Programming
Get out in nature for one of these fun, free programs coming to local parks in Manhattan, Brooklyn, Queens, the Bronx, and Staten Island.
16. Staten Island
Climb aboard the free Staten Island Ferry and explore all the family-friendly fun across the harbor before heading home.
RELATED: How To Get Free Stuff, Save Money, and Reduce Waste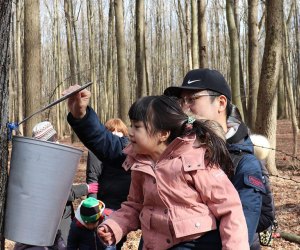 Collect some sweet sap during maple sugaring events at Staten Island's Clay Pit Ponds State Park Preserve. Photo courtesy of the venue
17. Go Maple Sugaring
Learn the process of making maple syrup from tap to table at Maple Syrup Saturdays at Clay Pit Ponds State Park Preserve in Staten Island.
18. Free Times at NYC Museums
Drop into another one of New York's many cultural hubs during FREE hours.
19. The High Line
If Staten Island Chuck is right and spring comes early, hit up The High Line for a family-friendly stroll. Check out the changing face of the skyline with stops at Hudson Yards and Manhattan West.
RELATED: NYC's Best Playgrounds: 21 Parks Worthy of a Subway Schlep

You can have plenty of fun at FAO Schwarz without spending a dime. Photo by Jody Mercier
20. Free Indoor Places to Play
Dance on the piano at FAO Schwarz or visit one of these other stores where kids play for free.
21. DIY Nature Camp
Choose an activity from our list of 30 outdoor activities in nature for kids, which includes fun outdoor ideas like arts and crafts, sensory activities, outdoor learning activities, and physical fun, to please every kid.
22. Brooklyn Conservatory of Music
Enjoy a Meet the Voice program at this arts education spot on Saturday, February 25, which introduces kids to the voice as an instrument and includes a short performance, Q&A, and an instrument petting zoo.
RELATED: Free in February: 19 Things To Do in NYC with Kids

Explore the decidedly old-school Wavertree at the South Street Seaport
23. South Street Seaport Museum
Guests can enjoy FREE hands-on activities on the fully restored 1885 cargo sailing ship Wavertree as if they were crew members.
24. Brooklyn Bird Club
This local club leads an introduction to birdwatching every Saturday where you can learn the basics of birding as you search for the many species that frequent Prospect Park. Bring binoculars, if you have a pair.
25. Queens County Farm Museum
Get some face time with the animals at NYC's only working farm.
This post, originally published in February 2019, has since been updated.