Kids' Party Planning: 15 Expert Tips to Throwing a Fun & Stress-Free Birthday Bash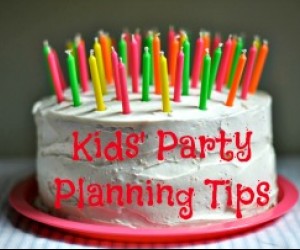 My kid turns 9 this year so over the past decade I've thrown four parties at home, booked three party venues, made my mother-in-law do all the work once when I couldn't face it, and attended countless birthday bashes for my daughter's friends. With all that experience I learned one very important lesson: When it comes to planning kids' parties, I'm still a novice.

Luckily in NYC there are plenty of actual kids' party experts willing to share the tips, tricks and wisdom they've picked up from hosting hundreds of children's bashes every year. So if there's a party in your future (and assuming you're a parent, that's a given), don't go it alone. Here are 15 ways to make your kids' next party a stress-free success.
Start with the invite list. It dictates everything: How large a venue you need, what kind of theme or activities you pick, etc. Brainstorming the party before the guest list is like putting the cake before the horse.

So... whom do you invite? For young children, parents traditionally invite the entire class (in fact that's a strict rule in some schools) or do gender-specific parties. But that can't go on forever. "Once the child reaches age 7, they know which friends they want to invite," says Creative Dream Entertainment. If you're looking for a firm number, iPlay America suggests following the "age plus one" rule, so "if your child is turning 7, you invite eight kids."

What about siblings? Before age 7, inviting siblings, too, is a nice gesture if you have the space and funds. However, other parents understand your predicament firsthand. If it's not feasible, don't be afraid to say no. "Explain that there's a strict number of guests allowed, they'll get it," says Creative Dream Entertainment. "But also let them know they're welcome to drop off the birthday guest if there's a childcare issue for the sibling."

Get creative. Regardless of your theme, there are lots of places to go for inspiration including TLB Music's favorite, Pinterest. We also have lots of DIY ideas in our Mommy Poppins Party Guide. By the time your kids are 3 or so, they'll have lots of input, too. And if you ever feel overwhelmed, you can always consult with the experts. "Feel free to ask a professional planner for advice," says Children's Parties NYC. "We're always happy to offer our best suggestions, even if the family doesn't end up booking with us."

Don't overdo it. All of our planners agree that the most common party mistake is trying to pack too much in, which can lead to over-stimulated and cranky guests, especially the preschool set. "If there are too many activities at the same time the kiddos will be divided and not know what to focus on," says Jam with Jamie. "Keep it simple with one activity or, if you must have more than one, schedule them at different times."

Looking for first birthday ideas? Our experts echo many of the thoughts we shared in our first birthday party post, especially the tips about keeping it short and understanding that the celebration is as much about the parents as the baby. However, they offered some great additions. "Ask one of your friends to take the pictures for you," says apple seeds. "That way you enjoy the party in real time and you may actually make it into a photo." Another photography-themed idea from TLB Music: "Display a picture series of the birthday child's first year of life." And while a DIY first birthday may be less expensive, it can also be stressful so don't feel guilty if you decide to farm it out. Most party venues are happy to cater to your infant's big day and some even have special first-birthday packages. Whether you DIY or book a facility, remember that timing is everything if you want your little one to shine. "Make sure you avoid naptime!" says Children's Parties NYC.

Communication is key. When booking a party venue or entertainer, it's important to go over all of the details so there are no surprises—well, no unpleasant ones, anyway. Don't be afraid to speak up and definitely ask all of your questions up front. "Parents let us know what they want and we make sure they know up front about how the party will run and all of our facility's procedures and rules," says LIC Kids. "It helps the party run smoothly."

Dealing with allergies and dietary restrictions: Many NYC party venues are 100% nut-free, including LIC Kids, The Art Farm in the City and Kids at Work, which is also gluten-free. And facilities are often able to accommodate the guests' needs, as long as they're informed in advance (remember, communication is key!). But Taste Buds Kitchen recommends erring on the safe side with parents bringing substitute treats for their child with allergies, especially life-threatening ones. For more tips on this topic, our LA site did an entire post on allergies and parties. And speaking of eating...

Don't order too much food. Multiple experts mention that there are always tons of leftovers at kids' parties. "Remember, kids don't want anything but cake," says Columbus Gym. "If you must get pizza, double-cut it for kids. They can always have a second piece, and there's a lot less waste. Also, parents never eat, so don't go overboard in that department, either."

Go with nontraditional party favors. Cheap plastic tchotchkes destined for the landfill are totally out. Instead, "go for one high-quality item," says Kids at Work. "We love to order from Discount School Supply, which sells great toys that come in multiples of 12." Useful or educational items like art kits, books, puzzles and notepads are good choices. Or have the kids make their own favors. "Many arts and crafts projects can serve as both an activity and a take-home gift item," says Columbus Gym. "It's also a nice remembrance of the event." And, since many children already have so much, you can always go the charity route. "We love to make donations in the names of the kids attending the party," says apple seeds. "Each child gets a certificate and sometimes we include an appropriate small gift to go along with the donation, like cookies from Cookies for Kids' Cancer."

Don't get upset if your child gets upset. It's easier said than done of course but a temper tantrum is never soothed by parents seething. "If your young child is having a meltdown, it's most likely due to over-stimulation," says Kids at Work. "Pressuring the child to have a good time can backfire. Instead, remove the child from the action and sit off to the side for a time and just observe what's happening in the room." You'd be surprised how quickly your kid joins back in.

Don't open the gifts at the party. There's a reason most party places pack the presents away in a giant plastic bag for you to take home. There's limited time to open gifts during the bash, plus you risk your child's honest and potentially negative reaction to some items. Just do it at home, where you also can...

Write thank-you notes. While sending email invitations is standard these days, most guests still appreciate a good old-fashioned physical thank-you card—particularly one written by the birthday child. "It can be a scribble, a picture or a handwritten note, it's great when kids say thank you in their own way," says apple seeds. Can't stand the thought of more wasted paper inevitably ending up in the trash? Send a personalized thank-you email. "We had a mom who included pictures of her kid playing with the specific gift from the thank-you recipient," says Kids at Work. "We thought that was a really nice touch."

Be flexible. Even if you've slaved over every last detail, sometimes things don't go as planned. And that's totally OK. "Things are bound to go wrong every once in a while—just smile through it," says apple seeds. "You're with family and friends, there are games to play and cake to be eaten, so go with it as best you can." Also, take your cues from the kids. "Let them dictate the flow of the party," apple seeds continues. "If they're having a blast doing something, let them stick with it a little longer even if that means losing another activity."

Relax—it's a party. Although it should be obvious, when you're in the thick of it, it's hard to remember that parents are supposed to be having fun, too. "Some parents feel like their child's party needs to be the BEST," says The Art Farm in the City. "If you celebrate your child in a fun environment, it will be!" Also keep in mind, if you go with a party venue, you're in expert hands. "We all know the drill," says Columbus Gym. "Let the staff do the work and stress out on your behalf."

Thanks to our Party Guide sponsors for their expert advice.