57 Alternative Activities to Screen Time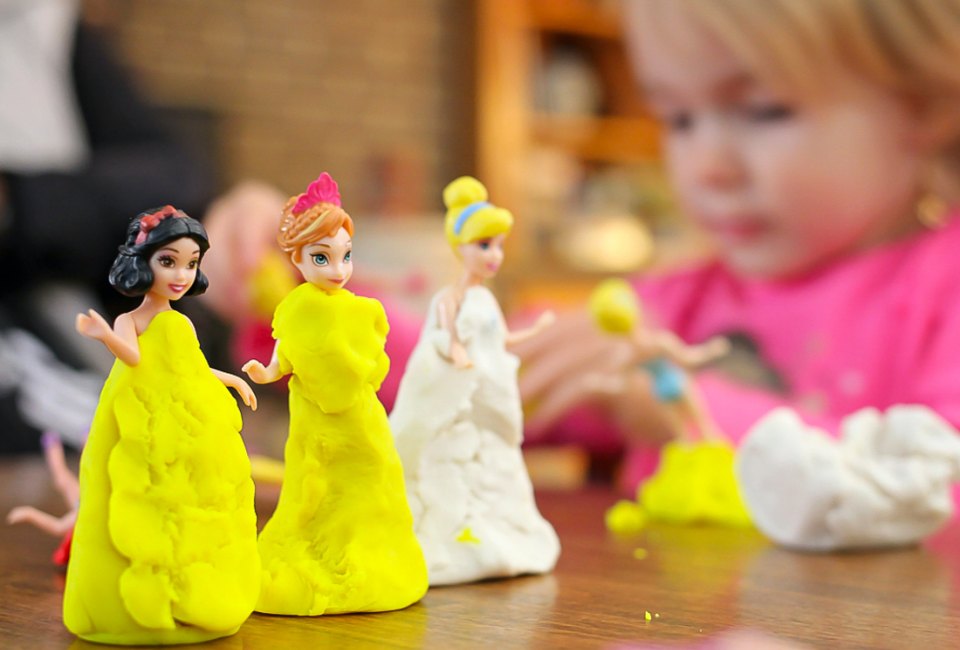 8/10/23
- By
Meghan Rose
Can you accurately add up your kids' daily screen time? With texting friends, social media, video games, and streaming services, it's almost impossible to track. But all parents can agree that screen time can get out of hand! While it's tempting to let our kids stay glued to these devices, finding alternative activities for kids that are fun and engaging things to do is essential for their development.
Thinking outside the box is the best way to reduce daily screen time for your kids, without them complaining. Need some inspiration? We've rounded up our 57 tried-and-true activities for kids, games & crafts, and family fun that will keep kids entertained, happy, and screen-free!
For more ways to cure the boredom blues, check out our list of 100 Things To Do When Kids Are Bored - it's in our aptly named Boredom Buster Guide that's packed with games, activities, crafts, and more.
Subscribe to our newsletters to get stories like this delivered directly to your inbox.
Daily Screen Time for Kids (On Average)
Guess how much screen time the average kids have each day? Hint: too much!
CDC Screen Time Recommendations
Now compare that to the CDC recommendations…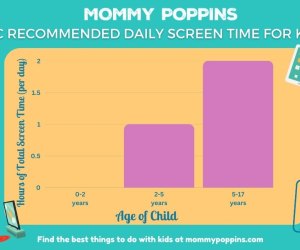 Activities for Kids & Friends Without Screen Time
1. Camp indoors
Spend the evening telling campfire stories while munching on oven-baked s'mores and singing campfire songs.
2. Throw a mocktail party
Dress up and party! Make these sophisticated mocktails for kids and have a toast.
​
You can use toys and sheets to build indoor forts! Photo by Sara Marentette for Mommy Poppins
3. Build indoor forts
Here are six simple ideas for building forts in the house.
4. Learn magic tricks
Some magic tricks are easy for kids to master. They can spend time learning the tricks, and culminate in putting on a show.
5. Would you rather…
Kids can give each other the giggles by asking each other outlandish and disgusting "Would you rather" questions! It's fun for kids to make up the questions, but we also have 100 of the best "would you rather" questions gathered here.
6. Have a spa day
This can be as simple as splashing in a bubble bath in bathing suits for little ones, or get more complex, like face masks, cucumber slices on the eyes, and tot-safe nail polish manicures at home for bigger kids!
​
These pinatas are so easy to make, little kids can join in the fun. Photo by Maureen Wilkey for Mommy Poppins
7. Make a pinata
You can easily make a paper bag pinata at home and fill it with any treats you have on hand!
8. Sleepover party
Every kid loves even more friend time, so host the ultimate sleepover, complete with the best sleepover snacks and games. Don't forget the not-too-scary ghost stories.
9. Write messages in invisible ink
No special ingredients required, and kids can spend ages making and decoding secret messages. Check out our secrets to making invisible ink.
10. Play hide-and-seek
Trust me, as a mom of teens, this never gets old! You can also try Sardines! (This is where one child hides, and everyone else looks for them. When you find the hiding person, you join them. Last person to find the growing group has to hide next time.)
11. Form a band
Pick up real instruments, or just bang on pots and pans!
12. Have a tea party
It can be a teddy bear tea, American Girl doll tea, or just lemonade in fancy cups and whatever snacks are in the house. Calling it tea makes it an event, and preparing for it is half the fun.
13. Play Simon Says
This game takes nothing but fast talking and imagination, and can be played with kids or adults, and anywhere from 2-20 people!
14. Indoor bowling
All you need are empty plastic bottles, a pair of rolled-up socks, and a long hallway or room! You can weigh the bottles down with small toys if you like, and use a ball instead of socks if the bottles get too heavy, but we like the low stakes, low possibility of breaking things that comes with empty bottles and socks.
15. Play Mafia
You can play this with a deck of cards, or an adult to tap kids and let them know which part they play. This is fun for a bigger group, so play when the whole neighborhood is around and in need of an activity. The rules are explained on Amanda Write Now, and these simple instructions make it easy for young kids to play.
No Screen Time Family Activities
16. Family cook-off
Who can make the best food? Bring this family activity to the next level by making mom and dad play host to a culinary competition. Give rewards for categories like "most delicious," "most creative," and "most unique use of an ingredient." Check out our Guide to Easy Recipes for Kids for ideas.

Pizza making is a science, craft, activity, and ends in a delicious dinner! Photo courtesy of Mommy Poppins
17. Pizza making night
Make or buy the dough and have a fun family event of customizing the pies. We've got some crazy creative pizza recipes and topping suggestions.
18. Build a family time capsule
Spend the evening writing a letter to the future finders of the time capsule, and filling it with meaningful items!
19. Family talent show
At the beginning of the week, set the state by announcing there will be a talent show on Friday night, and everyone can work on their acts all week.
20. Interview grandparent
Here are 100 questions that kids ask grandparents on the phone or in person, or mail them a couple of questions at a time and start a pen pal relationship with their grandparents to learn about family history.
21. Play ball outside
Got a favorite sport? Teach your kids to play! Or learn a new sport together: we've got 100 ideas for sports and hobbies for kids and parents alike.
22. Play charades
This classic game takes no special materials or skills!
Outdoor Games for Kids (No Screen Time Here!)
23. Summer water games
Keep cool while playing! We rounded up our favorite water games for play when the weather is wonderful.
24. Outdoor games
These outdoor games are perfect for any time (except maybe a snowy or rainy day!).
25. Nature games
These games let you commune with nature and get your hands dirty. Is there anything kids love more than getting dirty?
26. Star gazing night
Bring blankets, a thermos of cocoa, and a book about the constellations, and stare at the night sky. This is a good excuse to sneak in a few cuddles, too.

Make a sandbox volcano for science fairs or just for fun! Photo by Kelley Heyworth for Mommy Poppins
27. Messy science experiments
Science experiments (see below #38) are great anywhere. But these super fun messy science experiments are best outside!
28. Fizzy chalk fun
Take chalk to the next level by making colorful, homemade fizzy chalk fireworks.
29. Hair chalk
While you could do this inside, this messy fashion project is best done outside! If your child's hair needs a touch of pizzazz, hair chalk is the easiest way to dazzle it up.
30. Scavenger hunts
Confine it to the backyard or neighborhood, or hop in the car and take it all over town! These scavenger hunts are fun for kids of all ages.
31. Gardening
Plant a pollinator garden in the backyard, or do some gardening in pots that can live in a home, if you don't have a yard.
32. Play pickleball
Take the kids to a Pickleball court to enjoy the latest craze. We've got all the rules here.
Screen-Free Quiet Indoor Activities for Kids
33. Play a board game
Play one of these classic board games or collect supplies and make your own. With a large whiteboard and erasable maker, you can play a few rounds of hangman, Pictionary, or tic-tac-toe.
34. Or a card game
These 25 card games are for kids of all ages, and are hours and hours of fun.
35. Do puzzles
We've picked our favorite brainy puzzles for everyone from toddlers to teens.
36. Make your own playdough
If your playdough is all dried out, no worries! Whip up your own batch, using our easy playdough recipe and accompanying how-to video.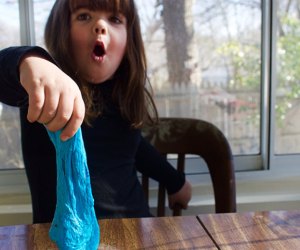 ​
Slime-making is fun for kids of all ages, and we've got several ways to customize it. Photo by Ally Noel for Mommy Poppins
37. Or make slime
Who doesn't love slime? From glow-in-the-dark slime to glitter slime, we've got 5 easy slime recipes.
38. Play mad scientist
We rounded up 64 science experiments for kids that will occupy and enlighten them for hours. Got little ones? We have some great science experiments perfect for toddlers and preschoolers, too.
39. Color!
We rounded up loads of fun printable coloring pages for every occasion.
40. Do word searches and other word games
We also have printable games and activities that parents can print out and give to kids to keep them off screens and having fun. Quiet, non-messy fun.
41. Play with Legos
Every kid can spend hours playing with a bin of Legos. Especially armed with our list of 100 fun things to do with Legos.
42. Or Magna Tiles
We also have 50 games and building ideas for Magna-Tiles.
43. Try some light experiments
Make a room really dark and play with light with some fun light experiments for toddlers and preschoolers.
44. Make a duct tape wallet
Our instructions walk you through making a duct tape wallet; a really fun craft that leaves kids with something they can actually use every day!
45. Make butter
Shake it til you make it, with this easy recipe for butter.
46. Or ice cream
If your kids prefer something sweet, this ice cream recipe requires no special equipment or ingredients.
47. Make rock candy
Part science experiment, part delicious, all fun. Check out our simple instructions for making rock candy.
48. Create recycled card bookmarks
All those cards you haven't wanted to throw out? You can turn them into bookmarks and then get reading!
49. Make a lava lamp
Step back in time with this groovy project that leaves you with a homemade lava lamp.
​
We've got loads of ideas for things to do with all those extra boxes. Photo by Rose Gordon Sala for Mommy Poppins
50. Get creative with cardboard boxes
Everyone has at least a few Amazon or shoe boxes lying around. Here are 50 ideas for fun things to do with cardboard boxes.
51. Learn origami
Folding paper is so satisfying. And quiet. So very, very quiet.

A simple game of catch is actually lots of fun and gets kids outside. Photo by Rose Gordon Sala for Mommy Poppins
Get Your Body Moving with Screen-Free Activities
52. Jump rope
We've got 20 jump rope games that get will raise your heart rate and your fun Q.
53. Have a dance party
Everyone loves a dance party; just put on one of these playlists and shake your groove thing.
54. Play indoor games
So. Many. Games. From sock skating to balloon ball, we've rounded up your favorite games to play indoors.
55. Take a push-up challenge
How many can you do? We've got 10 push-up challenges for kids.
56. Try these classic games from the 70s
Try these games Grandma used to play. No screens involved, we promise!
57. Hiking games
We've even got hiking games that turn hikes and walks into outdoor adventures.
Disclosure: We may earn a small commission if you click through our link and make a purchase. This revenue helps us maintain this site, so thank you for supporting us.
Click Here to Sign Up!
i