20 Summer Sleepover Games and Sleepover Snacks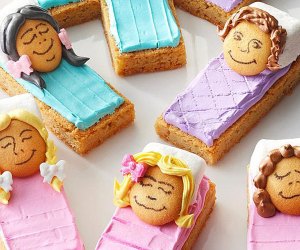 7/5/22
- By
Gina Massaro
Summer means hot days, no school, and lots of time to hang out with friends. With no one having to wake up early, there is no cooler or more epic hangout than a summertime sleepover. And what's a sleepover without fun sleepover games, plenty of snacks, and delicious desserts?
Here are 10 fun sleepover games for kids to play this summer, plus 10 delicious sleepover snacks and desserts. For even more ideas, check out our lists of 50 easy summer desserts and snack recipes kids will love and 25+ water games for kids to play all summer long. Then pull out the sleeping bags and get ready to throw the ultimate slumber party.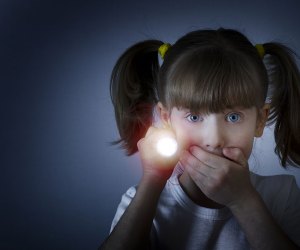 Play a thrilling game of flashlight freeze.
Summer Sleepover Games for Kids
1. Flashlight Freeze
Make sure the flashlight has batteries for this fun take on a traditional game of tag. One person holds the flashlight, while the others run around trying not to get caught. The tagger freezes their opponents by flashing the light on them. Depending on the number of friends at the sleepover, this can be played in teams with multiple flashlights or with just one tagger or freezer. Be sure to set up the rules beforehand, such as if teammates will be able to un-freeze or thaw each other by tagging them and if there is a home base that's safe for the runners.
2. Lip-Sync Battle
Clear the way to make a faux stage for the performers. Have each player pick a song—or have a song chosen for them—to lip-sync their heart out to. You can play for points or just for fun. As an added difficulty, pick songs with a theme, such as summer or the beach.
3. Scavenger Hunt
Set up an outdoor scavenger hunt. Have the kids search for things they can only find in nature, like lightning bugs or fireflies. Mix it up with some items you hide yourself, such as beach balls and seashells. The first person to complete the hunt wins a prize.
4. Charades
Give one of the most classic sleepover games a summertime twist by writing down things that are associated with the season, such as fireworks, the beach, bikinis, etc. Have the kids pull the clue from a hat or bowl and act it out.
5. Glow Party Balloons
Get some UV neon balloons and a blacklight to play traditional balloon games, but with the added fun of being in the dark. Have kids place the balloon between their knees and try to run without dropping it. Another fun balloon game is to play keep-up. Hit the ball in the air and don't let it touch the ground. This can be played in teams or as individuals.
RELATED: 40 Classic Outdoor Games for Kids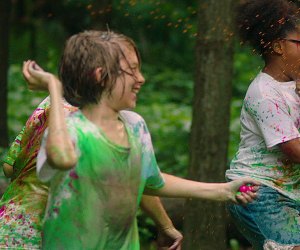 Goblies are colorful, messy, and fun! Photo courtesy of the manufacturer
6. Goblies War
Goblies are paint balls with all the fun and none of the pain. Get different colored Goblies or buy the Goblies guns and liquid paint. Separate the teams into two colors and let the paint fly. This is one of those sleepover games the kids will be talking about all summer long!
7. Blink Murder
Guests pick a paper from a hat or bowl, with one piece directing the player to be the murderer. The player must secretly blink three times at the other players to "kill" them, without being caught. When a player is blinked at, they must wait a few seconds before "dying" dramatically. If someone believes they know who the murderer is, they can accuse them, but if they're wrong, they're out of the game. The game ends when the murderer has either "killed" everyone or been caught.
8. Spin the (Nail Polish) Bottle
This game is best played when all participants have already removed any previous nail or toenail polish. To set up the game, grab a bunch of nail polish bottles—the more, the better. Have the kids sit in a circle and place one bottle in the middle. They spin the bottle and see where the lid of the polish points. That person must paint one fingernail or toenail that color. It then switches out to a new polish and is spun again.
9. Glow-in-the-Dark Bowling
For this simple game, you need empty water bottles, glow sticks, and a ball. Stick the glow sticks in the water bottle, set them up like pins, and you're ready to go. For extra fun, set the game up outside on the grass, deck, or patio so everyone can enjoy the summer night.
10. Toss-and-Talk Beach Ball
Before the sleepover, write questions all over an inflatable beach ball. Questions can be fun and silly or can help the kids get to know each other better. When a child catches the beach ball, they must answer one of the questions written on the ball.
RELATED: 12 Healthy Snacks for Kids That Are Works of Art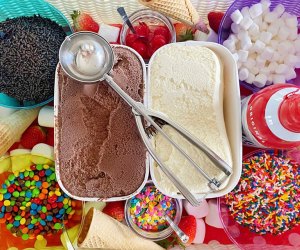 Dig into an ice cream dessert board. Photo by Ally Noel
Yummy Summer Sleepover Snacks for Kids
These adorable sweet snacks are made to look like a child in a sleeping bag. For a no-bake version, simply use rectangle wafer cookies, frosting, marshmallows, and Nilla wafers. Use the wafer cookies in place of baking the blondies.
12. Dreamy Sleepover Cupcakes
This recipe by Betty Crocker is from scratch, but to save time you can easily use pre-made cake mix and frosting. The key to this cupcake is adding Nilla wafers for the head and draping a fruit roll-up blanket over it. Add a dab of icing for the hair, and use icing gel or edible marker for the face.
This recipe is fun, colorful and relatively easy to make. The main ingredients you will need is graham crackers, melting white chocolate or candies, marshmallow fluff, lots of sprinkles and gel food coloring. You can even change up the theme by using different gel food coloring and different types of sprinkles.
14. Snack Charcuterie Board
Taking inspiration from favorite dessert boards, this super delicious PB & J charcuterie board is loaded with snacks kids love. Best of all, you can customize it based on the tastes of your guests. It's always a great idea to include both sweet and savory options.
This specialty drink is a crisp blue, garnished with a gummy fish and a lime wedge. Just mix seltzer or 7-Up, lime juice, pineapple juice, and blue fruit punch. Serve in a Mason jar or other glassware for sleepover party guests to feel extra fancy.
16. Homemade Popsicles
What's better on a hot summer evening than a refreshing popsicle? Get the kiddos involved in making their own sleepover snacks with one of these fun popsicle recipes to make with kids.
This layered treat made with crushed cookies, chocolate pudding, and gummy worms is not only delicious, it fits perfectly with the theme of a backyard summer sleepover. Plus it's one of our favorite no-bake dessert recipes easy enough for kids, so guests can make their own for a fun activity.
18. Homemade Rock Candy
If the kids are bored even after all those sleepover games, making their own rock candy is a fun activity with delicious results. Just check out our simple instructions, and make sure all the kiddos brush those teeth before hitting the sleeping bag!
19. Mug Cakes
It's way too hot outside for hot cocoa, but that doesn't mean your mugs have to collect dust. Instead, use them for one of these easy mug cake recipes to make with kids, then settle in for a fun summer movie.
RELATED: 20+ Kid-Friendly TikTok Recipes You Need to Try Tonight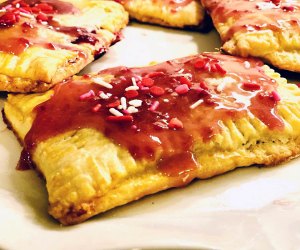 Wake up to delicious homemade Pop Tarts. Photo by Ally Noel
No one wants to wake up to a boring breakfast at a sleepover. Instead, have the kids rise and shine to some delicious homemade Pop Tarts!