Cirque-tacular presents 'The Art of Circus'
BMCC Tribeca Performing Arts Center
Submerge: NYC Marine Science Festival
Hudson River Park Pier 84

Sugar Skull! A Dia de Muertos Musical Adventure
The Sheen Center for Thought & Culture
Easy Hair Chalk Ideas for Kids, Plus How to Make DIY Hair Chalk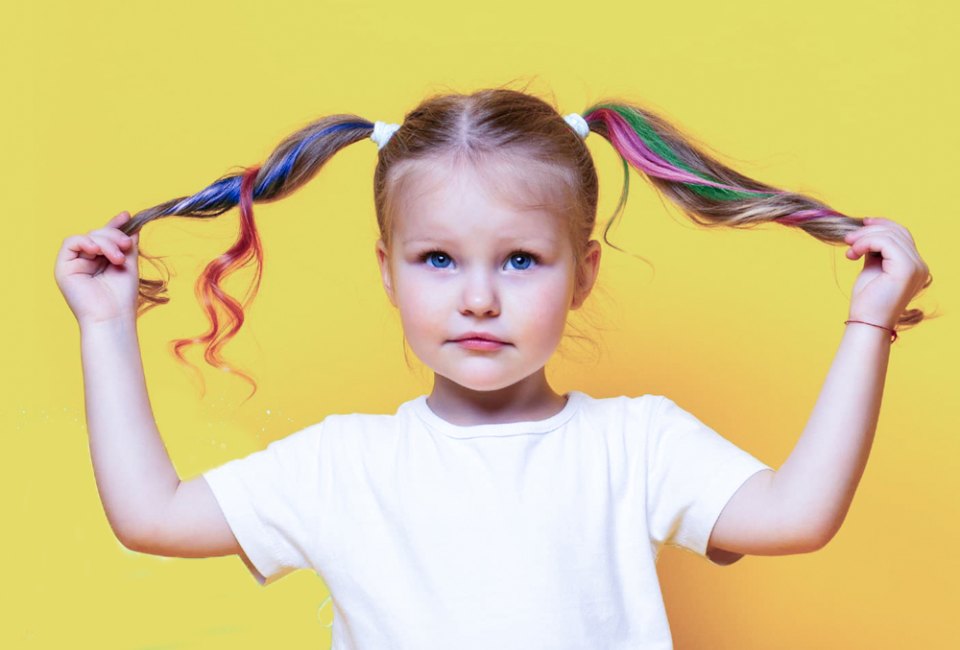 7/13/23
- By
Ally Noel
If your child's hair needs a touch of pizzazz, hair chalk is the easiest way to dazzle it up. Whether your kiddo feels like being a mermaid, a witch, or just wants to add a little oomph to their everyday look, hair chalk for kids can open the door to endless creative possibilities.
Best of all: Hair chalk is not only relatively inexpensive, it's also temporary. Depending on the kit and the application, most hair chalk washes out between one and three days, making changing your kiddo's hair color as easy as changing their clothes.
Read on for some of our favorite hair chalk kits and designs for kids, then learn how to make DIY hair chalk. And if your kiddo wants to channel their creativity beyond their hair, our Boredom Busters Guide for Kids will help. There you'll find our lists of 100 awesome art projects, 50 genius things to do with cardboard boxes, and so much more.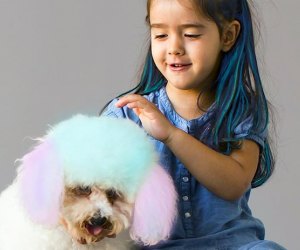 Hair chalk made with natural ingredients is safe for both kids and pets. Photo courtesy of Mosaiz Hair Chalk Pens
Great Hair Chalk Kits for Kids
This kit includes 12 easy-to-use chalk pens in a variety of vibrant colors. Made with only natural ingredients, these pens are easy to store and tend to be a little less messy than other application options.
Recommended for kids ages 3 and up, this kit comes with 10 different colors. Each color is packaged in a comb, making application a breeze. All you have to do is comb the desired color through your child's hair and watch the transformation take place.
This chalk set is loaded with a ton of color options—24, to be exact! The easy-to-use chalk sticks—which come in various shades of blue, pink, purple, and more—make combining and experimenting with new colors a breeze.
Each of the 10 pens in the GirlZone Hair Chalks set is good for at least 80 applications. That adds up to a whole lot of fun mixing and changing your kiddo's hair color. The twistable pens, which come in five vibrant colors and five metallic ones, make for easy storage between uses.
These 12 large chalk pens are completely blend-able and will stay in your child's hair for up to three days. The kit includes several metallic colors such as green apple, grape, and strawberry to add a little bit of shimmer to your kid's dazzling new do.
Fun Hair Chalk Designs for Kids
Whether it's a French braid, a fishtail, or a traditional braid, adding a little bit of color will make even the most basic of braids pop.
Ombre hairstyles typically go from very dark to light colors. With the right setup, this look is pretty easy to achieve with chalk.
Take your mermaid waves to the next level with hair chalk. Mermaid hairstyles are typically thought of as being shades of blues, pinks, and purples, but use your imagination and pick any color your kiddo wants.
RELATED: The Science of Homemade Fizzy Sidewalk Chalk Paint



Sidewalk chalk can easily be turned into hair chalk by simply adding water. Image by Taylore, courtesy of Amazon
How to Make DIY Hair Chalk for Kids
Unsurprisingly, the main ingredient to hair chalk is, well—chalk. These directions call for sidewalk chalk, but any chalk you have on hand will work. If you have lighter-colored hair, all you have to do is apply chalk to your tresses and set it in place with a light mist of hair spray. If your hair is darker, you may need to follow the directions below.
Supplies:
Sidewalk chalk

Water

Bowl

Scissors

Hair dryer

Hair spray
Directions:
1. Dampen the chalk in the bowl with small amounts of water. You do not want to soak the chalk—just leave it in the water for a moment.
2. Scrape off the loosened chalk with the edge of the scissors.
3. Using your fingers, create a chalk paste.
4. Apply the chalk paste to hair.
5. Allow it to sit on the hair for at least 30 minutes.
6. Blow dry hair on the lowest setting.
7. Finish off by misting the hair with hair spray.
Disclosure: We may earn a small commission if you click through our link and make a purchase. This revenue helps us maintain this site, so thank you for supporting us.

Sign up for our free
newsletters.
Mommy Poppins is a family activity website that helps people find things to do with kids.
©
2023
MommyPoppins. All Rights Reserved.
mp-prod4-v4.32.99
Click Here to Sign Up!
i