30 Reasons Why New Jersey Is the Best Place To Raise Kids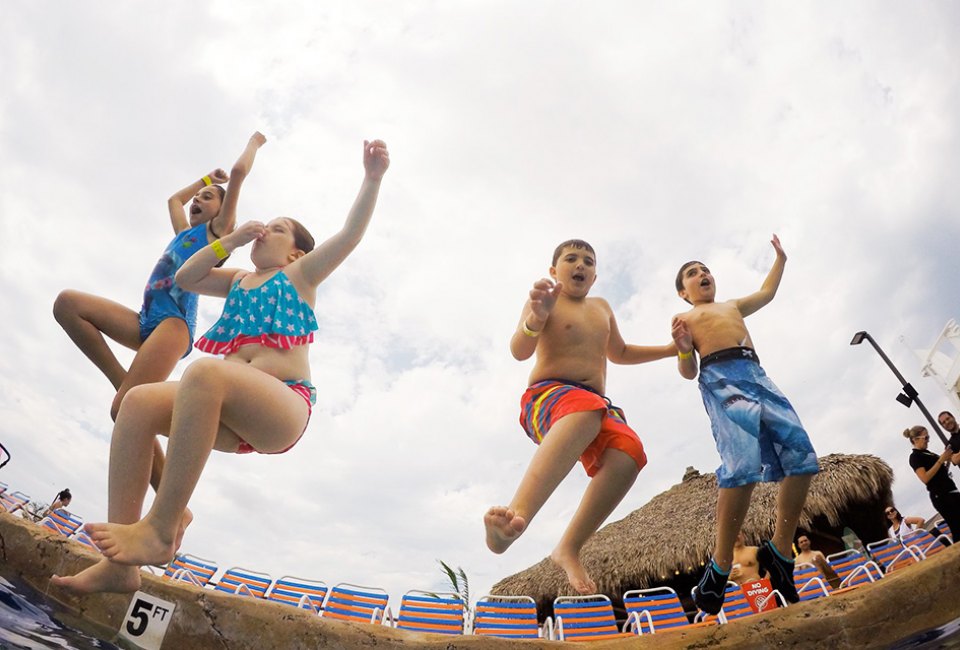 7/22/18
- By
Elaine Paoloni Quilici
Anyone who lives in New Jersey knows it's a great place to grow up. Sure, the taxes can be astronomical—but there are serene sandy beaches and winding wooded trails to explore, the food and culture is first-rate, and all-American small towns with top schools attract young families.
The international nongovernmental group Save the Children recently added one more benefit: in a spring study, it named New Jersey the state most likely to offer a safe, secure, and healthy childhood.
Whether you're looking for reasons to move to New Jersey or want to remind yourself why you love it, here is our list of what keeps families happy and healthy in the Garden State.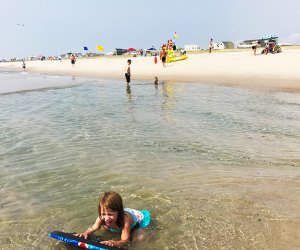 Long Beach Island offers some of the most family-friendly beaches on the Jersey Shore. by Rose Gordon Sala
1. Jersey Shore. New Jersey has some of the best beaches and family-friendly beach towns on the East Coast. And don't forget the boardwalks!
2. Public schools. The state's public schools consistently rank among the top in the nation when it comes to both reading and math.
3. Diversity. The state's diverse population allows kids to have friends with varying backgrounds and nationalities. It also gives them the chance to learn about different cultures and the holidays they celebrate, including Chinese New Year and Rosh Hashanah.
4. Food. Thanks to its large population of Italian descendants, New Jersey easily has some of the best pizza in the nation. Taylor Ham is another savory draw. Many top chefs from New York and Philly open satellite restaurants in New Jersey, making the state a destination for fine dining also. There are plenty of kid-friendly options, too!
5. Rich history. New Jersey was the third state to ratify the U.S. Constitution. Families can explore Revolutionary War battlefields, as well as visit historic farms, homes, schools, churches, and villages.
RELATED: 30 Best Things To Do with Tweens in New Jersey

The Highland Natural Pool is a stream-fed freshwater swimming pool in Ringwood, NJ.
6. Four seasons. Kids who grow up in New Jersey can enjoy all kinds of year-round outdoor fun: swimming in the summer, pumpkin picking in the fall, ice skating in the winter, and parks and playgrounds in the spring.
7. Lakes. If you want to beat the beach crowd but still enjoy a cool summer retreat, head to one of New Jersey's many lakes. It's fun to swim and relax on Lake Hopatcong in Hopatcong State Park or Hooks Creek Lake in Cheesequake State Park. For more active kids, check out the water park at Tomahawk Lake in Sparta and the floating obstacle course at Sunrise Lake Beach Club in Morris Township.
8. Doctors. New Jersey is home to many top doctors, dentists, orthodontists, and hospitals. And when you need extra health care options, the neighboring big cities offer even more choices.
9. Small towns. While New Jersey is a heavily populated state, there are still tons of small towns with quaint Main Streets and friendly folks.
10. Parks and playgrounds. New Jersey has some of the best county park systems. You never have to travel too far to find a great jungle gym, sprayground, ball field, or picnic spot.
11. Hiking and biking. Kids can get up close and personal with nature on one of the state's many hiking or biking trails. Boonton's Tourne County Park has a trail that offers views of the New York City skyline, and family-friendly trails in Delaware Water Gap pass by ponds and waterfalls.
RELATED: 100 Things To Do with Kids in New Jersey Before They Grow Up

Check out the penguins and other aquatic creatures at Jenkinson's Aquarium.
12. Zoos and aquariums. No need to leave the state to learn about wildlife. Cape May County Park & Zoo, Turtle Back Zoo, Adventure Aquarium, and Jenkinson's Aquarium are all easily accessible, no matter where you live in the state.
13. Shopping. New Jersey is known for its malls, but its small-town mom-and-pop shops are just as rewarding. Outlet shopping is perfect for a family budget.
14. Indoor play spaces. Whether it's raining, snowing, or just way too hot, New Jersey has a variety of fun indoor play spaces that will keep kids entertained.
15. Concert venues. From small to big stages, New Jersey has it all. Catch a local kid's rock band at one of the regional performing arts centers, or go big-time with a tween icon like Taylor Swift at the Prudential Center or MetLife Stadium. Outdoor venues such as PNC Bank Arts Center are another fun warm-weather option.
16. Volunteering. Kids have plenty of opportunities to learn about community service. Whether through a local scouting program, or volunteering at one of the state's food banks or soup kitchens, families in the Garden State know what it means to give back.
17. Summer camps. Kids can have fun all summer long at New Jersey's many summer camps. From STEM to sports, there's something for everyone.
RELATED: Great Amusement Parks for Preschoolers and Toddlers in New Jersey

Storybook Land is a classic, tot-friendly amusement park in a serene wooded setting.
18. Theme parks and outdoor entertainment. We have Storybook Land and Land of Make Believe for the little kids, and Six Flags for kids of all ages. Other unique venues include Wild West City, Field Station: Dinosaurs, and Grounds for Sculpture.

Liberty Science Center offers kids many opportunities to explore our planet... and beyond.
19. STEM. Home to Liberty Science Center, New Jersey is a great place to raise tech-savvy children. A variety of STEM classes is available throughout the state to give kids an edge in the fields of science, technology, engineering, and math.
20. Community pools. Town pools are a perfect place to cool off in the summer. They're also a great spot for kids and parents to socialize.
21. Colleges. There are 62 colleges in New Jersey. That means there's probably a college not too far from your home, offering an array of cultural and sporting events. Attending a college event, such as a basketball game or theatrical production, or just walking around the grounds gets kids familiar with campus life and the idea of higher education.
RELATED: The Best NJ Zoos and Aquariums for Animal Encounters with Kids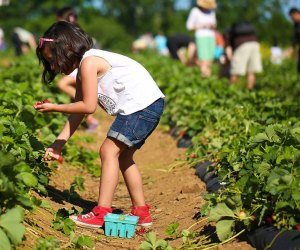 Pick farm-fresh fruits and veggies at Alstede Farms, one of NJ's many family-friendly farms
22. Farms. Kids can learn about agriculture and healthy eating by visiting a local farm, where they can also pick their own fruits, veggies, and even flowers.
23. Gas. Gas prices in New Jersey are among the lowest in the country. An added bonus: attendants pump the gas, so moms never have to leave the car!
24. Views. You can't beat a New York City or Philadelphia skyline view from across the river. New Jersey's lush mountains and valleys and seaside beauty also offer top vistas.
25. Transportation. Family travel is much easier when there are so many options. Residents find flexibility in choosing from a number of airports including Newark, Atlantic City, New York, and Philadelphia. Train lines also transport riders up and down the East Coast, as a flying alternative. Ferries across the Hudson and Delaware rivers are a fun way to day trip to New York or Philly.
26. Sports teams. Living near major metro areas means lots of pro game action. In addition to cheering on the Giants, Jets, Red Bulls, and Devils, there's a lot of minor league baseball that's exciting to watch.
27. River adventures. Access to the Delaware, Hudson, and many other smaller rivers offers plenty of water activities including canoeing, kayaking, and rafting.
28. Fairs and festivals. Church carnivals, civic club festivals, flea markets, and various other street celebrations are a popular way to spend a mild afternoon in the Garden State. Pick up a sausage and peppers sandwich, then treat yourselves to some funnel cake for a classic experience. Larger events, such as the Belmar Seafood Festival and QuickChek New Jersey Festival of Ballooning, make for great day trips.

Even the littlest ones can learn to ski at Campgaw Mountain.
29. Skiing, snowboarding, and tubing. Head to North Jersey to hit the slopes. Areas such as Mountain Creek and Campgaw Mountain are great places to learn how to ski and snowboard. Tubing parks are another fun way to enjoy the snow without a learning curve.
30. People. Residents of New Jersey make the state what it is. Intelligent, hard-working, and resilient, folks go out of their way to foster family-friendly communities throughout the state.
Read Save the Children's report here.
Unless otherwise noted, photos courtesy of the venues.
Originally published 2015; updated 2018.