One Great Day In NJ: Cape May County Zoo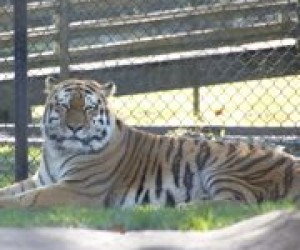 When you're living with a future zookeeper/artist/paleontologist/restaurant owner, almost all your excursions turn into research trips. Fortunately, my son's current passion for zoos can be easily indulged with a trip to the Cape May County Zoo. We've gone three times this year, and I'm confident more trips are in our future. I'm sure you're thinking, "Wow. They must have a lot of money if they can afford to attend the zoo that often." Want to know our secret? The reason we can indulge our future zookeeper so easily is that admission to the Cape May County Zoo is 100% free! Although the zoo is primarily funded by the county, donations are critical to its survival and growth. We usually donate at least $20 on each visit but, if money is tight, you can enjoy the zoo for free. As my husband says "Zoo for the price of none." (OK...that was a bad pun. We'll leave him out of the rest of the story.)
If you're thinking "free" = "small and uninteresting," you would be wrong. The 85-acre Cape May County Zoo has a host of marquee animals like a tiger, a lion, a bear, camels, cheetahs, giraffes and zebra. (No elephants though. Sorry.) In addition, the exhibits are filled with a wide variety of fascinating and active animals, including monkeys, foxes, small cats, wallabies, camels, bison, deer, alpacas and more. Two of the latest zoo stars are Sabu and Kaba, two baby snow leopards born in May 2010. Other recent zoo babies include baby ring-tailed lemurs, who were born on April 1, 2011. The zoo also offers a reptile house and a bird aviary. Here is an account of one of our recent visits to the zoo.

As we pull off the Garden State Parkway at Exit 11, my son gets excited. The zoo is right off the parkway, and immediately he begins getting assurances that we will play at the playground afterwards. (Oh ... did I not mention that the zoo is nestled inside the sprawling 200-acre Cape May County Park, which offers playgrounds, walking paths, a disc golf course, fishing ponds and picnic shelters? Well, prepare yourself for an extended stay as the playground before the zoo entrance is too fun to be passed up.) After donating our $20 at the entrance and getting our zoo map, we find a parking spot and head to the zoo entrance. "I want to eat lunch at the snack bar," my son yells. (Darn! I forgot to pack a picnic lunch. I guess pizza and ice cream are in our future.) The snack bar, Safari Cafe, is located outside the zoo, but you can pack your own food and eat at one of the many picnic tables or shelters available in the park. (No food is allowed in the zoo though so leave it in the car until your zoo visit is done.) "I want something from the gift shop too!" he shouts. The gift shop, Ark in the Park, is not easily missed because of the life-size stuffed black bear marking the entrance. Seeing a chance to save a little bit of money, I tell my son it is either the snack bar or the gift shop. Tears ensue. Eventually we get things sorted and we're on our way to the zoo.

Inside, we're greeted by a variety of birds but are quickly drawn to the activity in the nearby monkey exhibit, where the monkeys swing and jump and put on quite the show. Once we manage to drag ourselves away from the monkeys and the nearby goat petting area, we round the corner past the flamingos to find a peacock in full display. (Fun fact: the flamingos are from Michael Jackson's Neverland Ranch.) Roaming free throughout the zoo, the peacocks are plentiful but stealthy. On more than one visit, I've been surprised by one popping out of the bushes. But we've never seen a peacock with his feathers fully displayed before, and it is quite a sight. He's trying to impress a nearby female, who continues to peck the ground uninterested. Just a few feet away, a younger male with barely any feathers tries to compete but his efforts are laughable. Feeling kind of sorry for the little guy, I encourage him not to give up. We then move on to the zoo's biggest star, Rocky the Amur (Siberian) Tiger.

Rocky, who turned 10 in April, is in the midst of getting his habitat remodeled. He's been active whenever we've visited the zoo, and it is always exciting to see a big cat in action. "Look at the size of his paws," my son marvels. Rocky is an impressive animal, and we spend at least 15 minutes marveling at him. During that time, we hear a loud and rather strange noise: "Hurrrrffff. Hurrrrrffff. Hurrrrrffff." "What the heck is that?" we wonder. Intrigued, we follow the sound to the lion exhibit, where the adult male lion is asserting his position as King of the Zoo. The sounds he's making are not quite what I associate with a lion but it is fascinating to hear him. We're amazed at how loud he is and how different it sounds from the roar you always expect from a lion. "Wow, Mommy. He is really loud," my son says. (He's right. Later, as we're getting ready to leave, we hear him again even though we're in the parking lot,)

After we finally drag ourselves away from the lion, we're at the duck/turtle/wallaby/tamarin area (there is a lot to see here and we got a bit scattered as everyone ran off in different directions). When we eventually sorted ourselves out, we stopped by the bear exhibit and made our way to my least favorite part of the zoo, the Reptile House. "I'll wait out here," I say, but my son and husband are having none of it so I'm dragged inside to see all kinds of snakes, lizards, turtles, frogs and other scaly things like skinks. When we exit, we stop by to see the tortoises and go up a little bridge to view the alligators in the pond below. Then it's off to the Africa exhibit. To get there, we take a bridge over a rather large duck pond that is jammed with turtles, ducks and what looks like a rather large swimming rat. "What the heck is that thing?" my son asks. Turns out, it is a capybara, which is a large rodent that swims! It is both disturbing and fascinating to watch him paddle about the pond, leaving a big mud trail behind him. The ducks give him a wide berth and so do we as his bigness and rodentness leaves us somewhat uneasy.

Then we're off to Africa ... via the wetland forests of South Jersey. In a bit of genius design, the zoo constructed a boardwalk walkway through the forest and the kids just love it. Even if there weren't zebras and giraffes at the end, I think this section would be a hit because every kid I see is running and laughing on the boardwalk like they're on an amusement ride. Along the way, there are animal exhibits (a rather tired-looking snow leopard mama, a red panda) but when the boardwalk opens up into the "African" savanna, the shouts of "Giraffe!! I see a giraffe!!!!" remind you of what you're here to see. The giraffes are up close eating, but out in the distance we see ostriches and bongos (rather attractive looking striped antelopes). Around the corner is a herd of zebra. It is rather hot, and we cool off by buying cold drinks in reusable hippo-shaped containers that are for sale at a little stand. Once we're done, we say hello to the ring-tailed lemurs (look at the babies!) before heading out of "Africa."

When we emerge, we pass the lion again and up another boardwalk to see bison, deer, llamas, alpacas and camels. Because the boardwalk is raised, you're looking down on the animals as they roam around, which is a view that my son loves. After a quick tour of the small mammal area (which is home to what looks like a very big and fat housecat but might actually be an ocelot), we pass the always empty otter exhibit (we've never seen them once! ) and finish up in the bird house.

We've been at the zoo for almost 2 hours now, and everyone is getting tired and hungry. So we head to the snack bar. Refreshed after his lunch, my son plays on the nearby playground before we head home. (Thankfully, he didn't see the zoo train or the carousel). As we drive home, I feel a wave of thankfulness for the Cape May County Zoo, a well-run zoo that offers a terrific day out for families of all economic means. Knowing that we're lucky to have this zoo almost in our own backyard, I vow to double my usual donation on our next visit to ensure this gem of a zoo continues to thrive for years to come.

The zoo is open 364 days a year (closed on Christmas). Summer hours are 10:00 am to 4:45 pm. Winter hours are 10:00 am to 3:45 pm. The surrounding park is open from 9:00 am until dusk. Strollers and wheelchairs are available for rental. For more information on the zoo and to print out your own brochure or map, visit the zoo web site.