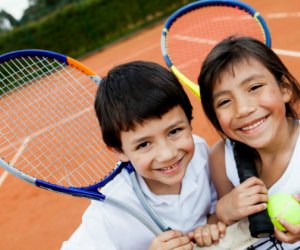 15 Great Summer Tennis Camps in New Jersey
It may be winter, but it's never too early to start thinking about summer camp. From day camps to art camps to riding and horse camps, the options in New Jersey are endless. If you're looking to get your little Serena Williams some fundamental instruction or give your beginner basic lessons, try a week long tennis camp for fitness, team play and overall summer fun! And to find out all the day camp options in NJ, check out our New Jersey Summer Day Camp Guide.
Brooklake Country Club – Florham Park
The David Kramer Tennis Academy is a weekly indoor tennis camp. 2018 sessions begin June 11 and run through August 31 and provide tactical drill sessions, personal evaluations, goal setting, strength training and match play. For current pricing, click here.
Centercourt Athletic Club – Chatham
The club's summer camp program covers 13 weeks of tennis camp. Options range from pre-school half day to high school training. Each program takes your children's ages and tennis ability into account. For pricing and registration, click here.
Farleigh Dickinson University – Teaneck
This summer tennis camp is for boys and girls ages 5-17 with skill levels ranging from beginners to advanced. On-court instruction, extensive drilling and supervised training will all take place. 2018 camp information should be posted shortly.
Garden State Tennis Center – Edison
Hosts a summer tennis camp at Wardlaw High School. Weekly sessions runs from mid-June to mid-August. Daily activities include drill instruction, strategy review and match play. Click here for pricing details.
Hendrickson Drive Tennis Complex – West Windsor
Home to the West Windsor Tennis Program. Coaching is provided to children ages 4-17 years old during one of its 10 weekly summer camps. Class sizes are limited to six players per court and are filled on a first-come, first-served basis. For current pricing and program dates, click here.
Maplewood Tennis Program – Maplewood
This program, which launched in 1983, now includes its famous peewee tennis program. Camp curriculum covers stroke production, footwork drills, doubles tactics, and plyometric training. For registration and pricing details, click here.
Murray Hill Tennis & Fitness – New Providence
Full and half-day camps are open to players ages 5-12, while a half-day option is available for 4 year olds. Junior varsity camps take place in the late afternoon. Camps begin the week of June 18 and run through August 24. For details, click here.
Nike Tennis Camp – Lawrenceville
Gives players a full tennis and living camp experience with its summer sports program at Lawrenceville School. Camp highlights include five to six hours of supervised instruction and off-court evening events. For session dates and current pricing, click here.
Orange Lawn Tennis Club – South Orange
Hosts a weekday summer camp for kids ages 4-9. Camp runs from late June to late August. Check back here for 2018 pricing and registration details as they become available.
Princeton Tennis Program – Princeton
Open all levels, ages 8 to 15 years old. Offered each week of the summer from June 25 to August 24, Princeton Tennis Program's summer camp options range from rookie camp to its elite week. For schedule and pricing, click here.
Ramapo College – Mahwah
Offers a residential summer camp through the Adidas Tennis Camp program. This youth (8-18 years old) instructional camp is offered July 23 through August 3. For current details, click here.
Ed Ransom Tennis – Somerset
This Monday through Thursday camp accommodates players of all age groups, ranging from beginner level to advanced level. Held at the Rutgers Preparatory School; both half-day and full-day sessions are available. For session dates and current pricing, click here.
Mayotte Hurst Stevinson Tennis Academy – Cranford
This academy is dedicated to the development of excellence in all areas of a person and their tennis game. Campers will focus on patterned drilling, high percentage point play, footwork patterns, and many other fundamentals. Click here for schedule and pricing.
Strand Tennis – Chatham
Hosts an indoor tennis camp that includes daily fitness training and matches. Weekly sessions also include fun arts and crafts and Carnival Day every Friday. Check back here for camp schedule and current and 2018 pricing coming soon.
Bill Wing's Tennis Academy – Montclair and Clifton
Its summer camp, held on the courts of Brookdale Park Tennis Center, is open to boys and girls, ages 7-18. Full- and half-day camps are available. Check back here for 2018 pricing coming soon.
Photo via Shutterstock.
First published 2012. Updated for 2018.