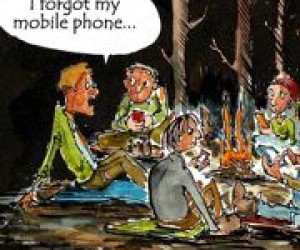 Family-Friendly Hiking Trails in NJ
From watching The Vampire Diaries to updating a Facebook status, from checking email to casting a vote for the next American Idol…the list of daily distractions and stationary activities your child faces is endless. A shocking number of eight to eighteen-year olds spent 7.5 hours a day using entertainment media – not a week, a day! As parents, we're just as busy; shooting off an email here, running to a meeting there. We ALL need time to take a step back and breathe in some fresh air.
New Jersey is home to many marvelous hiking trails. Hiking is not only an inexpensive family activity, but also an incredible bonding experience. So introduce your brood to nature and its beauty; it may not be easy to get them to put down their cell phones, but the rewards will be well worth it.
To get started, Leona Fluck of PineyPaddlers.com recommends "the adventure should be planned with the child's age and interests. Bring water and lots of snacks to have mini-breaks during the hike which may be just a half-mile as an introduction to the outdoors. A hat and sunscreen are essential along with good sneakers. Bug spray - depending on the season. Children like to have their friends along, so invite a buddy. Have a magnifying glass to check out critters. It's important that the hike be at the child's walking pace - not the adult. The child could have their own daypack and together you plan the activity. Contents include a mini-first aid kit, a whistle. For longer hikes adults can carry a lunch in their daypack."
And don't forget to bring your camera – scrapbooking the moments and landmarks could turn into a fun winter activity!
Here are some top picks for family friendly hikes in NJ:
Wells Mills Park (Waretown, NJ) Located in the Pine Barrens, Well Mills Park is a great location for family hikes with more than 50 miles of trails, including a VIP (Visually Impaired Persons) trail. Click here for trail map.
Jenny Jump State Forest (Hope, NJ) This 4200 acre forest, great for beginner hikers, will provide your family with amazing views of the Great Valley and the Delaware Water Gap. Click here for a trail map.
Cheesequake State Park (Matawan, NJ) Located in Central New Jersey, Cheesequake State Park will lead your family through the state's beautiful marshlands, with the assistance of numerous boardwalks. Click here for a trail map.
Cattus Island Park (Toms River, NJ) Referred to as an island because the area is surrounded by salt marshes, Cattus Island Park has eight miles of blazed trails and an environmental center. Click here for a trail map.
Lord Stirling Park (Basking Ridge, NJ) With its diverse habitats, Lord Stirling Park's eight miles of hiking trails, including three miles of boardwalks, loop their way around and through the park. Click here for a trail map.
Allaire State Park (Farmingdale, NJ) Allaire State Park has three easy hiking trails and one extreme 16.5 mile trail. Best known for its surrounding historic village, these easy hikes will also provide a history lesson. Click here for additional details.
Mahlon Dickerson Reservation (Jefferson Township, NJ) With more than 3,999 acres of space, Mahlon Dickerson Reservation is the largest park in Morris County. Many trails, which are also dog-friendly, in the reservation follow old logging roads making for a flat, steady hike. Click here for a trail map.
South Mountain Reservation (West Orange, NJ) This Essex County park extends through three neighboring towns: Millburn, West Orange and Maplewood. Its five trails, ranging from 1.2 to 6.0 miles, are close by the Turtle Back Zoo and the new Treetop Adventure Course making for a fun family day. Click here for a trail map.
High Point State Park (Sussex, NJ) With more than 50 miles of trails, including the Appalachian Trail, High Point State Park's Monument gives hikers a view of New York, New Jersey and Pennsylvania. With very little elevation gain, until you hit 220 stairs to the monument, this is the perfect family hike. Click here for more details.
photo credit: HikingArtist.com via photo pin cc