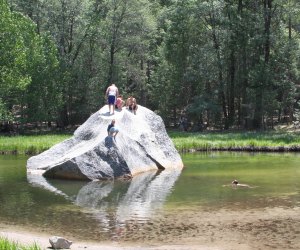 15 Road Trips You Can Take from Los Angeles this Weekend: California Summer Travel 2020
Most of us had summer vacation plans for 2020, and most of us have faced by now that those plans aren't happening. While we adjust daily to the new normal, we also look at an uncertain summer that really needs some bright spots, preferably including a couple of getaways. California has begun cautiously opening up, and that gives us some options: from glamping to deserts to not-so-far islands, we've checked to see which weekend destinations we can drive to now, in pursuit of that vacation we all definitely deserve.
Joshua Tree is only two hours from LA and open again for cars, hiking, and biking. Most campgrounds are open, with many campsites available first come, first served. Group sites are reservable, and limited to 25 people. A variety of hotels and Airbnb rentals offer lodging in communities outside the park, including in nearby Palm Springs.
California's central coastal route that passes through Big Sur is one of the world's most famous drives—have your kids seen it? If your family appreciates gorgeous beaches, pristine state parks, redwood forests, and breathtaking views, this is a must-do getaway, and this is the summer to do it. Lodging options are myriad, from launching points in the welcoming town of Carmel at the northern end to cabins and campgrounds throughout Pfeiffer Big Sur State Park.
The quiet town of Ojai in Ventura County feels so much farther from LA than it is and offers ample opportunities for kids to explore the great outdoors on horseback, bikes, or just on foot on a beautiful hike. Wheth you prefer a charming hotel with indulgent restaurant approach or a camping in the woods approach, there are many options for enjoying a quiet weekend in the fresh air of Ojai.
The biggest trees in the world are definitely good for taking your mind off the little things. Sequoia National Park and Kings Canyon are adjacent parks full of towering redwood trees in peaceful forests with one-of-a-kind views. Both parks are open again as of June 19, 2020, with some lodging and camping options available inside the parks. Paying for park admission in advance online can save time waiting in line at the park entrance.
Alisal Guest Ranch Resort has reopened, which means you can drive two and a half hours into the heart of wine country to ride horses, kayak on the lake, play tennis, or get lost in arts and crafts at this family resort. There's no TV in the room, and there are so many outdoor activities that your kids won't care a bit. Special packages are available for the rest of the year.
If camping only sounds good to you with all the amenities, then this camping resort north of Santa Barbara may be the camping with perks that you need. To make accommodations safe in the time of COVID, only cabins are available (no tents or yurts) so that no shared bathrooms are needed. Cabins have kitchenettes, lofts, private decks, and fire rings for families to relax around. Be sure to visit the llamas on your morning hike!

Kayaking the Channel Islands is great for social distancing. Photo by Roberta Brown
Boats to the uninhabited Channel Islands National Park are running again, opening the nearby islands for a day of kayaking, dolphin and sea lion watching, and hiking along wind-swept ocean cliffs. Intrepid outdoorsy types can even book a rustic campsite and stay the night at this little known national park.
Less outdoorsy types can stay the night at Orange County's huge indoor water park, which is open for business again and currently offering discounts for upcoming stays. The indoor theme park resort offers water park all day and into the night along with a wide variety of family activities to thrill kids of all ages.
A bottle of red, a bottle of white—Temecula is a kid-friendly wine region that allows everyone to in the family to play. There is plenty of entertainment for kids while families tour vinyards and parents sip away. Temecula is close enough to squeeze into a day trip, but staying in a hotel or vacation rental seems like a better idea if you want to enjoy the wine.
Ghost towns can be spooky, rich with history, or a lot of fun. Calico is all three. Plus, you can camp or rent a room right there in town for a fully immersive experience. Lodgings in the town are overseen by San Bernadino County Parks, with social distancing and other safety precautions in place. Shops and entertainment in the ghost town have begun reopening.
RELATED: 10 Cool Car Games for Road Trips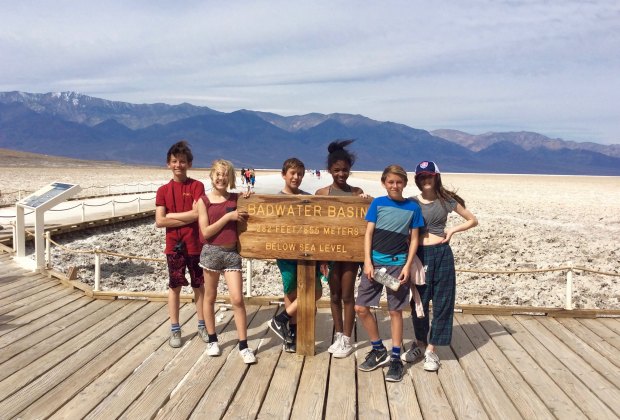 Hanging out below sea level in Death Valley, photo by Roberta Brown
This patch of desert has recorded the highest temperatures in the western hemisphere, but that doesn't mean it isn't a great adventure with plenty to see, including salt flats, sand dunes, majestic mountains, and even a golf course and swimming pool. Campgrounds aren't open this season, but there are a few hotel options in the park. The enormous open spaces of this park make social distancing a snap. Plus, it's a dry heat.
If Death Valley sounds too hard, how about something really easy? Everyone's favorite art colony beach town in Orange County is a lovely place to escape for the weekend without driving far at all. Although the epic Pageant of the Masters is sadly taking its first ever summer off, the Sawdust Art Festival is still going forward, which is a nice way to feel a little normal and take in some local art between walks on the beach.
Legoland California itself has not yet re-opened, but the park's Sealife Aquarium has, and it's worth visiting even without the rest of the park open. A few hours spent in the wonderful and creative aquarium can easily make a trip to Carlsbad worthwhile; the Village by the Sea is 87 miles south of Los Angeles has a small-town feel along with world-class golfing, inventive cuisine, and the famous Carlsbad Flower Fields.
California's most famous national park is a few hours away and feels even more remote than it is. Hike to a waterfall, see 2,000-year-old trees, and be amazed by El Capitan. Current restrictions require reservations even to drive into the park for day use, but with a little planning anything is possible. Lodging inside the park is limited to Yosemite Valley Lodge, Curry Village (at 50% capacity), and The Ahwahnee. Upper Pines Campground (at 50% capacity) and Wawona Horse Camp are the only campgrounds open.
Not only is Big Bear a delightful mountain retreat less than three hours away from LA; it's also the only place in SoCal planning July 4th fireworks in 2020. Enjoy all that and more by the lake by booking a cabin, pitching a tent, or just picking one of Big Bear's many hotels. The community is working hard to keep everyone healthy and safe, and so far it's been working pretty well.