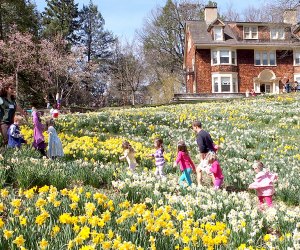 50+ Things We Can't Wait To Do with Kids This Spring in NJ
Spring is on its way! It's almost time to trade in boots, mittens, and winter coats for fresh air, parks and playgrounds, spring getaways, and New Jersey farm fun. Get outside to take advantage of all of the seasonal fun the Garden State has to offer!
Read on for 50+ fantastic spring activities to enjoy with your family. Looking for more? Check out our Spring Fun Guide, with new events added throughout the season.
1. Welcome the first day of spring with a sweet treat! Get a free cup of Rita's Italian Ice on Wednesday, March 20.
2. Magic 98.3's Kidfest on Saturday, March 23 at Rutgers in New Brunswick is a fun-filled day of live entertainment, games, contests, giveaways, a climbing wall, bounce houses, and more.
3. The Montclair Literary Festival on Saturday, March 23 features a full day of free events for children and young adults, including author and illustrator visits, stories, and a drawing workshop.
4. Swing by Melick's Town Farm for a free kids scavenger hunt and marshmallow roast the weekends of March 23-24 and March 30-31. There's also hard apple cider for the grown-ups.
5. Waffles for dinner? Pass the syrup! On Monday, March 25, celebrate National Waffle Day at one of NJ's best pancake houses.
6. Celebrate MLB's Opening Day on Thursday, March 28 by scoring tickets to see one of New Jersey's minor league teams. The Lakewood Blueclaws open their season at home on Thursday, April 4, while the Trenton Thunder play their first home game on Friday, April 12.
7. If your kids love Legos and construction vehicles, get the best of both worlds at Diggerland's Lego Day on Saturday, March 30. Lego building stations and photo ops add to the fun.
8. Watch Thomas and other trains chug around miniature tracks at the Garden State Annual Spring Model Railroad Show the weekends of March 30–31 and April 6–7.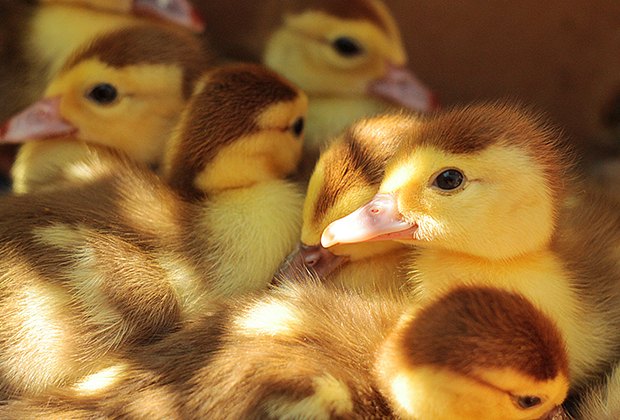 Welcome the baby chicks at Alstede Farm's Easter and Springtime Family Festival. Photo by Roksolana Zasiadko via Unsplash
10. Hop aboard the train in Flemington or Phillipsburg to ride the rails with the Easter Bunny.
11. Frolic outdoors at a park or playground, including recently revamped play spaces in Verona and Caldwell.
RELATED: Best Spring 2019 Events for NJ Toddlers and Preschoolers

NJ theme parks like Storybook Land reopen for the season.
12. Get your springtime thrills at Storybook Land or Six Flags Great Adventure when the new season kicks off on Saturday, April 6.
13. Visit lambs, chicks, calves, and other baby animals and barnyard residents at one of NJ's family-friendly farms.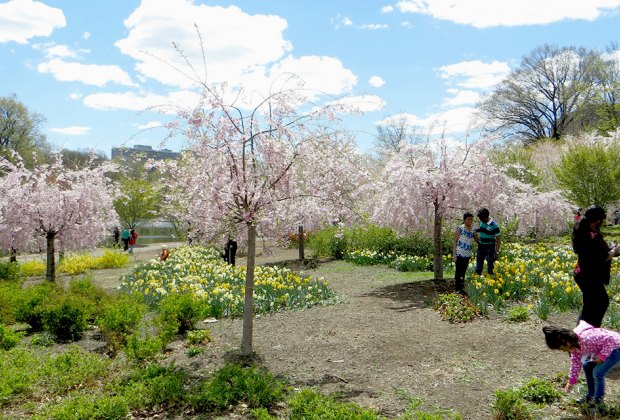 Soak up the spring at Essex County's Annual Cherry Blossom Festival at Branch Brook Park. Photo by Barry Solow
14. The Garden State turns pink with gorgeous cherry blossoms during Essex County's Annual Cherry Blossom Festival, which runs Saturday, April 6 – Sunday, April 14; highlights include Essex County Family Day on Saturday, April 13 and Bloomfest on Sunday, April 14.
15. Break out the bicycles and take the family for a scenic ride through the gorgeous grounds of Duke Farms.
RELATED: Easter Bunny Brunches and Photo-Ops for NJ Kids

Get your free ice cream at Ben & Jerry's on April 9. Photo courtesy of Ben & Jerry's
16. Scream for ice cream on Tuesday, April 9, Ben & Jerry's Free Cone Day. Get a free sweet treat at participating locations between noon–8pm.
17. Catch a fish or two at Echo Lake Park during the Newark Bait and Fly Casting Club's Kids Fishing Derby starting Saturday, April 13.
18. Experience the Turtle Back Zoo in a new way with the Family Nature Club on Sunday, April 14 and explore the natural habitat around the zoo to learn about local nature and conservation.
19. Experience the splendor of spring at Reeves-Reed Arboretum's Daffodil Day on Sunday, April 14.
20. Put a spring in your step with an afternoon of fun and fresh air at the Rutgers Garden Spring Festival on Sunday, April 14. There will be face painting, crafts, and an Easter egg hunt, plus music and dancing.
21. Kick off street fair and festival season at the Stirling Street Fair on Sunday, April 14 and Maywood Spring Street Fair on Sunday, April 28 with food, games, rides, and other amusements.
22. Hunt for clues to find a surprise at the end of Terhune Orchard's Bunny Chase during Easter weekend. Afterward, little ones can make a bunny craft to take home and munch on a bunny cookie.
RELATED: Easy Spring Break Getaways for New Jersey Families

Explore the Watchung Reservation Sensory Trail in Union County. Photo by Margaret Hargrove
23. Walk the Watchung Reservation Sensory Trail, the first of its kind in Union County, and according to park officials, the most extensive sensory trail in the U.S.
24. Visit one of NJ's awesome nature centers to learn about local flora and fauna and head outside to look for signs of spring.
25. Head down to Cape May for the family-friendly Spring Festival from Friday, April 26 – Sunday, May 19.
26. Give your little ones a chance to stretch their cooped-up little legs and head outdoors as the Monmouth County Park System celebrates Earth Day with a variety of events at their parks on Saturday, April 27.
27. Dust off your superhero cape and join other caped crusaders at Liberty Hall Museum's Superhero Day on Saturday, April 27. Captain America and Supergirl will make a special appearance.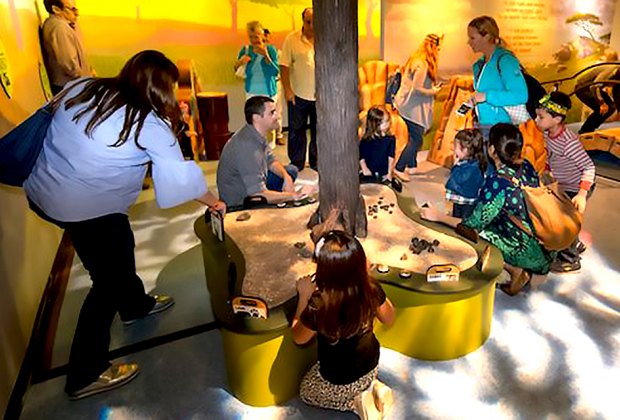 Head to Liberty Science Center to explore The Lion Guard exhibit. Photo courtesy of LSC
28. Travel to the African Savanna and be back home in time for dinner with a trip to Liberty Science Center's The Lion Guard exhibit, based on the popular Disney Junior TV show.
29. Explore New Jersey's great state university at the annual Rutgers Day extravaganza on Saturday, April 27, with festivities, exhibits, performances, food, and fun for the whole family.
30. Handle real fossils, meet a dinosaur expert, and make a dinosaur craft at the Morris Museum's Dino Day on Saturday, April 27.
31. Go green at Liberty State Park's Earth Day Kids' Kingdom and Fair on Saturday, April 27. With Lady Liberty in the backdrop, this eco-friendly event includes games, rides, and tree planting activities.
32. Be a tourist in our own state with a day trip to one of NJ's charming towns, including Montclair and Princeton, which hosts the Communiversity Arts Fest on Sunday, April 28.
33. Travel back in time at the Smithville Renaissance Faire on Saturday and Sunday, April 27-28. The historic village is transformed into an English Renaissance town, complete with dukes and duchesses, sword fights, and knights.
34. Kids Bowl Free starting May 1 at Oakwood Lanes, one of NJ's most family-friendly bowling alleys.
35. Take your little prince or princess on a real-life adventure to Kip's Castle Park in Verona. Built in 1905, the replica of a medieval castle boasts 9,000-square feet, amazing views of the NYC skyline, and free admission Tuesday-Fridays from 12-3pm starting Wednesday, May 1.
36. Celebrate Mother's Day with lemonade, iced tea and sweet treats, all served on real china, at the Mommy & Me Tea and Craft Workshop on Saturday, May 4 at Liberty Hall Museum.
37. Fly a kite at Terhune Orchard's Kite Day celebration the weekend of May 4-5.
38. Ring in Spring with sweet treats, fun outdoor activities, and guided hikes at the Cora Hartshorn Arboretum's Spring Celebration on Sunday, May 5.
39. Bounce around the fun KidZone, rock out to live music and sample delicious treats from food vendors during Westfield's Spring Fling on Sunday, May 5.
40. Join more than 300 artists, crafters, photographers, food vendors, and businesses for a day jam-packed with family-friendly activities at the Hoboken Spring Arts & Music Festival on Sunday, May 5.
41. Find the best places to go stargazing in NJ to celebrate National Astronomy Day on Saturday, May 11.
42. Enjoy an afternoon at Macculloch Hall's historic garden for National Public Gardens Day on Saturday, May 11, complete with family activities and presentations.
43. Cruise NJ's largest lake during the Lake Hopatcong Foundation Block Party on Saturday, May 11. There will also be food trucks, a kids play area, on-water demonstrations, and music.
44. Take a day trip to historic Smithville for the Children's Festival on Saturday, May 11. Popcorn, face painting, balloon animals, and train rides are just some of the events to look forward to.
RELATED: Jersey Shore Family Guide: Best Beaches and More Fun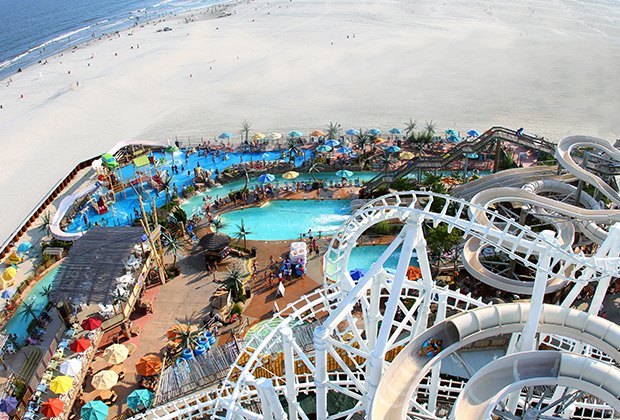 Aerial view of Raging Waters Water Park, located right on the beach! Photo courtesy of Morey's Piers
45. Cool down at one of NJ's best water parks. Looking for something more low-key? Find a water playground or splash pad near you.
46. Explore the cockpit of a M*A*S*H* Bell-47 helicopter and other extraordinary aircrafts during The Aviation Hall of Fame and Museum's Open Cockpit Weekend, May 18-19.
47. See even more of what the Jersey Shore has to offer during Ocean Fun Days at Sandy Hook, Saturday and Sunday, May 18–19.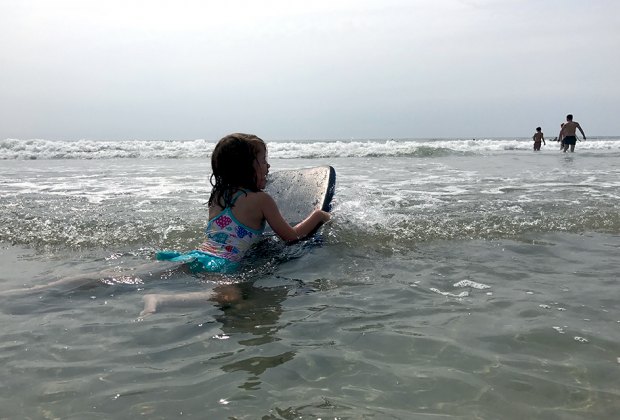 Hit the surf at one of New Jersey's fabulous beaches. Photo by Rose Gordon Sala
48. Plan your summer beach getaway—there are plenty of family-friendly options right here in NJ, from Sandy Hook to Cape May.
49. Head to South Mountain Reservation for a full day of family fun, including a fairy trail, paddle boats, mini-golf, Turtle Back Zoo, and the popular pirate playground.

Travel way back in time at Field Station: Dinosaurs. Photo by Michelle Vames
50. See giant, animatronic dinosaurs come to life when Field Station: Dinosaurs reopens Saturday, May 25 to kick off Memorial Day Weekend.
51. Also opening on Saturday, May 25, right in time for the unofficial start of summer: The Land of Make Believe!
52. Strawberry season starts at the end of May! Pick your own berries and more at a host of local farms.