46 Best Things To Do in New Jersey with Kids this Spring: Our Spring Fun List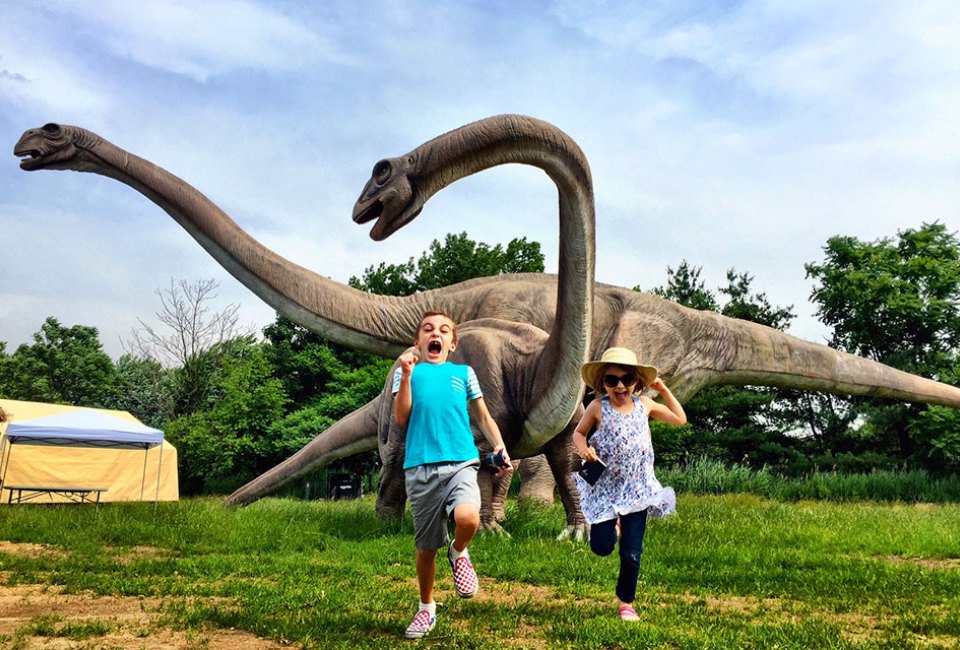 4/7/23
- By
Margaret Hargrove
With the arrival of spring, it's time to trade in those clunky boots, mittens, and winter coats for fresh air, parks and playgrounds, spring getaways, and New Jersey farm fun. Get outside to take advantage of all of the seasonal delights the Garden State offers.
Read on for dozens of fantastic spring activities to enjoy with your family. Looking for more? Check out our Spring Fun Guide, where new events, activities, and outings are added throughout the season.
Subscribe to our newsletters to get stories like this delivered directly to your inbox.
Best Things To Do in New Jersey with Kids in Spring 2023
1. Go to Diggerland
If your kids love construction vehicles, check out Diggerland, which opened for the season Saturday, March 11. Drive, ride, and operate heavy machinery at this construction-themed adventure park.
2. Ride an Old-Fashioned Train
Hop aboard the train in Flemington or Phillipsburg to ride the rails with the Easter Bunny or take a spring excursion.
3. Play Outside
Frolic outdoors at some of our favorite parks and playgrounds.
RELATED: Destination Playgrounds in New Jersey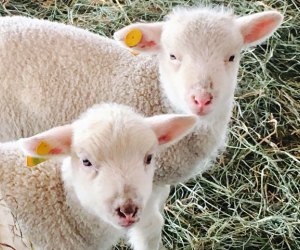 Enjoy the lambs at Alstede Farm's Easter and Springtime Family Festival. Photo courtesy of the farm
4. Visit Alstede Farm's Easter and Springtime Family Festival
See baby animals, visit the Easter Bunny, and try the scavenger hunt at Alstede Farm's Easter and Springtime Family Festival this April.
5. Visit a Farm
Visit lambs, chicks, calves, and other baby animals and barnyard residents at one of NJ's family-friendly farms at petting zoos.
6. PYO Berries
Strawberry season starts at the end of May, so grab a basket and pick your own berries—and more—at a host of local farms.
7. Enjoy EGGstravaganZOO
Spy oversized eggs in the walking paths, try the HOPstacle course, and participate in the Easter Scavenger Hunt during the Easter EGGstravaganzoo at the Cape May Zoo on Friday-Sunday, April 7-9.
RELATED: Top Things To Do in New Jersey This April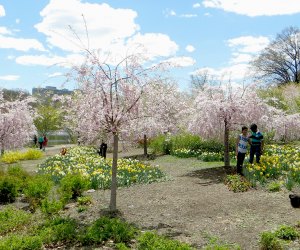 Branch Brook Park is home to more than 5,000 cherry trees. Photo by Barry Solow
8. See Cherry Blossoms
Check out the beautiful cherry blossoms in Branch Brook Park. Its popular annual festival returns from Saturday, April 1-Sunday, April 16, 2023.
9. Explore Duke Farms
Break out the bicycles and take the family for a scenic ride through the gorgeous grounds of Duke Farms. Note that this private park limits weekend visitors, so guests must sign up for a parking pass in advance online.
10. Visit the Stirling Street Fair
Hit the pavement and enjoy this year's entertainment at the Stirling Street Fair on Sunday, April 23, 2023.
11. Go Stargazing
Find the best places to go stargazing in NJ to celebrate National Astronomy Day on Saturday, April 29, 2023.
12. Visit a Nature Center
Visit one of NJ's awesome nature centers to learn about local flora and fauna and head outside to look for signs of spring.
13. Go to Cape May's Spring Festival
Head to Cape May for the family-friendly Spring Festival, from Thursday, May 18-Sunday, May 21.
RELATED: New Jersey's Liberty State Park: A Perfect Family Day Trip

The hills come alive with daffodils at Reeves-Reed Arboretum in April. Photo courtesy of the arboretum
14. Experience Daffodil Day
Experience the splendor of spring at the Reeves-Reed Arboretum's Daffodil Day on Sunday, April 16, 2023.
15. Enjoy Rutgers Day
Head to New Brunswick on Saturday, April 29, 2023, for Rutgers Day 2023 and enjoy farm animals, food vendors, and special activities for kids–all FREE.
16. Observe Earth Day
The whole family can head outdoors and stretch their legs as the Monmouth County Park System celebrates Earth Day with a variety of events in its parks Saturday, April 22, 2023.
17. Explore a New Town
Be a tourist in our own state with a day trip to one of NJ's charming towns, including Montclair and Princeton.
RELATED: Best Family Campgrounds in New Jersey

Immerse yourself in knights and duals at the NJ Renaissance Faire. Photo courtesy of the event
18. Go to a Renaissance Fair
Travel back in time at the Smithville Renaissance Faire on Saturday, April 29, and Sunday, April 30, 2023. The historic village is transformed into an English Renaissance town, complete with dukes and duchesses, sword fights, and knights. Or, get tickets to the NJ Renaissance Faire, which runs weekends from May 20-June 4, 2023.
19. See Kip's Castle
Take your little prince or princess on a real-life adventure to Kip's Castle Park in Verona. Built in 1905, the replica of a medieval castle is a whopping 9,000 square feet and has amazing views of the NYC skyline.
RELATED: Easy Spring Break Getaways for New Jersey Families

Explore the Watchung Reservation Sensory Trail in Union County. Photo by Margaret Hargrove
20. Hike the Watchung Reservation
Walk the Watchung Reservation Sensory Trail, the first of its kind in Union County, and according to park officials, the most extensive sensory trail in the U.S.
21. Experience Nature at Cora Hartshorn Arboretum
Celebrate the season by signing up for an educational program at the Cora Hartshorn Arboretum.
22. Learn About Animals
Learn about all the inhabitants of Jakes Branch County Park Nature Center in a 20-minute live animal talk every Sunday.
23. Head to the Boardwalk
Visit Jenkinson's Boardwalk before the summer crowds arrive. The rides and most amusements open in late March/early April.
24. Rock it Out
Dance at the Grayrock N Roll Spring Festival, where kids can meet farm animals and everyone can nosh on food truck fare. The event takes place Saturday, April 29, 2023.
25. Watch Sheep Shearing
Experience the Sheep Shearing event at the Historic Longstreet Farm on Saturday, April 29, and Sunday, April 30, 2023.
RELATED: Jersey Shore Family Guide: Best Beaches and More Fun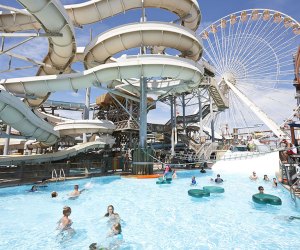 Take a dip in the Raging Waters water park at Morey's Piers. Photo by Kip Dawson
26. Visit a Water Park
Cool down at one of NJ's best water parks. If you're looking for something more low-key, check out our favorite water playgrounds and splash pads.
27. Fly a Kite
See kites of all shapes and sizes soaring over the beach in Long Branch on Saturday, April 22, 2023.
28. Take a Nature Walk
Take a lovely stroll during a Cattus Island nature walk.
29. Embark on a Bunny Chase
Hunt for clues to find a surprise at the end of Terhune Orchard's Bunny Chase during Easter weekend. Afterward, little ones can make a bunny craft to take home and munch on a bunny cookie.
30. Embrace Bricks
Take your little LEGO enthusiast to Brick Fest, a 2-day convention with exhibits, interactive stage shows, life-sized Lego buildings, a world-record-setting brick mosaic, and merchandise.
31. Spring Fling
Bounce around the fun KidZone, rock out to live music, and sample delicious treats from food vendors during Westfield's Spring Fling on Sunday, May 7, 2023.
RELATED: See the Stunning Tulip Fields at Holland Ridge Farms

NJ theme parks, like Storybook Land, reopen for the season in the springtime. Photo courtesy of Storybook Land
32. Get Spring Thrills
Get your springtime thrills at Storybook Land when the new season kicks off on Saturday, April 1, 2023, or Six Flags Great Adventure, which also opens on Saturday, April 1, 2023. And opening Memorial Day weekend, right in time for the unofficial start of summer: the Land of Make Believe!
33. Enjoy Ocean Fun Day
See even more of what the Jersey Shore offers during Ocean Fun Days on Saturday, May 20, at Island Beach State Park or on Sunday, May 21, at Sandy Hook.
34. Take a Beach Trip
Plan a beach getaway to visit one of many family-friendly shores right here in New Jersey, from Sandy Hook to Cape May.
35. Enjoy South Mountain Reservation
Head to South Mountain Reservation for a full day of family fun, including a fairy trail, paddle boats, mini golf, the Turtle Back Zoo, and the popular pirate playground.
36. See Dinosaurs
See giant, animatronic dinosaurs come to life when Field Station: Dinosaurs reopens Saturday, May 27, 2023, to kick off Memorial Day weekend.
37. Visit LSC
If you visit soon, you can step into the Butterfly House in an interactive exhibit at the Liberty Science Center. See if you can attract butterflies to land on your stick before it closes on Sunday, April 30.
38. Experience American Dream
Get combo tickets to American Dream's Sea Life Aquarium and Legoland Discovery Center for a full day of fun (or enjoy the venues separately up to two weeks apart)
39. Get a Sweet Treat
Grab a sweet treat at your favorite local ice cream joint.
40. See Model Trains
Watch Thomas and other trains chug around miniature tracks at the Garden State Annual Spring Model Railroad Show on weekends in late March and early April.
41. Bowl for Free
Kids bowl free at Oakwood Lanes, one of NJ's most family-friendly bowling alleys. Check out the program's signup page for more details about when it will begin in 2023.
42. The Montclair Literary Festival
The Montclair Literary Festival on Saturday, May 6, 2023, features a full day of free events for children and young adults, including author and illustrator visits, stories, and workshops.
43. See Stars Indoors
Catch a show at one of NJ's amazing planetariums.
44. Try a New Rainy Day Activity
Try a new activity that's perfect for a rainy spring day.
45. Head to the Azalea Festival
Stop and smell the flowers at the Azalea Festival on May 13, 2023, where you can enjoy more than 250,000 flowering bulbs, dogwoods, azaleas, and rhododendron.
46. Visit Wild West City
Step back in time to the 1880s frontier town in Wild West City, where you'll be part of the action along with cowboys, sheriffs, bank robbers, gold diggers, and more. The park opens for the season on May 6, 2023.
This post, originally published in March 2015, is updated annually.