30 Things to Do on Mother's Day 2023 in Atlanta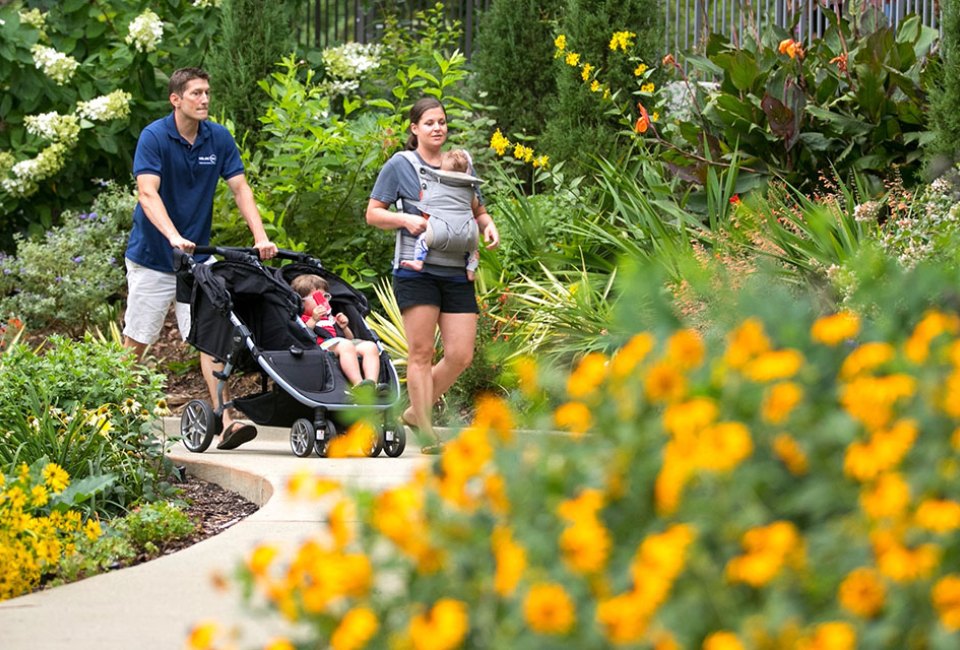 5/7/23
- By
Rebecca Ruffin Leffler
Don't let Mother's Day fall through the cracks — we've rounded up great Atlanta activities that are sure to make mom feel special this Mother's Day weekend. And moms, if you're reading this list and see something that you want to do, drop hints to those planning your special day.
When planning the perfect Mother's Day, book reservations for Mother's Day brunch in Atlanta before spots fill up. And check out our Mother's Day gifts that moms *actually* want to show appreciation for the queen of your family.
To keep up with all the exciting happenings this season in Atlanta, subscribe to our newsletter. Happy Mother's Day from all of us at Mommy Poppins!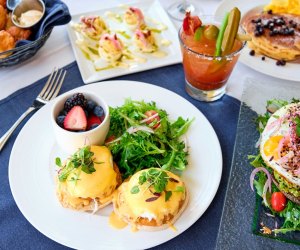 Treat mom to a special Mother's Day brunch or dinner at Milton's Cuisine & Cocktails. Photo courtesy of the restaurant
Mother's Day Weekend in Atlanta: Food & Flowers
1. Dine Out
Book a Mother's Day brunch or enjoy restaurants with great outdoor dining. If you forget to make reservations, brunch eateries such as J. Christopher's, Snooze: An A.M. Eatery, and Egg Harbor Cafe allow patrons to call ahead and be put on a waitlist.

Brunch with the wild animals at Zoo Atlanta.
2. Make Friends with the Animals
What could be better than brunch at the zoo? With a view of the African savanna, feast on delicious food at the new Mother's Day brunch at Zoo Atlanta. Spend the rest of the day visiting the flamingos, pandas, and 1,500 other animals.
Celebrate mom with pinkies in the air! There are wonderful spots for high tea in Atlanta, just make sure to reserve your time before Sunday rolls around!
4. Cook with Mom
Flour Power Kids Cooking School in Alpharetta is offering a Mother's Day Brunch cooking class for the entire family. Make quiche, monkey bread, and other brunch favorites from 10:30am-12:30pm.
5. Sweet Endings
After brunch or breakfast in bed, you don't want to miss out on free frozen yogurt for moms at TCBY. Or, celebrate mom's special day at one of these Atlanta ice cream shops.
6. Stop and Smell the Roses
Take mom to the Atlanta Rose Show held at the Atlanta Botanical Garden this Mother's Day weekend. After mom gets her fill of award-winning roses, check out Trolls: Save the Humans, the 600-foot-long Kendeda Canopy Walk, and the Lou Glen Children's Garden.
7. Visit a
Buckhead

Manor

Tour the 8th Annual Atlanta Homes and Lifestyles Southeastern Designer Showhouse and Gardens. Tickets to tour this year's 8,500-square-foot Buckhead mansion benefit Camp Twin Lakes. On Mother's Day, enjoy a live floral demonstration and facial with admission (advance registration required).
8. Supply Mom with Java
Most moms need caffeine to get going each day. If you don't know how she likes her coffee, take her to one of these kid-friendly coffee shops to get the day started.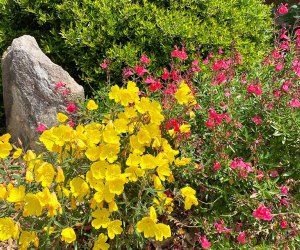 Mothers and grandmothers enjoy the Chattahoochee Nature Center for free on Mother's Day. Photo courtesy of the center
9. Connect with Nature (for Free) Admission
All mothers and grandmothers receive free admission on Mother's Day to the Chattahoochee Nature Center, from noon-5pm. If mom really loves flowers, take her to see what's in bloom at these Atlanta gardens.
10. Mother's Day Touchdown
Don't miss Mother's Day at The Hall. Moms receive FREE mimosas, massages, and admission to the Chick-Fil-A College Football Hall of Fame.
11. Spa Day
Book a spa day (or weekend!) for mom at one of these kid-friendly spa resorts and hotels near Atlanta. Book an overnight visit so the entire family can enjoy quality together time away, from chores and errands.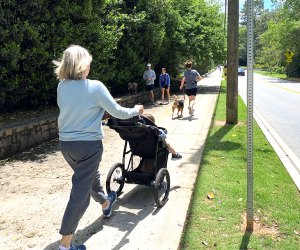 Chastain Park offers stroller-friendly hiking. Photo by Rebecca Leffler
Mother's Day Weekend in Atlanta: Arts and Performances
Peruse art booths, enjoy live music, and eat at food trucks at the Chastain Park Arts Festival and Dunwoody Art Festival.
The High Museum offers free admission on the second Sunday of each month, which falls on Mother's Day this year! Reserve timed tickets from noon to 5pm.
Take mom to Claude Monet: The Immersive Experience and feel as if you've stepped into one of the famed impressionist artist's paintings. For Mother's Day, purchase the Mother's Day Special where moms get the VIP treatment with the VR experience, poster, champagne or mocktail, and floral gift.
15. Take a Safari
Visit the multi-sensory 4K laser show WILD: A Safari Experience at Illuminarium, located on the Atlanta BeltLine. Other shows available include Space and Waking Wonderland.
Painting with a Twist offers several Mother's Day-themed painting sessions for moms and kids. Schedules, prices, and age requirements vary by location.
If mom likes pirate culture, take her to the Georgia Renaissance Festival on Mother's Day weekend. May 13-14, 2023 welcomes guests for Pirate Invasion Weekend!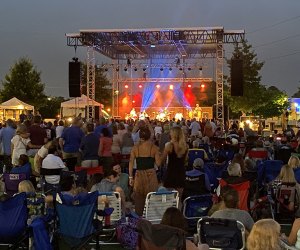 Dance or relax at an outdoor concert, like at Sandy Springs' Concerts by the Springs.
18. See CATS
Musical theater moms can see Broadway hit CATS, performed by the City Springs Theatre Company. Appropriate for ages 5 and up. Choose between three performances on Mother's Day weekend.
19. May the Force Be With You
Atlanta Symphony Orchestra presents Star Wars: The Force Awakens in Concert on Mother's Day weekend. Enjoy the music of composer John Williams live while watching the movie on a 40-foot screen.
Mother Day Weekend: Outdoor Activities
20. Canoe the 'Hooch
Sign up for the Mother's Day Family Canoe Day at the Chattahoochee Nature Center from noon to 1:30pm. Trained staff teach paddling strokes and all equipment is provided.
Stone Mountain Park offers tons of outdoor activities for everyone in the family. And don't leave without hiking or taking the cable ride to the summit!
Tour beloved intown Atlanta neighborhoods by discovering the Tiny Doors ATL hidden throughout!
23. U-Pick Strawberries
Mother's Day falls right in the middle of strawberry season. Head to one of these family-friendly strawberry farms to pick the sweetest, juiciest strawberries.
24. Enjoy a Family Bike Ride
It's time to get out the bicycles, tricycles, and helmets as families visit Atlanta's family-friendly bike paths.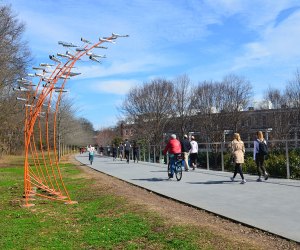 Take a family stroll along the Atlanta BeltLine.
Explore the Eastside Trail of the Atlanta BeltLine on bicycles, scooters, or by simply walking around. Let mom shop and pick out a spot to eat at one of the many stops along the way.
26. Take a Hike
Exercise as a family by enjoying the best Atlanta hiking trails. For families with babies and toddlers, check out these stroller-friendly hikes. And don't forget to pack a picnic lunch!
27. Shopping Spree
Let mom shop local at the Mother's Day Market at East Atlanta Village. Held rain or shine, mom will find candles, soaps, and handmade items from over 20 vendors.
28. Zipline Fun
Need to get outside of your comfort zone? Challenge yourself on one of these Atlanta ziplines and ropes courses.
Change the scenery on Mother's Day by enjoying a day trip from Atlanta perfect for the whole family. Try Helen, Georgia, Margaritaville at Lanier Islands, and more!

Let mom sleep in then bring her breakfast in bed.
30. Make a Card and Breakfast in Bed
Recognize moms for their hard work, love, and devotion. Make a handmade card and prepare these breakfast in bed recipes for mom. Just make sure to clean up so mom doesn't have to on her day off!
Unless noted, photos by Bill Leffler