What's Open in Coronavirus Shutdown: Parks, Gardens, Hikes You Can Do While Social Distancing
Social distancing with kids is no easy task—boy do we relate! Whether your kids are young and whiny or older and rebellious, keeping them occupied and safe nowadays is a challenge.
We recognize the need to get out of the house for fresh air and a change of scenery. Fortunately, we can! Below we've compiled a list of destinations that remain open to the public in and around Westchester. We hope that these refuges not only provide a sense of normalcy in these trying times but also help you discover a new destination your family loves. Disclaimer: With everything changing from one day to the next, please check with any venue you plan to visit to confirm it remains open.
Be sure to bookmark our Coronavirus Parent Guide, chock-full of boredom busters, online learning tools, STEM activities, craft projects, podcasts, movie picks, and more. We've also been cataloging virtual events from all over the country on our Event Calendar and have rounded up our faves for the days ahead.
Read on for where to go—and be sure to practice safe social distancing! Most of these venues are FREE!
Farms and Nature Centers
Roam the trails and walk to the pond in search of turtles at the Greenburgh Nature Center (the Discovery Playground and Manor House are closed). The center reports there are no crowding issues and that the outdoor animals would love visits, including its new baby pygmy goat, Maggie.
View the animals and take a gander at the historic buildings at Muscoot Farm, where admission is free. Indoor spaces and the outdoor tractor (usually climbable) are currently closed.
Sheldrake Environmental Center boasts 60 acres of woodsy trails along the Larchmont Reservoir. Tiptoe up to the frog pond (shh!) to see who might be visible at the top.
Hike the 15 miles of trails at Teatown nature preserve.
RELATED: Coronavirus FAQs for Parents: Expert Tips on Playgrounds, Playdates, Coughs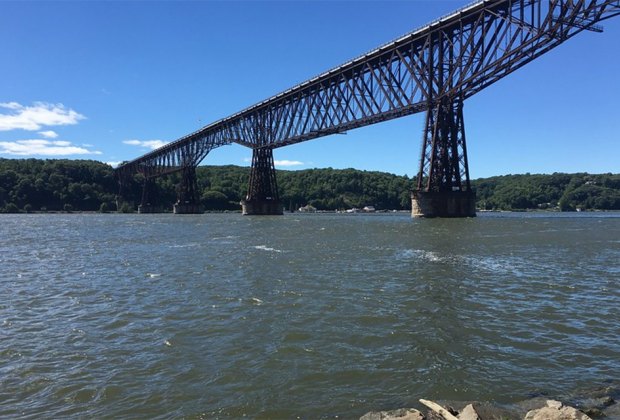 New York State Parks remain open, including the 1.28-mile-long Walkway Over the Hudson.
Parks and Gardens
Take a stroll and observe the emergence of spring at Westchester's parks, which remain open (with some restrictions). However, note that Yonkers has announced the closure of all its parks.
While some attractions are closed at Bear Mountain (the inn, carousel, and museums), the Trailside Zoo currently remains operational.
The grounds at Lasdon Park and Arboretum are open, though the conservatory is closed.
Take a stroll on the Westchester RiverWalk, which you can pick up in Tarrytown, Croton, or Peekskill.
Wear those helmets(!) as you explore one of these great bike paths throughout the county.
Bike, skate, stroll, and explore New York State parks, which remain open, including the Walkway Over The Hudson, the 1.28-mile long pedestrian bridge that's hailed as the world's longest elevated park.
Historic Sites
Experience the Museum in the Streets, scavenger-hunt style, in Hastings-on-Hudson.
The lovely grounds of the John Jay Homestead remain open. Although the buildings are closed, even viewing the exteriors of the historic structures is part of the charm. A site map is posted on John Jay's website.
Similarly, the grounds of Lyndhurst Mansion remain open, with lovely views of the Hudson River amid 67 acres of scenery.
Take a jaunt up to Cornish Estate in Cold Spring to see ruins without having to fly to Pompeii.
Yet more ruins are worth exploring at the West Point Foundry Preserve.
Golf Courses
County golf courses remain open, with restrictions.