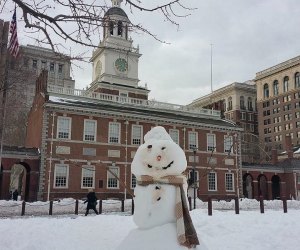 10 Winter Staycation Ideas for Philadelphia Families
The winter weather may have you counting down the days until you and your family can hit the road for a fun-filled adventure. While you're waiting for the temps to rise, cabin fever may also be increasing.
Thankfully, the Philadelphia area is home to countless kid-friendly activities to stimulate little minds and make the countdown to summer fly by. Stay home this winter and take advantage of all that Philly has to offer with these great staycation ideas.
Get artsy: Philly's arts scene heats up when it gets cold out, and kids' theater is no exception. From musicals at Media Theatre to interactive theater workshops at Arden Children's Theatre, you don't have to travel far to find amazing theater experiences. While a trip to Broadway is always exciting, save the time and money and enjoy all the talent right here in your own backyard.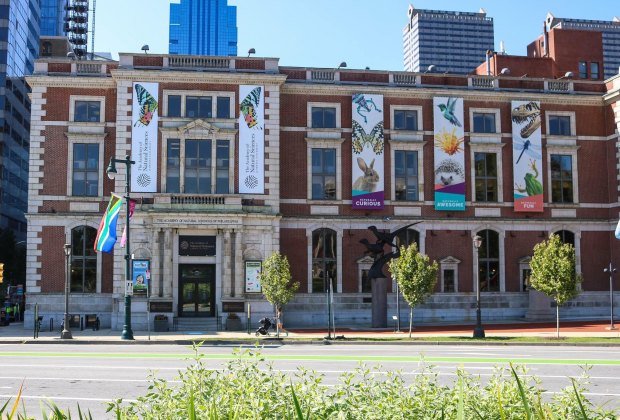 Photo courtesy of Academy of Natural Sciences
Get cultured: Learning doesn't have to just take place in the classroom. Get the kids out and about this winter to some of the Philly area's many museums, which offer lots of kids-centric educational opportunities. Start your day off at the Franklin Institute, which is running an eye-opening exhibit on the Terracotta Warriors and then hop over to the Academy of Natural Sciences to get up close and personal with some crocodiles. As an added bonus, many of the museums offer free or discounted admission on certain days so you can learn for even less!
Get your library card out: Libraries in the Philadelphia area come to life in the wintertime. From storytime for your littlest ones to movie screenings, computer classes and more, the Free Library of Philadelphia provides endless opportunities for entertainment and education. If you're in the 'burbs, you can grab some books and then score deals on other local activities.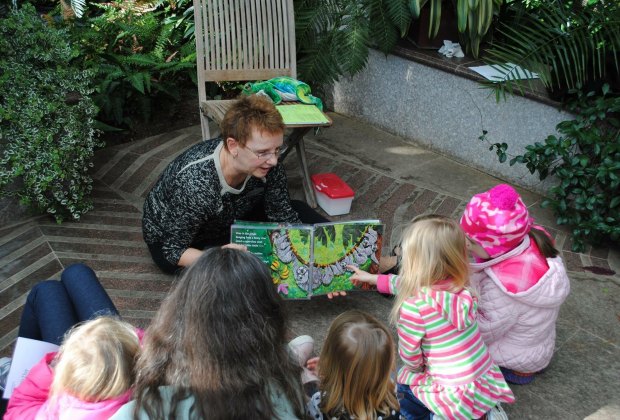 Photo courtesy of Longwood Gardens
Get ready for spring: Even though the bees aren't quite buzzing yet, that doesn't mean you can't get geared up for the beauty of the season. Longwood Gardens features year-round floral displays, including an interactive indoor Children's Corner. In New Hope, Bowman's Hill Wildflower Preserve offers lots of kids' activities, such as nature walks and bird-watching events, even in the wintertime. Don't leave without checking out the Children's Library, where kids can read up on all the natural wonders they've just seen.
Get eating: Philadelphia is home to scores of world-class restaurants so there's no need to travel with so much culinary creativity right here in the area. Stroll through the Reading Terminal Market for lots of kid-friendly options and, on the first Wednesday of the month, stick around for storytime. For little carnivores, stop by Pat's and Geno's in South Philly for the ultimate cheesesteak showdown, or get a taste of all the flavors the city has to offer with a Philly Food Tour.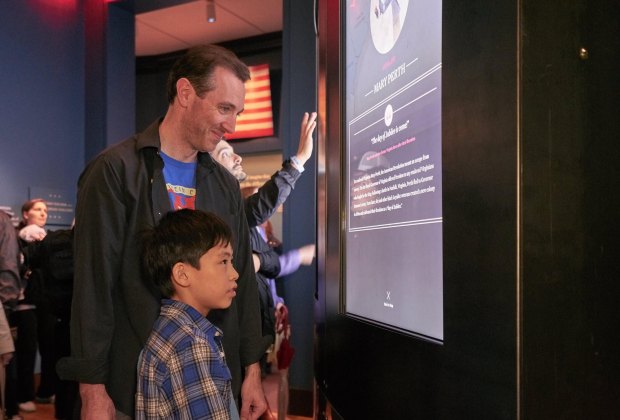 Photo courtesy of Museum of the American Revolution
Get historic: Philadelphia is known as the birthplace of America, so why take the kids anywhere else to learn about history? From Independence Hall to the Betsy Ross House, families can walk back in time to learn about the nation's founding fathers. The brand-new Museum of the American Revolution offers lots of hands-on opportunities for little ones to have fun and learn some important history lessons.
Get your geek on: The Mutter Museum is a great way for budding scientists to feed their fascination. On the campus of the University of Pennsylvania, the museum is home to some of the weirdest and wildest scientific discoveries. Your youngest may get a little squeamish here, but older kids who've been bitten by the science bug won't be able to stop talking about all the medical rarities housed in the museum.
Get wet: If the kids are really missing fun in the sun, re-create the hazy days of summer at a local indoor waterpark. Sahara Sam's offers hours of splishing and splashing fun, with lazy rivers, slides and even a giant water-filled playground. If you're really up for an adventure, pack up the car and head to Great Wolf Lodge, Aquatopia, or Kalahari to have a whole wet and wild weekend.
Get inspired: Use your staycation to tap some hidden talents. Get the family together and try out a new recipe in your own kitchen or plan an outing to a local baking or cooking class for your kids and their friends to try their hands at their own creations. If cooking isn't their speed, help your kids discover a new skill like horseback riding or gymnastics.
Get active: Just because it's cold outside doesn't mean the kids can't burn off some energy! There are lots of indoor play spaces in the Philly area where youngsters can race, roll, and romp all that energy off. If the winter weather isn't cooperating and the family is stuck at home, try some do-it-yourself exercise games to help your little ones overcome cabin fever while learning about fitness.