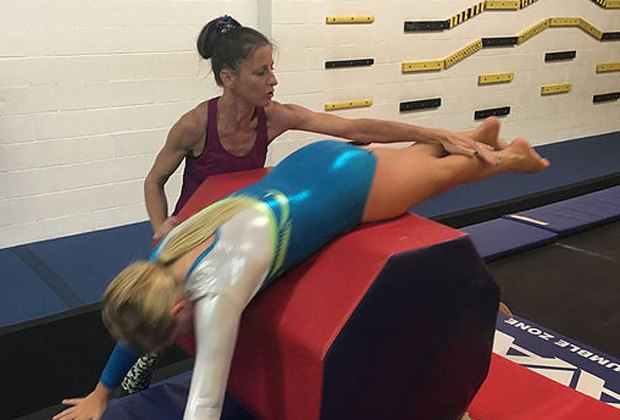 10 Great Places to Learn Gymnastics in and around Philly
Finding the right activities for kids can be challenging, especially with everthing from art to dance classes available. Gymnastics is a popular choice, one that peaks in popularity every four years, just as it did this year after parents and kids watched Simone Biles' spectacular performances during the Olympics. This list includes both recreational gymnastics facilites as well as places where training for competition is the goal.
Philadelphia
Philadelphia Boys Gymnastics- Germantown
Philadelphia Boys Gymnastics is the only gymnastics center dedicated exclusively to boys. For boys age 6-18, PBG offers quality training and competitive experience within the framework of the USA Gymnastics Boys' Jr. Olympic Structure. The Program Director is the head of Temple University's Men's Gymnastics team and most instructors are Temple gymnasts. Fees start at $50 per month.
InMovement- Queen Village
InMovement has been providing gymnastics classes for the littlest people since 2008. Starting with mommy and me style classes like Lil' Tumblers (15 months - 2 years) and moving up to more child independent classes starting with Mini Rollers (age 3) and continuing with Introduction and Level 1, 2, and 3 classes for children up to age 12, there's a perfect class for anyone at this judgement-free, recreational facility. Class fees start at $308 per 14 week session.
Montgomery County
Philadelphia Gymnastics Center- Coshohocken, PA
At the Philadelphia Gymnastics Center, classes are divided by age and skill level into Kindergym (2.75 - 5 years), Kidnastics (5-7 years), Gymnastics (7 & older), and Advanced Gymnastics (8 & older). All instructors are USA Gymnastics-certified who strive to encourage and develop each individual to reach their full potential and a feeling of accomplishment in a fun filled atmosphere. Class fees start at $228 per 12 week session or $247 per 13 week session.
The Little Gym- Narberth, Newtown Square
The Little Gym is great for smaller classes with individualized attention. Staff members make learning fun by combining gymnastics skills with imaginary play, songs, and games. Best of all is that there is only one class is in the room at a time so kids aren't so easily distracted by too much activity, noise, or other kids. Classes are broken up by age and skill levels starting at age 3 through 12. Class fees are for 10 months and start at $79 per month.
Bucks County
Bucks Gymnastics Center- Fallsington, PA
For ages 3-16, Bucks Gymnastics Center is one of Bucks County's favorite places for gymnastics instruction for over 30 years. With a program that focuses on making gymnastics fun, the facility is well-equipped and the teaching staff gets great reviews from parents and students. Fees start at $72 per month.
Joel Baba Gymnastics- Levittown, PA
At Joel Baba Gymnastics, the focus is on teaching noncompetitive gymnastics to build your child's positive image and self-esteem. With low student to teacher ratios, a professional staff, and weekly themes, games, and activities to make learning fun, it's no wonder Joel Baba Gymnastics is highly rated. Monthly fees start at $60.
Chester County
Aerial Fit 'n' Fun- Phoenixville, PA
Aerial Fit 'n' Fun puts the fun in fitness. Classes are taught on child-sized equipment and lead by instructors who prioritize making gymnastics fun. With imagination, games, and activities, children learn coordination, agility, endurance, strength, balance, gross motor skills, and fine motor skills. Fees for a 14 week session start at $398.
John Pancott Gymnastic Center- Malvern, PA
One of the local gymanstics centers founded and managed by an Olympic gymnast, the John Pancott Gymnastic Center provides USAG-certified instructors and world-class equipment that stresses developmental progression. If competition is the goal, this is a terrific facility. Fees start at $220 per session.
Delaware County
Kehler's Gymnastics- Broomall, PA
Kehler's has been the go-to place for gymnastics since 1981. Classes start for toddlers aged 18 months and progress to teenagers. The huge space has tons of equipment, a wonderful teaching staff, and a separate jungle gym area for additional play after class is over. Fees for an 8 week session start at $165 for kindergardeners and younger, and $179 for older children.
JK Gymnastics- Broomall, PA
A popular choice amongst parents and kids alike, JK Gymnastics offers more than just gymnastics classes. Classes are based on different skills, such as motor development for the youngest (ages 1-3 years), gymnastics (ages 3-10+), tumbling (5-8+), coordination (ages 5-10+), and strength and conditioning (ages 5-18+). If obstacle course training sounds more fun than gymnastics, this might be the right place. Fees for a 10 week semester start at $225.
Photo courtesy of JK Gymnastics.