Sahara Sam's Oasis: New Jersey's Indoor Water Park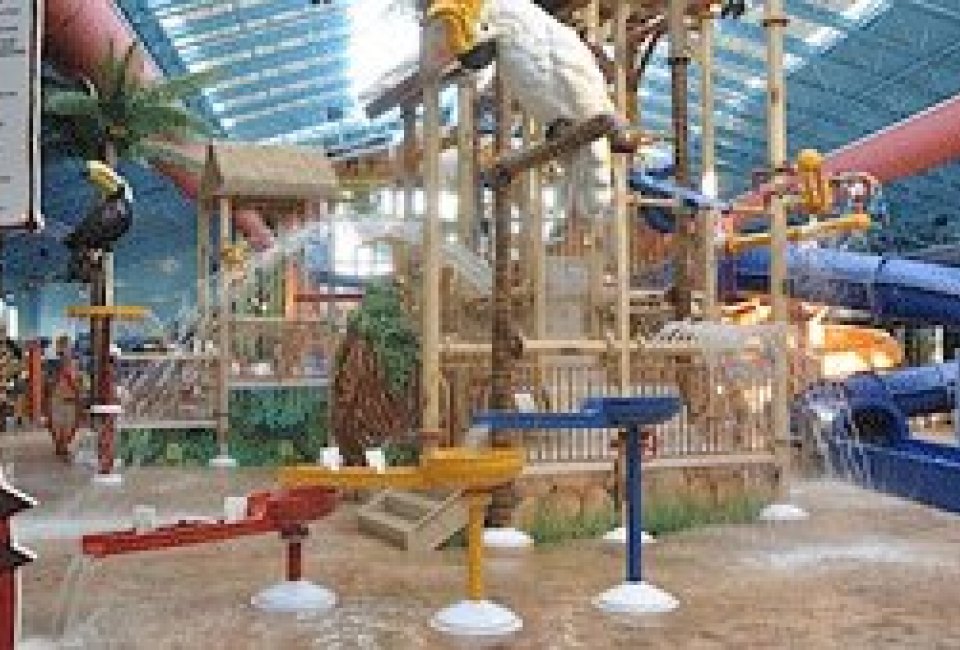 6/1/15
- By
Teresa
So, your kids are longing for swimsuits, sprinklers and slides. Make their dreams come true, whether the weather is cooperating or not. Load up the iPod, the towels and the kids and take a short road trip to Sahara Sam's Oasis in West Berlin, N.J. This (mostly) indoor water park is less than two hours from New York City and the 286,000 gallons of water keep 11 rides and tons of kids wet and wildly entertained, rain or shine!
We traveled with four parents, three boys and three girls ranging from 2 to 8 years old, so believe me, the place was well-tested. The kids were awed into silence (SILENCE, I SAY ) as we stepped through the door. But after those two seconds, they immediately got busy.
Our favorite attractions were as varied as our group:

Crocodile Flats: A cargo rope obstacle course suspended above a lagoon.

Tim-Buk-Tu Tree Fort: A giant playground of stairs, slides and shooters, including a giant 1,000-gallon tipping bucket dumping over the fort every five minutes.

Sam's Slam Dunker: A water basketball court.

Congo Bongo River Ride: A 410-foot lazy river-type tube ride with mini-waterfalls and geysers.

Snake Eyes: Two 8-foot wide twisting slide barrel tunnels.
The older kids (aka husbands) preferred the Rip Curl Flow Rider, a surfing/boogie-boarding machine (one of only 100 in the world). Our youngest spent most of her time in Lizard Lagoon, a shallow pool area for the preschool-and-under crowd with slides, mini-geysers, a waterfall and bouncy swings.

Another great attraction is Mount Kilimanjaro, a 45-foot high family raft ride. Unfortunately, the four family members tall enough to ride this were too afraid, so it went untested by our group...but it had the longest line, so I'm gambling it was good.

The café offers plenty of reasonably-priced food choices ranging from vegetable sandwiches and frozen fruit drinks to pizza and churros, and the cashless system allows for loading wristbands with a dollar amount—no traipsing back and forth to the locker to retrieve your pocketbook every time someone's hungry or thirsty.

Our kids also adored the arcade—3,000 feet of reasonably priced video, simulator and redemption games. And guess what? It's a FABULOUS way to transition—"OK kids, time to go to the arcade," instead of, "OK kids, time to leave the water park." Brilliant.

A few words to the wise:
Height limits: Many of the rides required children to be 42-inches or taller. I would postpone this trip until your children are at least that tall, or you'll spend much of your time pulling them away from rides on which they're not allowed to ride. (Note: Children ages 2 and under are FREE, and the park is stroller-friendly.)
Plan your arrival time: It's best to be first at the door, as the line becomes long very quickly. In fact, it's best to arrive 15 minutes before the doors open (generally 10am), or wait until after 2pm. Earlier and you'll be able to get in, get settled, have fun and get out. Later and you'll be able to grab a leisurely lunch at any of the many restaurants up and down the road, then walk right in after the morning crowd departs.
Choose your day wisely: If possible, go on a weekday. Weekends are crowded (it averages 20 birthday parties a weekend in addition to the regular crowd), and school holidays are crammed. Our family visited over spring break, and while capacity is 1,200, it hit 900 our second day by lunchtime, and we felt overwhelmed.
Pack light: Leave your junk in the trunk. Only towels are allowed outside of lockers, and the lockers are very small (about 1-square-foot), and cost $4 each to rent.
Don't buy a water squirter: "No running" is a strictly-enforced rule at the park, with good reason, but give a group of kids water-filled squirters, and...let's just say two in our group were injured within 10 minutes.
Dress appropriately: It's a balmy (translation: HUMID) 84 degrees inside, so if Grandma's planning to just sit and watch, tell her "no sweaters." She'll melt faster than Frosty. During the summer, the retractable roof will open to let in the summer sunshine, so be prepared with sunblock. Sahara Sam's also has a couple of outdoor attractions that open during warmer months making sunblock doubly important.
Make a weekend of it: Consider spending one day at Sahara Sam's and staying overnight to check out the more recently opened sister park Diggerland the next day.
For up-to-date hours and prices, please visit the website or call 856-767-7850.
This post originally published in June 2009.
Places featured in this article:
Sign up for the Mommy Poppins Newsletter today!