Philly Cooking Parties, Baking Parties, & Cake Decorating Birthday Parties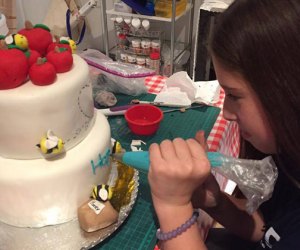 Planning another birthday party? Looking for something different? For those kids whose interests lean to the culinary or who love to decorate with sugary goodness, here's a great idea: a cooking party! There are a bunch of places in and around Philadelphia that host cooking, baking, and decorating parties, and even some who will drive to the birthday kid's home. So, if you've got an aspiring chef, check out some of these great nearby birthday parties.
For the Dessert-Inclined
A Piece of Cake- Comes to You
Pinterest has raised the bar on birthday cake decorating. No longer is gel icing the birthday kid's name in semi-cursive script good enough. Now everything is fondant, preferably in three dimensions. That's where a Fun with Fondant party from A Piece of Cake comes in -- cake queen Hila Shiff can teach the little ones how to decorate a cake or cupcakes and the result will actually resemble the something seen on Pinterest. She will come to you with all of the equipment and supplies to make a sweet party. Cupcake and cookie decorating parties start at $270 for up to 15 kids. Mini cake and cupcake wars parties are also available.
Ella Vanilla- Chestnut Hill
Raising the cake decorating stakes is Ella Vanilla. That's because this business is primarily a cake decorating supply shop that supplies and trains amateur as well as professional cake decorators. Parties can be held at the shop or at the host's home where a professional cake artist will teach and help guests create their own cupcake, mini cake, or cookies. A cake decorating activity includes working with fondant, making cake toppers, using tube colors, and piping icing. The shop can accommodate a minimum of 3 and a maximum of 6 party guests. Off-site parties can include up to 15 kids. Cake decorating starts at $45 per person.
For the Health Conscious
Oh Boy! Organic- Comes to You
Healthy moms will love throwing an Oh Boy! Organic cooking party. Chef-owner Trina O'Doyle will work with clients to create the perfect theme and menu for the event. During the party, up to 15 guests will receive an apron (theirs to keep) and get cooking a healthy snack. During the course of the hour and a half party, birthday guests will learn the basics of cooking, participate in a craft, and best of all cook! Sample themes include: If You Give a Moose a Muffin, Hi Pizza Man, Pancakes! Pancakes!, Philly Pretzels, Where On Earth is My Bagel, and Green Eggs and Ham.
For Suburban Kids
The Kitchen Workshop- Paoli
For a hands-on cooking party in a professional's kitchen, The Kitchen Workshop in Paoli is the place to be. Parties are for up to twelve guests, ages seven and up. Select your menu from a variety of options such as pizza, bread, muffins, cupcakes, or brownies, and when it's time for the festivities, The Kitchen Workshop will be set and ready for guests. Everyone will enjoy taking a big bite of their creations by the end of the event, and may have enough to take home, too.
Really Cooking with Robin- Norristown
Nestled in Norristown is a small kitchen with a big purpose, to teach people little and tall to prepare a meal for themselves. For little ones, that meal may be more like a delicious snack like pizza and quesadillas, and dessert is always included. At birthday parties, up to 8 guests starting at age 4, get ready to get cooking. They might be having a Cupcake War, a competition complete with secret ingredients for the older set, to a Star Wars themed party complete with lightsaber cupcakes or a My Little Pony soiree with Pinkie Punch and Ponyville Pizza. Parties cost $350.
HomeCooked- Paoli
HomeCooked offers a hands-on birthday party luncheon with a delicious menu of custom pizzas or calzones. While that's cooking in the oven, party guests move on to decorating dessert- cupcakes. Each guest will make 4 cupcakes with homemade vanilla buttercream icing in a rainbow of colors, with sprinkles and candies. The birthday boy or girl can choose to make designer cupcakes to look like hamburgers, teddy bears on the beach, or popcorn. Best of all, all of the mess stays there. Available for ages 6-13, up to 16 guests. Costs start at $329 for a minimum of 10 guests.
Photo courtesy of A Piece of Cake.