One-of-a-Kind Birthday Parties for Philly Kids: Race Cars to Mad Scientists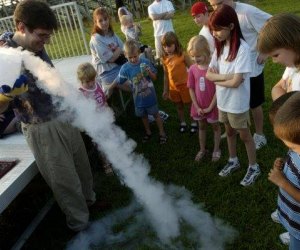 Philadelphia is full of exciting places to host birthday parties, including indoor play spaces, museums, parks and gardens. Make no bones about it, these are awesome places to host a birthday party! But if you are looking for something extra special that really fits your birthday kid's personality, there are some extraordinarily unique spaces in Philly to host a one-of-a-kind birthday experience.
For Science Lovers—Bring the Fun to You!
Take a space-themed birthday to the next level with a personal planetarium!
Stars on the Move
brings a portable planetarium to your home, and can fit up to 35 people. Denise Vaca, former producer from the Franklin Institute's Fels Planetarium, leads the show! The best part is that this party takes place in your own home so there is no time limit.
Best for: 6-14
Check out the experiments at
Wondergy
. Their CoolScience show is a hands-on exploration of molecules at extreme temperatures using liquid nitrogen, fire, water balloons and more! Guests will help make things explode, contract, disappear and behave in ways that challenge our perception of the world around us. For the grand finale, bring together fresh cream, milk, flavorings of your choice and, of course, liquid nitrogen to make the freshest homemade ice cream you've ever tasted. A typical CoolScience party lasts just over 2 hours: about an hour for science, break for food and 20-30 minutes for ice cream making. But it only takes a minute and a big cloud of fog to freeze ice cream for your entire group!
Best for: 4 and up
For the Foodie—Savor Their Favorite Flavors!
Get your very own taste of a Philadelphia tradition at
Lore's Chocolates
. Kids get to make their own sweets using traditional molds and a real production line. For an added bonus, get them in the mood by watching the original I Love Lucy "Job Switching" episode.
Best for: 6 and up
Kids can make their own pizza pies at
Slice
. A twist on the traditional pizza party, Slice offers a fun, messy, and delicious dining experience. This experience is available at the Washington Township location only.
Best for: 5 and up
Get hands-on training from a chef at the
Kitchen Workshop
. Young foodies can learn all about proper technique and baking secrets.
Best for: 7 and up
For the Thrill Seekers—Get their Pulse Racing!
Take a race around the track at
Speed Raceway
. Kids and adults can compete in qualifier and finalist racers, with F-1 inspired, road-style tracks.
Best for: 6 and up
Go on a treetop adventure at the Elmwood Park Zoo! The zoo's
Treetop Zoofari
features more than 45 games and 9 zip lines. Height restrictions mean this party is only for kids 54" and up.
Best for: 5 and up
For Train Lovers— Ride the Rails!
Take the kids out on the
Strasburg Rail Ride
! Board a private car and see the sights. This is a perfect special outing for any young Thomas the Tank or Chuggington fan!
Best for: 11 and under
Board the
New Hope & Ivyland Railroad
. Rent a private coach car for 2 hours of party time aboard a vintage train that will transport you and the whole party back in time!
Best for: 5-12