Massive Indoor Water Park Arrives in the Poconos: Kalahari Resorts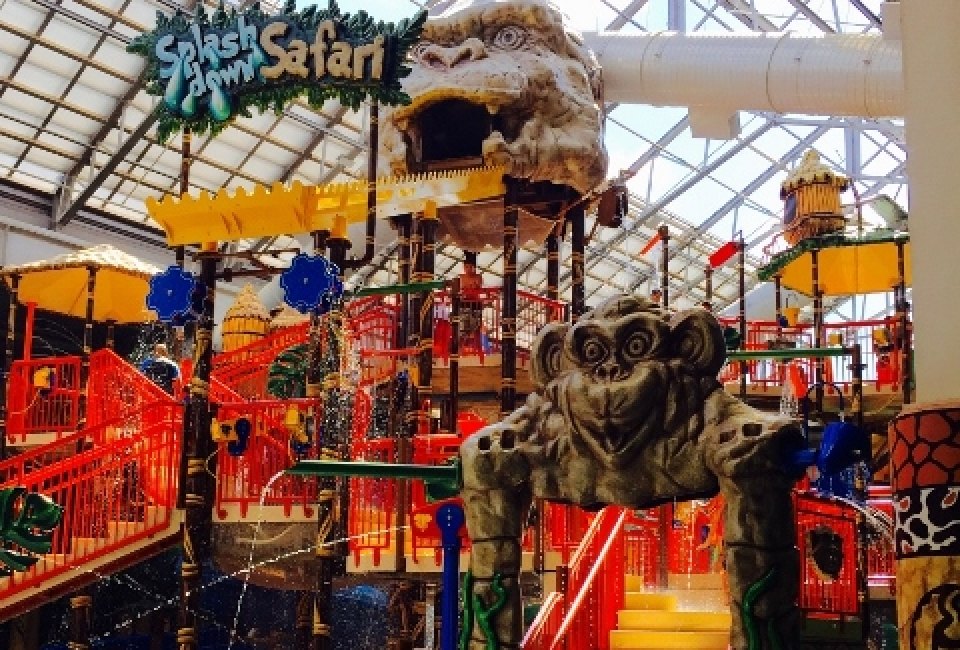 7/28/15
- By
Judy Young
Summer vacation just isn't complete without water adventures to keep you cool. Beaches and lakes are always a sure bet, but water parks top many a kid's bucket list. We've written about Great Wolf Lodge and other indoor water parks close to home, but now we're happy to review the opening of another nearby water park and hotel option: the Poconos' Kalahari Resorts.

Just down the road from Great Wolf Lodge, Kalahari offers an immersive, African-safari-themed experience with both indoor and outdoor water parks, a massive family entertainment area and so much more. The creators of Kalahari were inspired by the African philosophy of Ubunto, a belief that everyone's humanity is connected and that each person's actions affect the entire world. The notion of preservation is pervasive and, despite its grand scale, Kalahari offered an intimate, friendly and low-pressure vibe, which makes for a relaxing family experience.
Just under two hours by car from both NYC and Philadelphia, Kalahari Resorts features a 100,000-square-foot water park with retractable roof and a 30,000-square-foot Family Entertainment Center, which includes an arcade stocked with the latest games and an indoor blacklight Mini-Golf course.
Upon entering the resort's lobby, you're immediately greeted by dramatic renderings of its five mascots: lions, cape buffalo, leopards, rhinos and elephants—all endangered animals.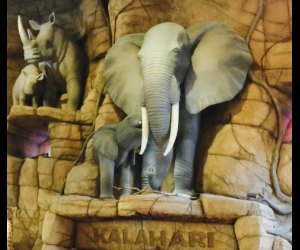 Dramatic murals adorn the lobby
Food options abound in the lobby area, including a reasonably priced coffee bar ($3 for massive cupcakes!), a candy and ice cream shop and three sit-down restaurants, including a buffet, one casual and another more upscale restaurant that features items like fried quail and grilled marlin. There's also a moderately priced, grab-and-go café adjacent to the water park one floor below. Note: there is no outside food allowed in the pool areas, and yes, they will check.
The water park is divided into six main areas:
Splash Down Safari features 10 midlevel water slides, a huge water-belching gorilla head (weird, but cool) and lots of opportunities for the entire family to climb, shoot water guns and get splashed. Adjacent to Splash Down is one of two family hot tubs - a brilliant way for kids and adults to warm up if they get chilled.

Tiko's Watering Hole is a baby animal-themed area for the 4-foot-and-under crowd, featuring 10 gentle slides, a water table with baby seats and squirting, musical interactive animals and it's own mini lazy river. The maximum water depth in this area is 2 feet. Even so, there are so many lifeguards monitoring the area that I honestly lost count. To further ensure safety, kids under 48 inches tall must wear a life jacket provided by the resort.

Flowrider puts your body boarding skills to the test as 50,000 gallons of water blast upward to create a 5-foot-wave for body boarding. Adults can try surfing after a 10-minute orientation offered three times a day. Only one person is allowed at a time, making for a safer experience. While wait times can be long, it's fun (and advisable) to check out your fellow boarders' moves. The lifeguards here seemed adept at reading the skill levels of each rider.

Crocodile Cove offers a zippy lazy river with many entry points and thankfully few tranquility-shattering waterfall and squirt areas.

Lost Lagoon is a spacious and friendly 12-hoop, 3-feet-deep basketball pool.

Nestled in the two far corners, are the six big-thrill water rides—all pretty standard scream generators. The Tanzanian Twister is particularly scary and only recommended for strong swimmers with equally strong stomachs. It was too dizzying for this mom, but daredevil older kids will likely beg to partake.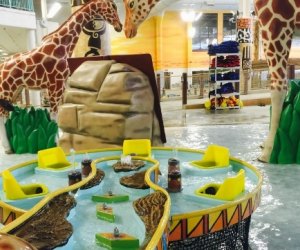 Tiko's Watering Hole
Just past the second family hot tub and the adults-only, swim-up bar and hot tub, you'll find a graduated-entry outdoor pool with a subtle off-to-the-side swim-up bar featuring a raised ledge and eight partially submerged lounge chairs. From here, you can read your book, keep an eye on your kids and enjoy a Sandstorm—the water park's scrumptious take on the piña colada. There are also plenty of chairs and lounges surrounding the pool, many shaded under large umbrellas.
A few things to note:
Three sets of clean and well-maintained restrooms with showers surround the indoor pool area and there are plenty of lockers available for daily rentals.

Kalahari provides towels. Lots of them.

The place is loaded with tables and comfortable, sturdy chairs. Secure a spot on the raised area near the centrally located Splash Down Safari, so you can keep an eye on older kids who might roam a little more freely.

If you want to stay overnight, Kalahari has more than 400 rooms of varying sizes and prices to choose from. Keep in mind, none of them are cheap. My family came for the day and we felt we enjoyed a complete experience.

Though it didn't interfere with our fun, visitors should expect lots of construction throughout the resort as it embarks on its second phase of development, which will include more water fun, an adventure course, hundreds more hotel rooms and larger convention facilities. It's slated for completion by 2018.
Kalahari Resorts is located at 250 Kalahari Boulevard, Pocono Manor, PA. Day passes are $49 per person over 2 years old and can be purchased online or from the cashiers in the arcade. The water park is open to guests with day passes from 10am-10pm year-round. Visit the website, or call (877) 525-2427 for more details.
Places featured in this article: