10 New Kids' Birthday Party Spots Around NYC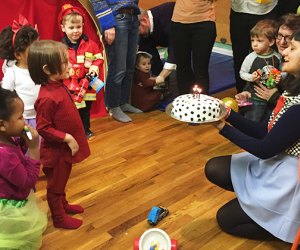 I'm always looking for birthday party ideas that don't involve a potential slideshow of my Pinterest fails, especially for my 9-year-old who is blossoming into a mini Martha Stewart. Luckily, NYC seems to open new party spots monthly for the kids.
We've rounded up a sampling of some of the top new locations around the city that are offering kid party packages or room rentals, including a rock climbing spot and cool preschool-age play spaces.
Need further inspiration to kick that birthday fatigue to the curb? Check out our NYC Birthday Party Guide, or peruse these special occasion options, from dine-in movie theaters and fancy high tea to museum sleepovers.
So read on for a list of great birthday party venues that might just save your couch, the dog, the cat, your relationship with your downstairs neighbor, and your sanity!
The Sugar Hill Museum of Art and Storytelling — Harlem
898 St Nicholas Avenue
What kid doesn't love art and stories? This children's museum's mission is to not only expose children to art, but to let them share their own stories and make art based on them. Your party fee includes free admission to the museum, along with two hours in the party room. The museum will also provide art or storytelling activities for an additional cost. All party attendees receive a free pass for a future visit.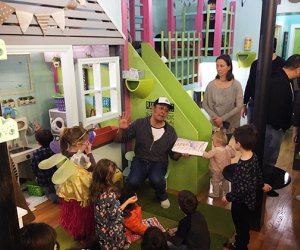 The brand-new tot hangout spot, City Owlets, offers a variety of party options.
City Owlets — Long Island City
This adorable play space, featuring a play cafe, market, and sensory wall, is a perfect party spot for the younger set. Up to twelve children get free reign over the entire space, and two staff members will help entertain your guests. Packages vary, but all guests will receive a free pass for a future visit and a balloon (which, in my experience, provides hours of entertainment when you have a toddler). All ages welcome, but six and under will probably be most entertained.

Dazzling Discoveries — Upper West Side
Your budding Ada Lovelace or Einstein will be in his or her element at this maker space, which focuses on STEM concepts. Choose from exciting themes like outer space, creatures (for example, dinosaurs and animals), treasures, or machines and motors. The staff is also willing to design a custom theme, based on your child's interests. Parties are best suited for elementary-school-age kids.

Monkey Do! Yoga — Gowanus
A party at this yoga studio is ideal for getting the wiggles out! Monkey Do! offers your choice of a yoga party led by a teacher, or open play, complete with foam blocks, tunnels, and other diversions. Best of all, the staff takes care of everything: set-up, pizza, cake, drinks, decorations, party favors, and clean-up. It's like a birthday present for you!

Shastye Art Gallery and Place Space — Astoria
Shastye is pretty much a young child's dream come true! (Although even my older kid would appreciate their fort-building activities.) This is one of the more affordable party options on our list. Shastye offers two "art party" options where children can freely explore their creativity. (And no paint on your sofa, something I can speak to from experience.) Best for six and under.

Shipwrecked Miniature Golf — Red Hook
621 Court Street, 2nd Floor
Shipwrecked is a pirate-inspired, indoor 18-hole miniature golf course, and the venue has a number of two-hour party packages available. Want to really ratchet up the fun? Entertainers are also available. Water and juice are supplied, and Shipwrecked will include food for an extra charge. Perfect for kids, 'tweens and teens.
RELATED: Great Party Spots for a Brooklyn Baby's First Birthday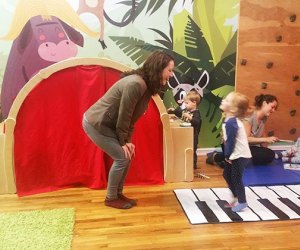 Keep little ones engaged with a Tot Town party.

Tot Town — Crown Heights
636 Classon Avenue
This fantastic play space for children ages 5 and under is a great party option. A two-hour rental includes the full space, which is equipped with toys, games, and activities. Toddlers won't be bored, and you won't be worried about incurring the downstairs neighbor's wrath. You can even rent the room for baby showers and more special events sans entertainment.

Busy Bodies — Clinton Hill
1004 Fulton Street
Busy Bodies, a new play space in Brooklyn, received a glowing review from another Mommy Poppins writer. The good news is that it's also available for parties! The standard two-hour package includes party play for up to 15 children, a staff member to help with set up and clean up, and 24 birthday balloons. Best for children six and under.

SciTech Kids — Upper East Side
215 East 81 Street at Third Avenue
SciTech's exciting new STE[A]M Maker Lab is the perfect birthday venue for kids who geek out over science. Party themes include CSI & Fingerprinting, Minecraft MODS, Design Your Own Video Game, Harry Potter, Scientists, Slime, Bouncing Bubbles, and Glow in the Dark. SciTech will also work with you to design a specific theme, and will even host parties off-premises. Ages 4-15.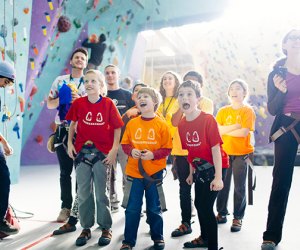 Thrill seekers will love a Brooklyn Boulders birthday party.

Brooklyn Boulders Queensbridge — Long Island City
23-10 41st Avenue
My daughter had her birthday party here last summer, and everyone had a fabulous time. The party planner not only got back to us promptly, she was friendly and cheerful. When we arrived, our "guide" helped everyone feel comfortable; she coached the kids and nicely pushed them just a little beyond their limits. After everyone was tuckered out, we headed to the party room to have a snacks and a cake we brought. As a note: everyone MUST submit a waiver in advance or at drop-off—even parents who want to watch. Ages 5 and up.

Top photo: Tot Town. All photos courtesy of the venues.