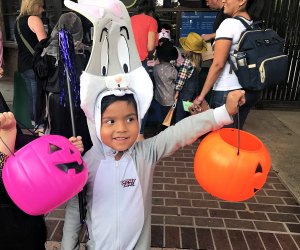 Halloween Weekend Things To Do in LA with Kids: LA Zoo Drive-thru, Trunk-or-Treat, Muertos, & Pumpkinliner
This weekend we enter into the darkest spaces, and find some of the sweetest surprises. This is Halloween, our first (and hopefully last!) to be socially distanced. We can still dress up and share our coolest costumes online (check out this costume ball in NYC and Disney's D23 Mousequerade). We can still collect candy (trunk or treat!) and save the sweetest bits for ourselves. (Momma gets the Reese's; it's a rule.) We can still venture into haunted locations, but this time from the safety of our own cars (to explore the Haunted Barnyard), or better yet our own sofas (to tour the Queen Mary).
If you're thinking your home is spook-free, think again. Thanks to the wonders of augmented reality, Netflix and Snapchat have been able to reveal the ghouls and goblins making themselves at home in your home. But never fear, we hear they're quite the friendly bunch, and they're looking forward to meeting you on Halloween Day.
The weekend closes out with Día de los Muertos. Our dearly departed are looking out for our wellbeing, moving many of their popular observances online (Hollywood Forever, Forest Lawn). They're even giving us an extra hour of sleep! Families wanting some fresh air can view socially distanced ofrendas and installations in Santa Monica and Grand Park.
We've saved the biggest scare for last: November 3 is Election Day. Vote....like your life depends on it! (And if you can, vote early!)
Keep reading for our spookiest treats and sweetest thrills.
Please keep your family and others safe by always wearing masks and maintaining social distancing measures. If an event appears too crowded, try using the "nearby" search feature on our event calendar to find something else to do.