Go for the Gold: 16 Olympic-Inspired Venues in NYC Where Kids Can Train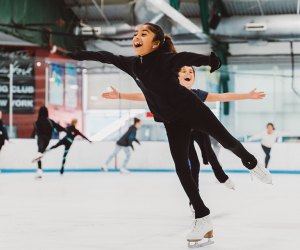 2/7/22
- By
Charlotte Wensley
With the Olympics underway, the athletes on the small screen might just be inspiring a generation of little New Yorkers to follow in their footsteps. If your kid has caught Olympic fever, set up a lesson at one of these local NYC venues where your kids (or kids-at-heart) can train like—or even be trained by—Olympians.
Read on for 16 Olympic-inspired places to train in New York City, ranging from the city's best ice skating rinks to the top ski areas nearby, or even plan an epic trip to Lake Placid, the site of the 1932 and 1980 Winter Olympics.
If your child's style is more protective pads than backward arabesques, the Sky Rink at Chelsea Piers offers hockey classes led by 1998 Olympian Alana Blahoski. Other popular sports can also be practiced at the mega-complex, including figure skating, gymnastics, soccer, and more.
RELATED: 15 Best Places for Family Playtime in NYC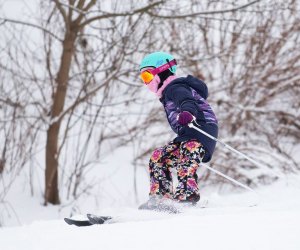 Experts love the expansive Mountain Creek Ski Resort in New Jersey, but there's plenty for beginners here, too.
Downhill skiing in all its formats is central to the Winter Olympics and, for budding Lindsey Vonns or Mikaela Shiffrins, these family-friendly slopes with lessons are easily accessible from the city.
Cross-country skiing is allowed in city parks, should the weather oblige. There are also many state parks within a two-hour drive where families can enjoy this winter sport, including the well-groomed Fahnestock Winter Park in Carmel.
RELATED: Northeast Snowboarding Parks Where You Can Catch Some Air

Caught curling fever? Hone your skills in Bryant Park.
For a much slower pace, take turns trying your hand at curling while sitting back and enjoying a hot chocolate in a cozy igloo at the Curling Cafe at Bryant Park. If you crave a thrill, the super-fun bumper ice cars at Bryant Park might just be a precursor to taking up the bobsled!
6. Lake Placid – Lake Placid, New York
When your fledgling Olympic winter athlete's skills have outgrown the space and facilities in the city, head on up to the Olympic Training Center at Lake Placid. Here your tweens and teens can try out both the bobsled and luge as well as a host of other Winter Olympic Sports.
Where to Build Summer Olympics Skills in NYC
New York City has seen many homegrown athletes head to the Summer Olympics and bring medals back home. Even in a city as dense as New York, it's possible to find world-class facilities where your child can try out or hone their passion for a specific sport. Read on for sites to train in everything from swimming to fencing, table tennis, golf, martial arts, and more.
7. The Armory – Washington Heights
Home to the USATF National Track & Field Hall of Fame, and host of the storied Millrose Games and hundreds of other local, national, and international track meets annually, The Armory has seen countless Olympians pound its track. Kids can pick up the sport thanks to its community-minded programs which teach kids crucial skills while emphasizing fun.
If modeling Tokyo 2020 Olympic rower Kristine O'Brien is your kid's thing, high schoolers interested in learning this dynamic sport can row on the Harlem River with Row NYC. If you just want to dip your toes in the water, consider seeking out one of the FREE kayaking, canoeing, and rowboat options that populate NYC's waterways come summer.
This Harlem institution, named after its founder and the first Black rhythmic gymnast to represent the United States in international competition, offers FREE and low-cost training to children from as young as 18 months up through adulthood. While many of the classes focus on building healthy habits and lifelong physical health, its competitive team has trained many young stars who have gone on to compete on the international stage.
Many top-level fencers, including 2016 Olympic silver medallist Daryl Homer and 2020 Olympian Curtis McDowald, honed their skills at this local club. Established in 1883, it offers private and group classes, programming in conjunction with local schools, and even a Saturday evening high school fencing program.
RELATED: Indoor Swimming Pools in NYC Offering Day Passes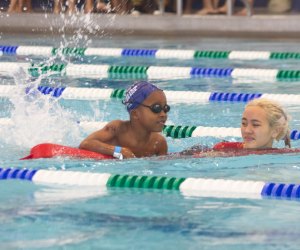 Jump into the sport of swimming at Asphalt Green, which offers lessons and a competitive swim program at a pair of Manhattan locations.
11. Asphalt Green – Battery Park City and Upper East Side
Have a young Lia Neal on your hands? Try swimming at Asphalt Green which offers swim lessons for kids ranging from children just starting to learn to the opportunity to swim for one of NYC's premier competitive teams. The UES location boasts an Olympic-size pool.
There are many places younger kids can take martial arts classes in New York City, but if your older child is getting more serious, consider enrolling them in judo or jiujitsu lessons at Kano Martial Arts, where instructors are former Olympic squad members.
If the introduction of golf as an Olympic sport at the Tokyo games has got your kid itching to play, take note: While it may seem a tricky sport to start in the city, The City Parks Foundation Junior Golf Center, located next to the Dyker Beach public golf course, offers children ages 6-17 free instruction and use of its equipment for all ability levels. You can also check out its FREE summer sports programs, including golf instruction, at several parks throughout the five boroughs.
There are many spots to play table tennis with kids around the city but if your super keen tween wants to be coached by an Olympian, head to New York Indoor Sports Center in College Point, Queens, which is owned and run by Tokyo 2020 athlete Liu Juan.
For the other type of tennis, head to the Billie Jean King National Tennis Center, where the worlds best descend each fall for the U.S. Open. When Serena Williams—of four Olympic golds and all-around tennis greatness—and company aren't in town, kids as young as 8 years old—absolute beginner to elite—can learn basic strokes, develop their skills, and compete on these same courts.
Set sail for Paris 2024 by taking some lessons at the Manhattan Sailing School. Its Sail Manhattan Junior offers summer sailing for kids ages 8 and older.
Photos courtesy of the venues