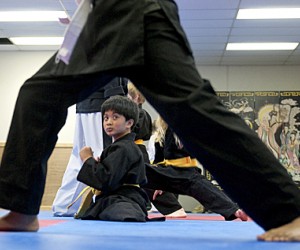 Karate and Tae Kwon Do Classes for NYC Kids
My husband always said he wanted our sons to know they could take a punch and live to tell about it. To that end, martial arts classes were mandatory in our house, not just for self-defense but also to teach them self-control. (After all, enough of the latter can often stop you from needing the former.)

The two most popular martial arts disciplines for kids in New York City seem to be karate and tae kwon do. So we've rounded up some excellent classes in all five boroughs where kids can get kicking.
Find more NYC classes in our Classes Guide and Directory Listings.
West Side Taekwondo – Upper West Side
This dojo trains everyone from 4-year-old Pee Wees to Olympic contenders. For beginners, there is a four-week trial program and the first class is free. Sessions include forms and level-appropriate sparring. Summer camps and birthday parties are also available.

Gotham Taekwon-Do – Upper East Side
According to Gotham, taekwondo isn't just a form of self-defense, it's a way of thinking and living. Its Little Lions program focuses on improving basic motor and listening skills. Children 5 and up can move into the Junior Division where the curriculum consists of developing the major skills necessary for participation in any sport or activity. The curriculum also contains eight personal development skills that are used to reinforce the students' well-being.

D-Dojo: The School of Modern Japanese Karate – Upper West Side
This program teaches kids good physical and mental habits while mixing play with discipline. There's a toddler program for 3- to 4-year-olds and a kids program beginning at age 4, with the regular youth program kicking off at age 7.

World Seido Karate Organization – Chelsea
Seido means the "sincere way," and in this program, kids learn love, respect, and obedience, and work on their confidence, coordination, and self-control. Classes are offered seven days a week for Pee Wees (4- and 5-year-olds), Juniors (6- through 8-year-olds) and Youth (9- to 15-year-olds). Seido often runs specials for new customers.

T. Kang Taekwondo – Tribeca and Brooklyn
TKT is one of the largest and oldest taekwondo schools in NYC. Led by a 9th Dan Black Belt, Grandmaster Tae Sun Kang, the school is traditional and the grandmaster is very involved directly with the students, a rarity. Classes start for Little Dragons as young as 3-years-old and go up to adult. Enrollment is a flat fee per semester and students can take as many classes as they want, but are expected to train at least twice a week.

AmeriKick Martial Arts – Brooklyn and Staten Island
This national chain has five NYC locations: three in Brooklyn and two on Staten Island. All kids' karate classes are taught by a martial arts pro, and every child receives one-on-one instruction. Students over age 3 can become Tiny Tigers, a serious program that requires at-home practice. The same goes for 5- through 6-year-old Little Dragons.

United Tae Kwon Do Centers – Citywide
This local chain has a number of NYC locations. Like many other schools, United offers Peewee classes for 3- to 5-year-olds and regular children's classes for the school-age set. The center is one of the few offering family classes, so everyone can train together while learning how to set goals, cooperate, and respect each other.

Delgado Karate Sports of NY – the Bronx
Kids ages 4 and up are welcome at Delgado regardless of athletic ability. Offerings include an after-school program, birthday parties, and summer camp.

TCK Mixed Martial Arts – the Bronx
TCK teaches kids aged 3 and up physical skills with applications beyond the karate mat, such as balance for riding a bicycle, teamwork, memory, coordination, and discipline. School-age kids can add self-esteem and respect to that list.

Eagles Tae Kwon Do – Flushing, Queens
Home of a Junior Olympics coach, the school accepts students as young as 3 and proudly advertises a competitive atmosphere that will push the children to do their best.

Progressive Martial Arts – Fresh Meadows, Queens
If we can have progressive academic schools, why not progressive martial arts schools, too? Classes here start simple and gradually become more challenging based on each child's individual pace and readiness for new material. All lessons promote positive recognition, reward, and reinforcement for effort, skill, manners, and sportsmanship.
Find out about other great programs for kids in our Classes Guide.
This post was originally published in June 2012 but has since been updated.