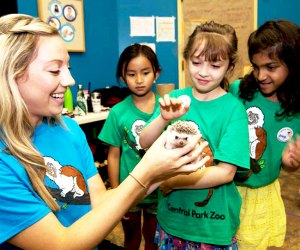 Nature Programs for NYC Toddlers and Preschoolers
When your city kid has exhausted every museum, show, and playground option in town, it's nice to be able to get a dose of nature thanks to NYC's array of zoos, gardens, and parks. And for nature-loving, dirt-loving, mud-loving, bug-loving city kids, the good news is there's no shortage of programming for toddlers and preschoolers in each borough.
We've rounded up our top places in New York City where your toddler or preschooler can marvel at, learn about, and connect with nature. See our guides for even more camps and classes aimed at toddlers and preschoolers.
Nature Programs in Manhattan
Central Park Zoo — Central Park
This zoo offers plenty of opportunities for little ones to get up close and personal with their beloved animals. "Toddler Time" for ages 2-3 is offered on winter Saturdays and spring Fridays and Saturdays. "Toddler Camp," a three-day program for ages 2-3, and "KinderZoo," a five day program for ages 4-5, are held in July and August. Campers investigate the zoo using their five senses, from super sniffers to hyper-hearing. Kids discover how animals interact with the world around them thanks to hands-on exploration.
Elements Preschool — Lower East Side
Elements Preschool, which welcomes children up to four years old, features a huge backyard garden for play and discovery. The school's child-led, inquiry-based program includes movement, art, gardening, and nature exploration.

Kids can discover their "greenthumb" at a class at the Brooklyn Botanic Gardens.
Nature Programs in Brooklyn
Brooklyn Botanic Garden — Prospect Heights
Thanks to summer classes like "Trees and Saplings" and "Seeds," tots and kids can get their hands in the dirt and learn all about tending to a garden. One-day classes and three-day class series are offered for kids ages 2 and up. The "First Discovery for Toddler" series is also available, inviting kiddos up to age five to touch worms, create nature crafts, and listen to stories in the garden.

Explore life under the sea at a program offered at the New York Aquarium.
New York Aquarium — Coney Island
Kids get the opportunity to go "under the sea" thanks to the NY Aquarium's programs. "Super Sea Creatures" summer camp is offered for ages 4-5, running three or four days a week from 9am to 3pm, with the option of extended day until 5:30pm. Bring your vet-in-training to learn what it takes to care for the aquatic animals at "Mini Marine Medics" for ages 3 to 8, from 9am to 10:30am.
RELATED: Great First-Time Summer Camps for Preschoolers
Prospect Park Zoo — Park Slope
At the "Kinder Zoo" week-long summer camp, pre-k and kindergarteners will discover what makes animals in the arctic different from those in Australia as they embark on adventures through the seven continents, from 9am to 3pm, with the option of extended day until 5:30pm.

wBees Forest School offers kids a play-based program that pulls in material from nature.
wBees Forest School — Greenpoint
This nature-themed preschool offers a mornings-only program in a play-based environment that pulls in materials from nature. Children spend half their days in the preschool's "outdoor classroom," nearby McGolrick Park, as well as in the school's own side garden. Climbing trees, digging, observing insects and birds, and celebrating the changing seasons are all part of the regular curriculum. wBees also has as an after-school program for kids in pre-K through second grade.
Nature Programs in Queens
Alley Pond Environmental Center — Bayside
Little ones as young as twelve months can get hands-on with nature, thanks to toddler classes. Programming is nature-themed and features outdoor exploration, live animal visits, and crafts.
Queens Botanical Garden — Flushing
The nearly 40-acre garden offers year-round programs for little green thumbs, teaching them all about ecological balance, conservation, and sustainability. We're big fans the "Garden Buds" and "Forest Explorers" programs, offering a chance for children ages 2-6 to taste garden produce, create botanical crafts, and explore the wonder of nature through hands-on work and play in the garden.
RELATED: Petting Zoos Near NYC Where Kids Can Get Up-Close With the Animals
Queens Zoo — Flushing
"Toddler Time" and "KinderZoo," for ages 3-5, encourage song, dance, and silliness—all inspired by animals. The programs are offered three days a week from 9am to 3pm, with the option of extended day until 5:30pm.
Nature Programs in The Bronx
Bronx Zoo — Bronx Park
One of the city's most beloved zoos offers plenty of programing for your little animal lover. From "Toddler Camp" for ages 2-3 to "KinderZoo," this spot has plenty of chances to get up close with animals from across the globe, without ever leaving The Bronx.
New York Botanical Garden — Bronx Park
NYBG's Edible Academy offers a hands-on approach for ages 3-5, teaching kids about growing, nutrition, and the environment. Week-long camps are also offered throughout the summer, for kids entering kindergarten, from 9am to 4pm.
Wave Hill — Riverdale
Kids will love learning at this 28-acre garden and cultural center. The garden offers year-round children's programming, including free weekend nature crafts and family events.
City-Wide Nature Programs
Tinkergarten — all five boroughs
This highly accessible program for children as young as 6 months offers hands-on, instructor-led nature play and classes in parks all over the city from spring to fall, with a robust schedule of outdoor offerings every day of the week. Through outdoor play and discovery, kids learn not just about nature but also about sharing, communication, creativity, and problem-solving.
Photos courtesy of the programs