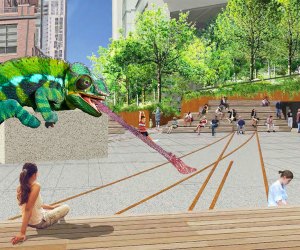 The 15 Most Exciting Things Coming to NYC This Year for Kids
One constant about New York City is that it's always changing. New attractions, shows, exhibitions, and more pop up regularly—it's one reason we love living here, right? As we march into 2018, we are delighted to share some of the new exciting things opening this year in the city for kids and families. Lego Live descends on NYC, new family-friendly Broadway shows are on the horizon, plus fantastic new exhibits come to the American Museum of Natural History and the New-York Historical Society.
Brooklynites have a new kid-friendly play place and a new movie theater to look forward to, not to mention the much-anticipated opening of the New York Aquarium's expanded space and brand-new exhibit.
New or newly renovated parks and playgrounds are also slated to open this year, plus two new routes on the NYC Ferry. We've got details on all this more in our roundup of the best new openings in 2018 for kids and families in New York City.
Events and Exhibitions
Lego Live NYC — Lower East Side
Friday, February 16–Sunday, February 18
Lego fans, rejoice! The ultimate Lego event heads to New York City for one weekend only. Fans of all ages can spend hours elbow deep in 4.6 million bricks. Learn tips and tricks from a master Lego builder or spend the day exploring, designing, and building at one of the many themed stations. Take your Lego experience to new heights with mechanized bricks and join coding experts to learn how to program your models. Ninja fans will love the Lego Ninjago-themed arena; Minecrafters can build their own universe using hands-on bricks, or virtually at one of the consoles; Star Wars fans can build a spacecraft—the possibilities are endless.
RELATED: Winter Fun List: 50 Things NYC Kids Can Do Indoors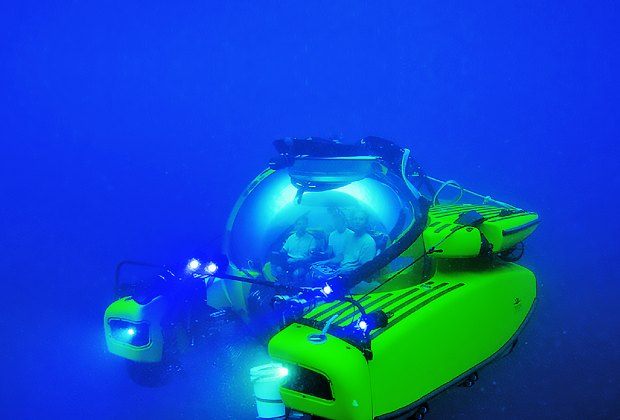 State-of-the-art technology lets scientists (and, consequently, kids) see farther than they ever have before in Unseen Oceans. Photo courtesy of AMNH
Unseen Oceans — Upper West Side
Monday, March 12–Sunday, January 6, 2019
After checking out National Geographic Encounter: Ocean Odyssey, my kids have a renewed interest in all things aquatic. So we are definitely looking forward to American Museum of Natural History's exhibition Unseen Oceans, which offers a glimpse into the fascinating undersea world that scientists are just beginning to understand, thanks to state-of-the-art technology that includes robots, satellite monitoring, and more. Take a virtual ride through inky ocean depths and marvel at a floor-to-ceiling collection of bioflourescent species. Kids will delight at the interactive installation featuring schooling fish that react to their movements. Live aquatic animals—seahorses, pipefish, jellies, and catsharks—will also be onsite.
Ocean Wonders: Sharks! — Coney Island
Scheduled to open Summer 2018
Even before being ravaged by Hurricane Sandy in 2012, the New York Aquarium was working on a $151.7 million overhaul and expansion. The hurricane stalled the project and delayed construction as efforts turned to protecting the wildlife and securing the facilities. This summer, the long-awaited new exhibit Ocean Wonders: Sharks! is slated to open in a new sprawling 57,000-square-foot building. Get an up-close look at sharks including sand tiger sharks, nurse sharks, whitetip and blacktip reef sharks, and others while learning all about the fascinating creatures—how they hunt, how they swim, their natural habitats, and how each of us can help protect them.
RELATED: Best New Destinations That Opened in 2017

Journey to where Magic and Myth began - Harry Potter: A History of Magic at the New-York Historical Society. Illustration by Jim Kay/courtesy Bloomsburg Publishing Plc 2016
Harry Potter: A History of Magic — Upper West Side
Friday, October 5, 2018–Sunday, January 27, 2019
In recognition of the 20th anniversary of J.K. Rowling's iconic novel Harry Potter and the Sorcerer's Stone, the New-York Historical Society presents this new exhibit featuring a treasure trove of rare books, magical objects, and more. Peruse original drafts by J.K. Rowling and drawings by Harry Potter illustrators Mary GrandPré and Jim Kay. Kids may get particularly excited to dig into subjects studied at Hogwarts. Tickets will go on sale to the public as early as April, while members of NYHS can reserve their tickets beginning February February 14.
Theater
Frozen the Broadway Musical — Times Square
Previews begin Friday, February 22
We just can't let it go—Frozen heads to Broadway! We announced this last fall as the frenzy immediately kicked into high gear. Journey with Anna, Elsa, Olaf, Kristoff, and Sven to Arendelle as this classic tale of love and the bond between sisters unfolds with dazzling costumes, beloved songs from the film, and brand new music we expect will be equally spectacular.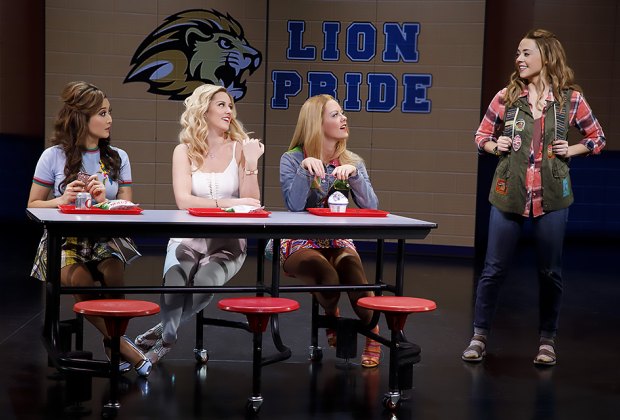 Mean Girls is the hilarious new musical from Tina Fey coming in March 2018. Photo by Joan Marcus
Mean Girls — Times Square
Previews begin Monday, March 12
Based on the 2004 teen dramedy written by Tina Fey and starring Lindsay Lohan and Rachel McAdams, this musical adaptation follows Cady Heron, who grew up on an African savanna with her scientist parents, as she enters the ruthless world of American suburban high school and learns to navigate its intricate pecking order. She ultimately faces off with "The Plastics," a trio of snarky and shallow, yet popular girls led by Regina George. Adapted for the stage with a book by Tina Fey and director Casey Nicholaw at the helm (the latter also directed critically acclaimed Broadway productions Aladdin and The Book of Mormon), we expect hilarity—and pink—around every corner. If you've seen the movie, you'll remember the resounding message of self-love and finding the courage to stand up to bulllies—a timely and universal message.
Harry Potter and the Cursed Child Parts One and Two — Times Square
Performances begin Friday, March 16
Harry Potter is all grown up, working at the Ministry of Magic and married with three school-aged kids. Fans of the series will recall Potter's struggles as a youngster, but they're nothing compared to the trouble his youngest son Albus lands him—and all your favorite characters—in. It's worth noting that this action-packed production is one play broken up into two parts; each with a full-length run time of two hours and forty minutes. That's a whole lot of Potter! Both are meant to be seen on the same day or over two consecutive days. Tickets can be purchased for only one part, but it will be an incomplete experience. Tickets purchased as a pair guarantee the same seat for both parts. Of course, scoring tickets to this show is a whole other discussion. The show has been releasing new batches of tickets to those who signed up early, aka "pre-verified fans," in drips and drabs via special access codes. A new round of ticket sales begins February 7, 2018.
Indoor Fun
Good Day Play Cafe — Park Slope, Brooklyn
Scheduled to open mid-February
This play place and cafe that opened in Bayside, Queens, a couple of years ago quickly became a neighborhood favorite. It plans to make its Brooklyn debut in February 2018 with a second location. Park Slope families can expect the same thoughtfully designed space inspired by similar family-friendly cafes in Korea. Like its Bayside location, the cafe will offer tasty eats—sandwiches, smoothies, coffee and tea beverages, and more—while the play space will have all the trimmings to inspire imaginative play, including the popular Hinoki cypress wood cube pit.
Boris & Horton — East Village
Scheduled to open late January to early February
Several cat cafes now dot NYC's cityscape. Well, starting soon, dog lovers will have a cafe of their own. Boris & Horton is the first Department of Health approved dog-friendly cafe. The owners are working on the finishing touches and we can't wait to check it out. Dogs won't live onsite like the felines do at cat cafes. Instead, all dogs are welcome inside the coffee shop while their owners refuel, relax, and mingle with friends and neighbors. Common sense rules apply: Dogs must be friendly and leashed at all times and children must be accompanied by an adult. Check out its FAQ page for more details. Boris & Horton also plans to host adoption events, in the hopes of connecting loving humans with furry friends. If your kid is begging for a dog but you're not quite ready to commit, a trip to Borton & Horton for some snacks and lots of tail wagging should help scratch the itch—at least for a few hours.
Nitehawk Prospect Park — Park Slope, Brooklyn
Scheduled to open Spring 2018
Nitehawk Cinema, which opened its first site in Williamsburg in 2011, is taking over the former Park Slope's Pavilion Theater. The building's exterior holds landmark status, though the interior will see a complete redesign with the help of Brooklyn-based Think Architecture. Visitors can expect seven state-of-the-art theaters, upgraded building systems, a refurbished lobby and public spaces, a restored atrium overlooking Prospect Park, two bars, and the same quality dine-in experience as its Williamsburg location. The large space will allow for Hollywood first-run films in addition to independent films and screenings, plus family-friendly programming. The Williamsburg theater even offers family brunch showings and reserves showings just for new parents and babies.
Bounce! Trampoline Sports — Sunset Park, Brooklyn
Scheduled to open in August or September 2018
Trampoline parks are all the rage and it's no secret why. Where else are kids allowed—no, encouraged!—to jump sky-high, bounce off the walls, and land in a foam pit? NYC has a few bounce spots, but not many. That's why we were excited to hear that Bounce! Trampoline Sports is heading to Sunset Park in Brooklyn. Other locations offer dedicated toddler times and fun events like Jump & Glow (great for teens!), so we can't wait to see what's in store for this Brooklyn-based spot. Bounce! also plans on opening a Staten Island location early in 2019—we'll keep you posted!
Outdoor Fun
Chelsea Waterside Play Area — Chelsea
Scheduled to reopen Summer 2018
Last fall organizers broke ground on a renovation and expansion of Chelsea Waterside Play Area in Hudson River Park, and the plans are impressive! Improvements include an interactive water maze, a sand pit station, a water play area just for toddlers, and a 22-foot-tall pipefish centerpiece with two slides. It has long been one of our favorite summer splash parks in the city, so we can't wait to see the new space.
Domino Park — Williamsburg, Brooklyn
Scheduled to open Summer 2018
The former site of the Domino Sugar Factory in Williamsburg is undergoing an ambitious redevelopment. Part of the mixed-use project includes aptly named Domino Park, a quarter-mile, six-acre park that will provide waterfront recreation for neighborhood residents and visitors. One unique feature we can't wait to check out is a planned 450-foot-long elevated walkway called Artifact Walk, which displays relics from the original site including syrup tanks and screw conveyors. Could it be a Brooklyn High Line? Other pieces from the sugar factory have been preserved and will be displayed throughout the park—look for columns from the warehouse, crane tracks, and more.
The High Line Plinth — Chelsea
Scheduled to open in 2018
Speaking of the High Line...the elevated Manhattan park continues to be a destination spot for locals and tourists alike, and it just keeps getting better. Inspired by London's Fourth Plinth in Trafalgar Square, the High Line Plinth will be dedicated specifically to public art exhibitions with a rotating roster of work that celebrates contemporary art. The Plinth is part of the Spur, a new section of the High Line and the park's largest open space. Visitors can take in the sweeping views of NYC and lush landscapes while examining the works on display. The Plinth is slated to open this year, though organizers were not able to provide an exact date. We will update you as it becomes available.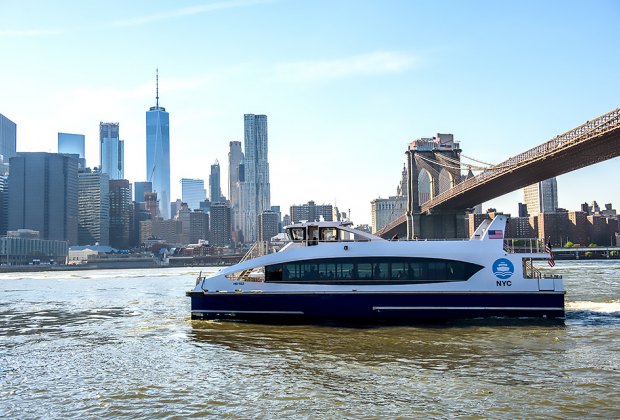 With just a swipe of a MetroCard, you and your kids can have a NYC ferry adventure! Photo courtesy of NYC Ferry
NYC Ferry — Citywide
Scheduled to open Summer 2018
Last year we saw the launch of the NYC Ferry with routes in Astoria, South Brooklyn, East River, and Rockaway. It changed the way a lot of New Yorkers commute, and hit the beach! This summer, routes will be added to the Lower East Side and Soundview in the Bronx. With the routes fully operational, an estimated 4.6 million passengers are expected to board the ferries—and who can blame them? For the same price as a ride on the subway or city bus, ferry riders get stunning water views, on-board concessions, charging stations, and ample seating. It's a scenic way to get where you're going—or maybe just take the kids for a ride without a final destination in mind, though the routes haven't been completely immune to typical NYC transportation frustrations.
Looking ahead to 2019
New State Park — Jamaica Bay, Brooklyn
Phase 1 completion slated for 2019
Governor Cuomo announced ambitious plans to bring the largest state park in New York City to Jamaica Bay in Brooklyn. During his state-of-the-state address this month, the governor unveiled plans for a 407-acre park—ample space for biking, hiking and playing. Water access brings opportunities for water-based activities like fishing and kayaking. Once the site of two landfills, the NYC Department of Environmental Protection completed a massive remediation project in 2009. In addition to the cleanup, fresh soil was spread throughout the site and thousands of trees and shrubs were planted, making it a prime location for future parkland. Phase 1 is expected to be completed in 2019. Later phases include environmental education facilities, an amphitheater, and more.
Top photo: Rendering of Jeremy Deller's "Untitled," his chosen proposal for the High Line Plinth (architectural rendering by James Corner Field Operations and Dillar Scofidio + Renfro; courtesy of the City of New York; artwork courtesy of the artist